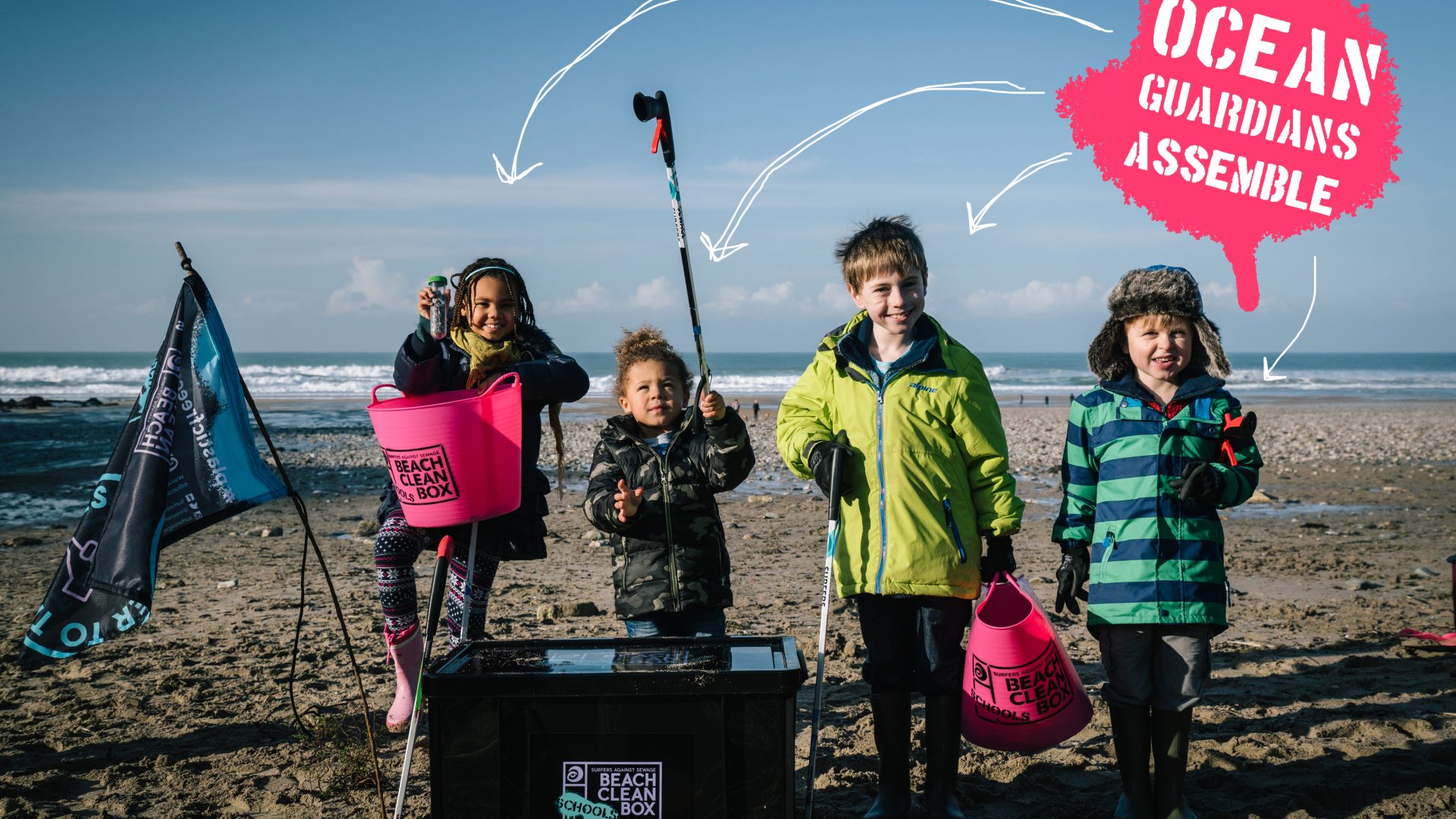 OCEAN PLASTIC EMERGENCY KITS
Calling all coastal schools and communities – Apply NOW for one of our new OCEAN PLASTIC EMERGENCY KITS!
As storms batter our coastlines this January, we're proud to present our new SCHOOLS Beach Clean Boxes & #MiniBeachClean Bins, created thanks to support from our friends at Greggs.
By combining the awesome people power of our coastal communities with these innovative new Ocean Plastic Emergency Kits we are creating a vital first line of defence against marine plastic pollution on beaches across the UK. Now we're calling for coastal schools to form 'Ocean Guardian Teams' and apply to receive one of 25* kits on behalf their community.
"Have you and your school got what it takes to become true 'OCEAN GUARDIANS'? YES?! Cool! Read on to learn more about how to apply and GOOD LUCK!" – SAS Head of Community and Engagement, Dom Ferris.
* Scroll down or click HERE to learn how to apply straight away!
WHAT IS AN OCEAN PLASTIC EMERGENCY KIT?
SCHOOLS BEACH CLEAN BOXES – These are an even more radical version of our hugely successful community Beach Clean Boxes! From buckets to giant test tubes and special 'Graptor' litter pickers to Plastic Free Schools campaign kits they contain the tools, information and inspiration to enable youngsters to take action to protect their favourite beaches in their own way. We can't wait to see what the successful schools achieve!
#MINI BEACH CLEAN BINS – Brand new, big, and bold these 360 litre volume wheelie bins are far more than just a bin! Stationed at the beach and watched over by SAS's Regional Reps they provide the information, inspiration, guidance and equipment for beach goers to do their own #MINI BEACH CLEANS. As well as special SAS litter pickers, bin bags and beach clean buckets the special Ocean Plastic Bottle Recycling Hatch (AKA the lid!) will ensure that we recycle as much plastic pollution as possible.
OCEAN GUARDIAN TEAMS – This is the coolest part of the project by far! Beach Clean Box winning schools will join forces with their local SAS Regional Rep to form special OCEAN GUARDIAN TEAMS, signing-up to protect their local stretch of coastline together and combining the incredible plastic pollution busting potential of their Schools Beach Clean Box and #MINI BEACH CLEAN BINS!
HOW TO APPLY FOR AN OCEAN PLASTIC EMERGENCY KIT
STEP 1 – REGISTER YOUR INTEREST
Please register your interest/intention to apply straight away with Dom and Jack at [email protected]. We can guide you through the application process and help connect you with potential Ocean Guardian Beach Partners, so please feel free to email us anytime.
STEP 2 -COMPLETE YOUR OCEAN PLASTIC EMERGENCY KIT APPLICATION
Please download and complete the OCEAN PLASTIC EMERGENCY KIT application form. Once completed return a digital copy (you can post it if you like) to us at [email protected] by Friday the 26th of January. The points below outline the information we'll need;
WHO? Information including; school details, beach partner details and confirmation of OCEAN GUARDIAN 'TEAM-UP'!
WHY? – Tell us a little about your 'OCEAN GUARDIAN credentials'
WHERE? – Which beach/es will you be pledging to protect and why?
HOW? –  Let us know your Beach Guardian 2018 MISSION PLAN
SURPRISE US! – Let us know what cool ideas you've had to make the very most out of your OCEAN PLASTIC EMERGENCY KITS?
CONFIRM – Will your OCEAN GUARDIAN TEAM fulfill the KEY COMMITMENTS?
STEP 3 – KEY COMMITMENTS
Our Emergency Beach Protection Kits are highly sought after and only the most dedicated Ocean Guardian Teams will receive one. The final stage of your application form details our 'Ocean Guardian Key Commitments'.
Outlined below, these are essential requirements, so please make sure you're able to commit before applying;
OCEAN GUARDIAN Team-up – Will your school be happy to work and communicate regularly with your Beach Partner?
Kit Care – Are you and/or your Beach Partner able to safely store and look after your Emergency Beach Protection Kits? The School Beach Clean Box weighs 20kg and the #MINI BEACH CLEAN BINS is a 1.1 metre tall wheelie bin!
2018 SAS + OCEAN GUARDIAN Activities – Can you commit to at least two of our big activities and actions in 2018?
Awareness Raising and Promotion – Your efforts are incredibly inspiring; by sharing them as far and wide as possible you can help our Plastic Free Coastlines message reach people across the world!
Reporting – Are you able to stay in touch with SAS and compile an end of year MISSION REPORT.
STEP 4 – WHAT HAPPENS NEXT?
The application process closes on Friday January 26th, so make sure you've sent us yours by then. Once they're in our expert panel of judges will begin the difficult task of selecting the 25 successful OCEAN GUARDIAN schools and Beach Partners.
The points below outline the process in a little more detail;
W/C January 29th – Our expert judging panel will begin the shortlisting process. Shortlisted schools will then be contacted for final confirmation of OCEAN GUARDIAN Commitment.
Friday February 2nd – 25 winning schools will be announced and celebrated.
February 5th onwards – Shipping of EMERGENCY BEACH PROTECTION KITS.
2018 AND BEYOND – OCEAN GUARDIANS TAKE ACTION!
Please submit your application form to Dom and Jack at [email protected]. Remember the future of our oceans is in your hands! GOOD LUCK.
We would like to thank project partners Greggs for their support in creating these awesome community assets.
 "We have an immense enthusiasm and passion for the work of Surfers Against Sewage and are proud to be an ongoing partner across a number of key campaigns, including the Ocean Guardian programme". Paul W Irwin-Rhodes – Greggs Group Safety, Health and Environment Manager