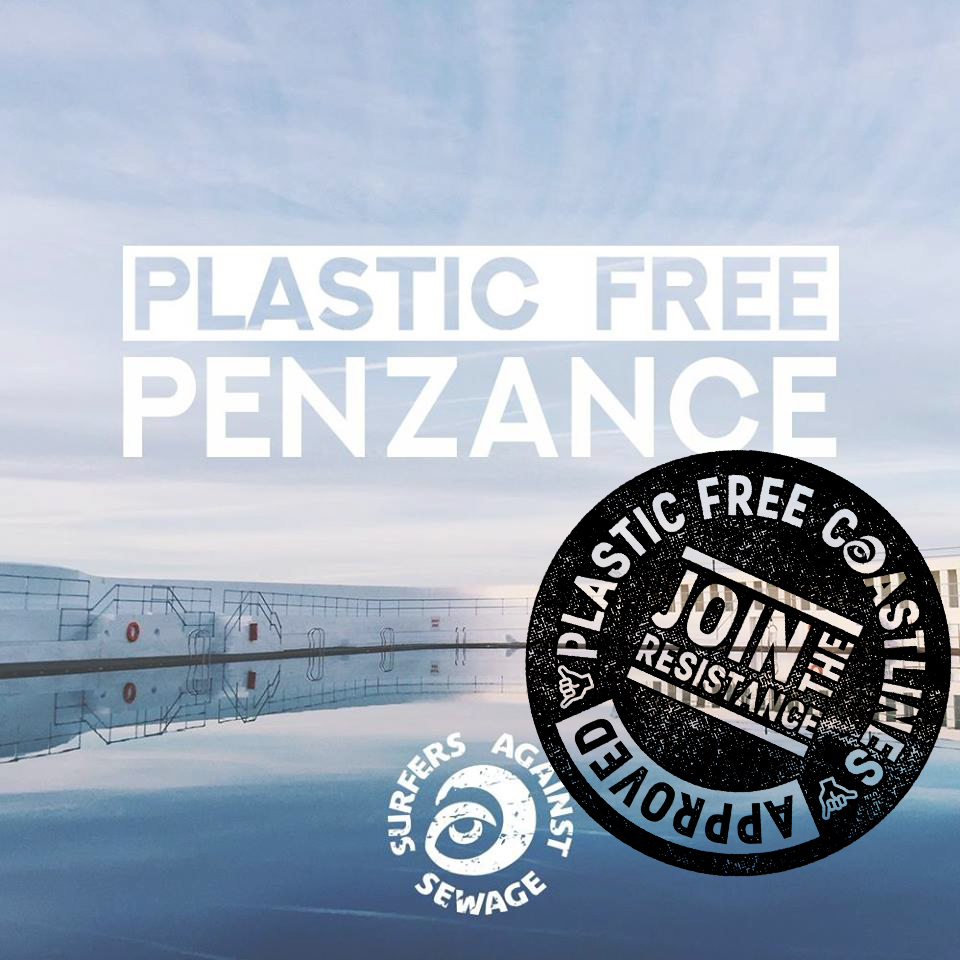 Plastic Free Coastlines Approved Penzance!!!
Congratulations to Penzance!
After successfully completing the Five Objective Guidelines in the SAS Plastic Free Coastlines (PFC) toolkit, Penzance has become the first location to meet the criteria to be awarded this prestigious recognition in the fight against single use plastics. The PFC Objectives challenge community, businesses and local government to reduce reliance on single use plastic items, replacing them with sustainable alternatives, educate others toward the threats of plastic pollution and lead community events such as beach cleans and fundraisers.
Penzance proudly gained the accolade of the first SAS Plastic Free Coastlines approved location following a resolution of a town council motion on December 4th to support efforts for Plastic Free Coastlines. The local SAS team have also inspired and assisted thirteen businesses in Penzance to remove three or more single-use-plastic items.  Some of these items have been removed entirely and others have been swapped out for eco-friendly alternatives. A steering group has been set up to continue the Plastic Free Coastlines momentum in the area.  Moving forward, the steering group will be meeting regularly to review further positive changes that can be made to reduce the damaging effects plastic can cause to the local and wider marine environment.
What can you do?
Those interested in reducing their own plastic footprint and help to create plastic free coastlines, or register a new Plastic Free Community initiative, can download a Plastic Free Coastlines individual action plan and find out more information here: www.plasticfree.org.uk
You can also check out what our Penzance team are getting up to via Facebook by searching for 'Plastic Free Penzance'.

There are currently over 90 locations in the UK, Ireland and Portugal that are working tirelessly to achieve Plastic Free Coastlines status. The efforts of the communities to rid themselves of unnecessary single-use plastics are recognition of the upstream thinking to tackle plastic pollution. The public is reaching out for new ideas beyond the beach clean to protect their environments, and by engaging councils and businesses, this is a truly collaborative approach.
Locations working towards Plastic Free Coastline status:
Plastic Free Aberdeen (Scotland)
Plastic Free Aberporth (Wales)
Plastic Free Aberystwyth (Wales)
Plastic Free Alderney (Channel Islands)
Plastic Free Alveston (Bristol)
Plastic Free Amble (Northumberland)
Plastic Free Anglesey (Wales)
Plastic Free Appledore (Devon)
Plastic Free Aveiro (Portugal)
Plastic Free Bamburgh (Northumberland)
Plastic Free Bath (Avon)
Plastic Free Bideford (Devon)
Plastic Free Biggleswade (Bedfordshire)
Plastic Free Birmingham (Midlands)
Plastic Free Bishopston (Bristol)
Plastic Free Borth (Wales)
Plastic Free Bournemouth (Dorset)
Plastic Free Brighton (East Sussex)
Plastic Free Clevedon (Somerset)
Plastic Free Causeway (County Antrim (NI))
Plastic Free Cheltenham (Gloucestershire)
Plastic Free Chester (Cheshire)
Plastic Free Cork (Republic of Ireland)
Plastic Free Cromer (Norfolk)
Plastic Free Croyde (Devon)
Plastic Free Cullen (Tipperary (Scotland))
Plastic Free Cumbria (North West England)
Plastic Free Durness (Scotland)
Plastic Free Edinburgh (Scotland)
Plastic Free Endon (Staffordshire)
Plastic Free Exeter (Devon)
Plastic Free Falmouth (Cornwall)
Plastic Free Fareham (Hampshire)
Plastic Free Glasgow (Scotland)
Plastic Free Hayle (Cornwall)
Plastic Free Hayling Island (Hampshire)
Plastic Free Herme (Channel Islands)
Plastic Free Hertford (Hertfordshire)
Plastic Free Howth (Republic of Ireland)
Plastic Free Skye (Scotland)
Plastic Free Isle of Wight (England)
Plastic Free Ivybridge (Devon)
Plastic Free Jersey (Channel Islands)
Plastic Free Knowle (Bristol)
Plastic Free Langport (Somerset)
Plastic Free Little Weighton (Yorkshire)
Plastic Free Lyme-Regis (Dorset)
Plastic Free Maidstone (Kent)
Plastic Free Marazion (Cornwall)
Plastic Free Margate (Kent)
Plastic Free Milton Keynes (Buckinghamshire)
Plastic Free Neath (Wales)
Plastic Free Newmachar (Scotland)
Plastic Free New Quay (Wales)
Plastic Free Newcastle Emlyn (Wales)
Plastic Free Newcastle (Tyne & Wear)
Plastic Free Norfolk (East Anglia)
Plastic Free North Shields (Tyne & Wear)
Plastic Free Oxford (Oxfordshire)
Plastic Free Padstow (Cornwall)
Plastic Free Peniche (Portugal)
Plastic Free Perranporth (Cornwall)
Plastic Free Petersfield (Hampshire)
Plastic Free Plymouth (Devon)
Plastic Free Polzeath (Cornwall)
Plastic Free Porthmeor (Cornwall)
Plastic Free Portreath (Cornwall)
Plastic Free Portsmouth (Hampshire)
Plastic Free Preston (Lancashire)
Plastic Free Ramsgate (Kent)
Plastic Free Saltburn (North Yorkshire)
Plastic Free Scarborough (North Yorkshire)
Plastic Free Seaford (East Sussex)
Plastic Free Shepherd's Bush (London)
Plastic Free Skegness (Lincolnshire)
Plastic Free Southend-on-Sea (Essex)
Plastic Free Southampton (Hampshire)
Plastic Free St.Albans (Hertfordshire)
Plastic Free St.Andrews (Bristol)
Plastic Free Swansea (Wales)
Plastic Free Wirral (Cheshire)
Plastic Free Thursby (Scotland)
Plastic Free Truro (Cornwall)
Plastic Free Tynemouth (Tyne & Wear)
Plastic Free Walthamstow (London)
Plastic Free Weston-super-Mare (Somerset)
Plastic Free Westward Ho! (Devon)
Plastic Free Whitney (Oxford)
Plastic Free Wimbledon (London)
Plastic Free Worcester (Worcestershire)