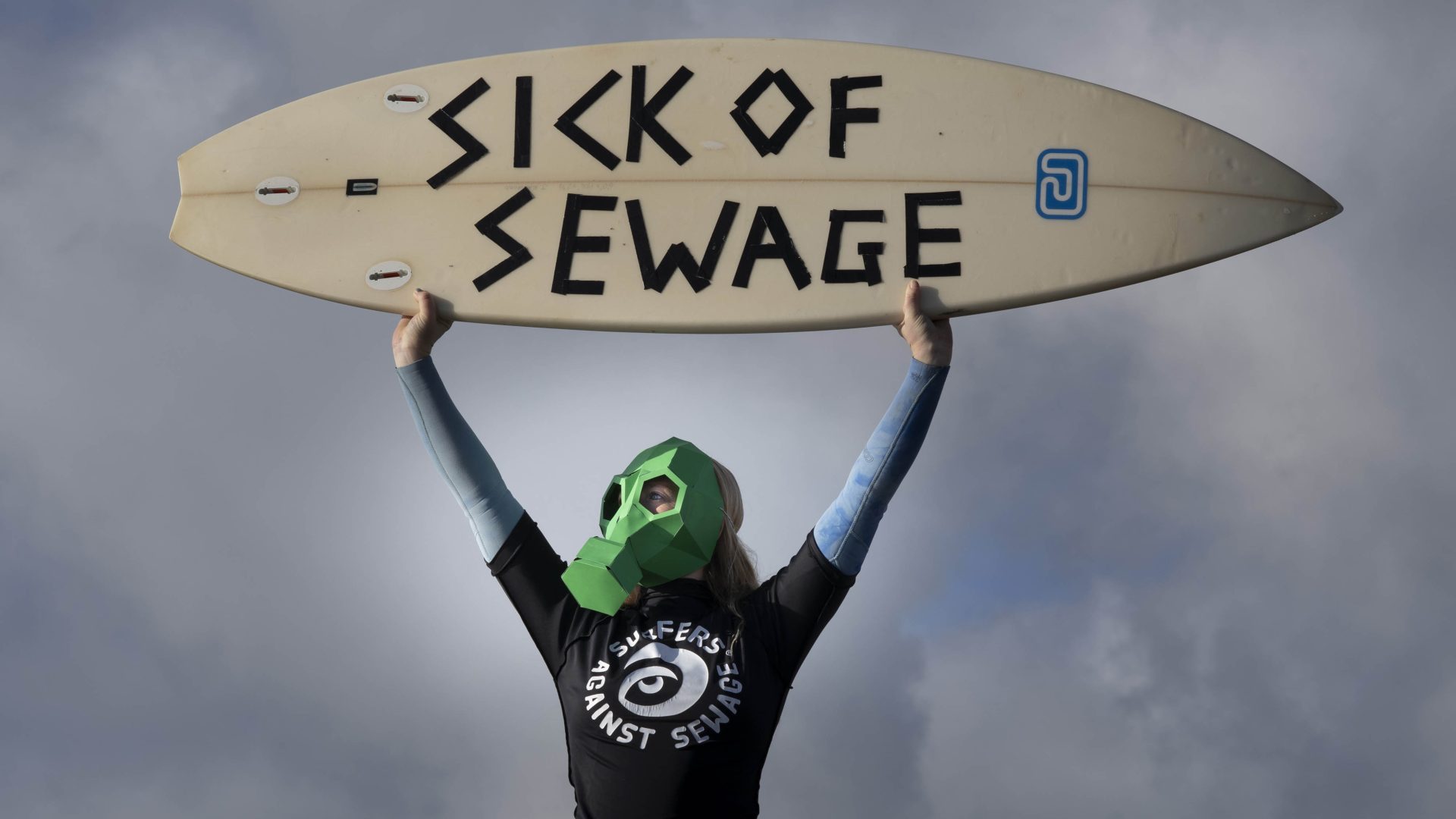 Evidence of potentially illegal sewage dumps revealed in our 2022 Water Quality Report
Our 2022 Water Quality Report uncovers potential illegal sewage discharges, stomach-churning stats from more than 700 sickness cases, and the sorry state of the UK's 'excellent' bathing waters. 
Today, we've released our 2022 Water Quality Report which uncovers potential illegal sewage discharges, stomach-churning stats from more than 700 sickness cases, and the sorry state of the UK's 'excellent' bathing waters. Water companies keep dirty secrets behind opaque data. CEOs stuff their pockets with cash, and the government twists the knife in the wound.
We're in a second wave of sewage pollution and it has to end NOW, for the sake of not just the ocean, but people too. Read the full report.
We found water companies have committed 143 'dry spills' in the last year. *
For the first time, we've used rainfall data to investigate potentially illegal 'dry spills'. Sewage outflows are only permitted in 'unusually heavy rainfall', but our analysis shows water companies have been dumping untreated sewage into our waterways even when there hasn't been any rain. We would love to hear from water companies on why they're releasing highly concentrated swathes of raw sewage into our parched waterways during one of the hottest summers on record?
This summer raw sewage was dumped into our bathing waters 5,504 times. 
We've analysed the latest sewage data from the Environment Agency and reveal where and for how long sewage discharges into bathing waters happened across the UK this summer – as well as who is responsible.
During the 2022 Bathing Season, UK water companies discharged sewage into bathing waters around the country for 15,012 hours. That's untreated sewage contaminating the beaches and riverbanks where water enthusiasts, holidaymakers and families play throughout the summer – unknowingly being covered in crap.
A staggering 103 sewage overflows at bathing waters across England failed to report their activity for a period of more than 2 weeks during the bathing season. And 44 sewage overflows were left completely unmonitored throughout the entire bathing season
Water companies are profiteering off pollution.
Water company CEOs line their pockets, being paid a total of £16.5 million in the last financial year, whilst a sickening total of £965 million was paid out to shareholders – despite all but one water company making a loss this year. All the while, they persist with dumping raw sewage into our waterways with reckless abandon, as their environmental ratings continue to drop.
"Shareholders and CEOs are unashamedly profiteering off pollution. And the government is complicit in the sewage scandal, failing to enforce and strengthen regulations to protect the health of the UK's waterways – and the health of its citizens. Politicians are simply kicking the can down the road, legitimising sewage pollution for the next 27 years, through the sewage action plan published this summer." Amy Slack, Head of Campaigns and Policy at SAS.
Water company dividends paid for financial year ending March 2022 (in £ millions)
Disgustingly, we've had 400 sickness reports from people swimming and surfing at supposedly 'excellent' bathing waters.
We've received 720 sickness reports in total, from water-users who got ill after going in the water in the last year, with more than 70% of them suffering from symptoms of gastroenteritis, including persistent diarrhoea and vomiting. We've shared the shocking stories of our case studies, from frightening cases of Leptospirosis and kidney failure to conjunctivitis.
Two-thirds of cases who saw their doctor had their sickness attributed to contaminated water exposure, and many reported stays in hospital. A third of reports were directly linked to a sewage spill. The evidence is clear, raw sewage in our swim and surf spots is making us sick.
Our Calls
We need to #EndSewage Pollution. Our demands to end sewage discharge into bathing waters by 2030 are:
An enhanced water-quality testing regime.
The establishment of 200 designated inland bathing waters.
World-leading water quality legislation with ambitious legally binding targets and well-funded regulators.
To end untreated sewage discharge in all bathing waters and to reduce all untreated sewage discharges by 90%.
Nature-based solutions to sewage pollution.
Investment from water companies and other systemic polluters. We need water companies to invest urgently in their sewage infrastructure and end the use of sewage overflows.
We're sick of sewage. It's time to#End­Sewage­Pollution 
NOW!
Izzy Ross – Campaigns Manager
*originally published figure of 146 dry spills amended following recalculation of data