Judges confirmed for Plastic Free Awards 2019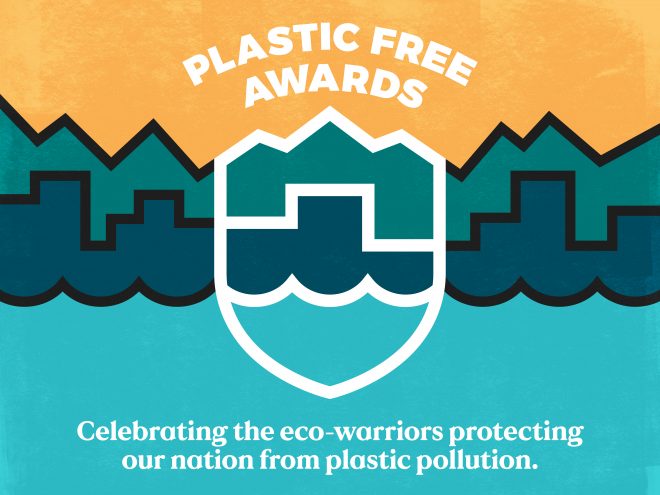 Judges have now been confirmed for the anticipated Plastic Free Awards – among them, the likes of much-loved award-winning presenter Ben Fogle and multi-Gold medal Olympian Helen Glover.
Hosted by marine conservation charity Surfers Against Sewage (SAS), the Plastic Free Awards are set to celebrate the thousands of campaigners backing its fight against plastic pollution, with a special ceremony set to be held at the end of 2019.
It follows the Plastic Free Communities campaign, which sees volunteers all over the UK encouraging businesses and members of the public in their community to move away from single-use plastic, helping them become 'Plastic Free Champions'.
Now, SAS has released details of who will be making the final calls on this year's award winners, with some big names on the roster.
Each of them will be judging 10 categories, spanning various areas of plastic-free living and leadership, hosted in partnership with the Iceland Foods Charitable Foundation (IFCF).

This year's judges include:
Hugo Tagholm – CEO of SAS, Hugo became involved with the charity back in 1991, a year after its inception, as a passionate surfer and beach enthusiast. Taking over the helm in 2008, he has utilised his experience as an activist, regional rep and trustee within the charity to shape the current strategy and build a sustainable action plan for years to come.
Ben Fogle – Award-winning broadcaster and adventurer, Ben has become one of the key names in British conservation, with 9 Sunday Times Best Selling books to his name and curating his role as a United Nations Patron of the Wilderness, among many other accolades. As well as climbing Mount Everest and rowing across the Atlantic, he's also featured on the likes of the BBC, ITV and Discovery.
Sian Sutherland – Co-founder of campaign group A Plastic Planet, a global social Impact movement with a single goal – to ignite and inspire the world to turn off the plastic tap – Sian is a multi-award winner and well-known in the environmental world. Her passion is about igniting social change by creating brands, campaigns and businesses with soul.
Helen Glover – As double Olympic Champion, three-times World Champion, twice European Champion and multiple World Cup gold-medal winner, Helen is one of the most decorated athletes in the GB Rowing Team. Not only that, she's fast gaining a reputation as one of the world's great all-round athletes, and most recently has been co-hosting The Boat Race alongside famed presenter Clare Balding (2017, 2018 & 2019).
Gillian Burke – BBC wildlife presenter Gillian is a biologist with an eye and an ear for drama and storytelling. She joined the much-loved BBC seasonal wildlife series 'The Watches' in 2018, and is now co-presenting Winterwatch, Springwatch and Autumnwatch alongside hosts Chris Packham and Michaela Strachan. Based in Cornwall, she is also the patron of the Cornwall Seal Group Research Trust and an active volunteer of the Marine Strandings Network, rescuing stranded marine mammals and seabirds.
Liz Bonnin – With a Masters in Wild Animal Biology, Liz has presented over 40 primetime TV programmes, including the BBC's Bafta-Award winning Blue Planet Live, Super Smart Animals, Galapagos and Horizon. Her recent work includes investigating the ocean plastic crisis with the Landmark documentary 'Drowning in Plastic' which raised the level of public debate on this important topic and won a prestigious RTS Award.
Lucy Siegle – British journalist and writer, Lucy is a leading voice on environmentalism. Specialising in communicating earth science and environmental stories and ethical consumerism, she has spent over a decade investigating the environmental and social footprint of the global fashion industry. She is also known as a reporter and presenter on BBC1's 'The One Show', and has been reporting on the problem of single-use plastics since the show began in 2007.
Richard Walker – In 2012, Richard joined Iceland Foods – the company established by his parents Malcolm and Rhianydd in 1970. Now Managing Director, Richard has taken the board lead on sustainability issues across the group. Under his leadership, Iceland has taken on a range of world-leading sustainability initiatives that include becoming the first major retailer globally to commit to eliminating single-use plastic packaging from its own label range, to be completed by the end of 2023.
Dr Paula Owen – Environmental campaigner and eco-innovator, Paula is a specialist in environmental sustainability, behavioral change and engagement. She has over two decades of expertise in the environmental sustainability sector, with a PhD in climate change atmospheric science from the University of Oxford. Also the author of numerous environmentally-related publications, for the past six years Paula has been an Expert Evaluator for the Horizon 2020 EU Commission funding mechanism.

Following the announcement of the judges, Hugo said:
"We're thrilled to be recognising the heroes leading the charge to reinvent our relationship with plastic, protect our ocean and drive sustainable innovation across communities.

We have seen an inspirational wave of action to tackle plastic pollution and excessive packaging over the last two years – change is truly happening.

The Plastic Free Awards will help shine a spotlight on the mavens and mavericks creating the changes to stop the flow of plastic into our world."
Entries are now open for nominations and are not limited to those directly involved in the Plastic Free Communities initiative  – you can enter yourself, a friend, a colleague, a family member or someone from your community, as well any charities, schools, businesses or events that have made a significant impact on fighting plastic in your community.
Those shortlisted will then be invited to attend the awards event in Bristol  on the 21st November this year.
To see the full list of categories and to submit a nomination, click here.
Article written on behalf of SAS by Hazel Murray