His Royal Highness, The Prince of Wales becomes Patron of Surfers Against Sewage as the Charity Celebrates its 30th Anniversary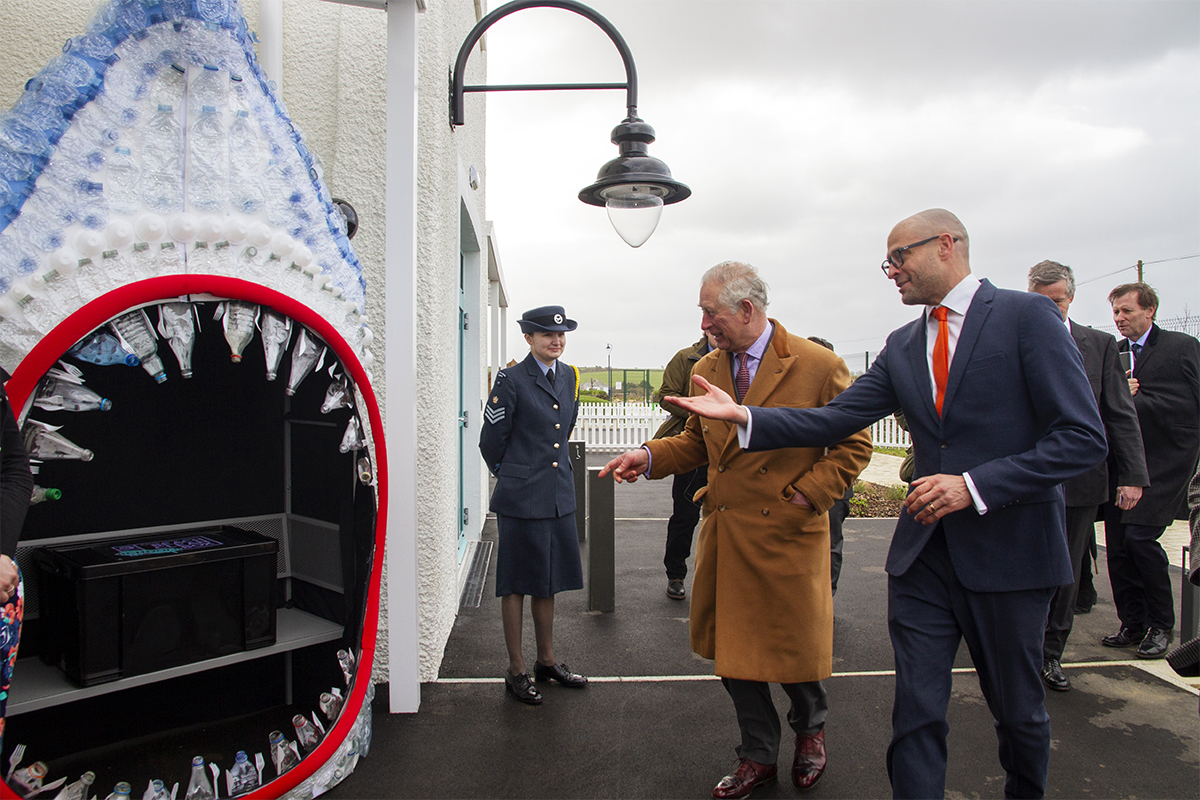 London: National marine conservation and campaigning charity Surfers Against Sewage (SAS) is thrilled to announce His Royal Highness The Prince of Wales, as its Patron. His Royal Highness holds the title of Duke of Cornwall and has very strong links with the county, where the charity was founded and still operates from today. This year the charity also celebrates its 30th anniversary and the Patronage is incredible recognition of the progress and achievements the organisation has made over the last three decades to protect our ocean.
His Royal Highness, The Duke of Cornwall attended Surfers Against Sewage's special 30th anniversary event in Cornwall on Friday 6th March, held at the Skol Nansledan, Newquay where his patronage was officially announced. As part of the event, the His Royal Highness signed a unique surfboard, created from wood from his Highgrove Estate, to commemorate the anniversary.
The charity was founded in May 1990 in response to chronic and widespread sewage pollution of the UK coastline. At that time, only a quarter of UK beaches would have passed the minimum bathing water standards we now have in place. Today over 98% of UK beaches meet these standards, which is an amazing success story for our ocean, beaches and everyone that enjoys the country's beautiful coastline for surfing, swimming, sailing and recreation in our great maritime nation. The charity's work represents a powerful example of positive environmental activism leading to dramatic and tangible conservation success, and provides a powerful story of hope for some of the biggest issues our ocean faces today, from plastic pollution to climate change.
Surfers Against Sewage first worked with His Royal Highness in 2015, when it organised the Ocean Plastic Awareness Day in Newquay, Cornwall. The charity was delighted to welcome The Prince of Wales and The Duchess of Cornwall to Fistral Beach during their annual summer visit to Cornwall to demonstrate how community action in the county was bringing together many thousands of people to help combat the menace of marine plastic pollution. The Ocean Plastics Awareness Day gave NGOs, local and national government and industry an opportunity to commit to exploring and delivering pilot schemes to prevent the flow of plastics to local beaches and recycle plastic waste removed by local beach cleans. The event also saw the launch of a Statement of Intent signed by participating NGOs, local government, academia and businesses to explore, develop and deliver plastic reduction and circular economy initiatives including deposit return schemes; refill initiatives and the recycling of marine plastics. These projects and behaviour change campaigns have grown dramatically since the event and have become firmly embedded in society's expectations and behaviour.
His Royal Highness has been a longstanding advocate of Deposit Return Schemes as a way of reducing plastic bottle pollution, and the charity successfully spearheaded the call for the system to be introduced in the UK, which will start to come into force from 2021, in Scotland.
The team was honoured when Their Royal Highnesses visited their headquarters in the summer of 2018, for a follow up event promoting the solutions to plastic pollution, which highlighted just how much progress is being made across society by individuals, communities and businesses.
Hugo Tagholm, Chief Executive says: "We have been thrilled to work closely with His Royal Highness over the last few years, to highlight the plight of our ocean and to promote positive, sustainable solutions for a bluer future, where the ocean truly thrives again. I would like to welcome His Royal Highness as our first Patron in such an auspicious year for us where we celebrate 30 years of positive and hopeful activism that is delivering real change to protect our beaches, coastline and ocean for everyone.

 As we start the new UN Decade of Ocean Science for Sustainable Development, Surfers Against Sewage is more committed than ever before to deliver a thriving ocean with our community of ocean activists right around the UK. We believe in a journey of radical hope for our seas, and to have the support of His Royal Highness will help us take our mission and impact to new levels in the coming years.

 We'd like to say a huge thank you to His Royal Highness, not just for jumping on board with Surfers Against Sewage, but also for his longstanding and pioneering work on the environmental agenda, which is truly causing waves of change around the globe. His support for the charity since 2015 has helped us deliver so much more impact, and his Patronage will certainly help us deliver even more for Planet Ocean in the years to come."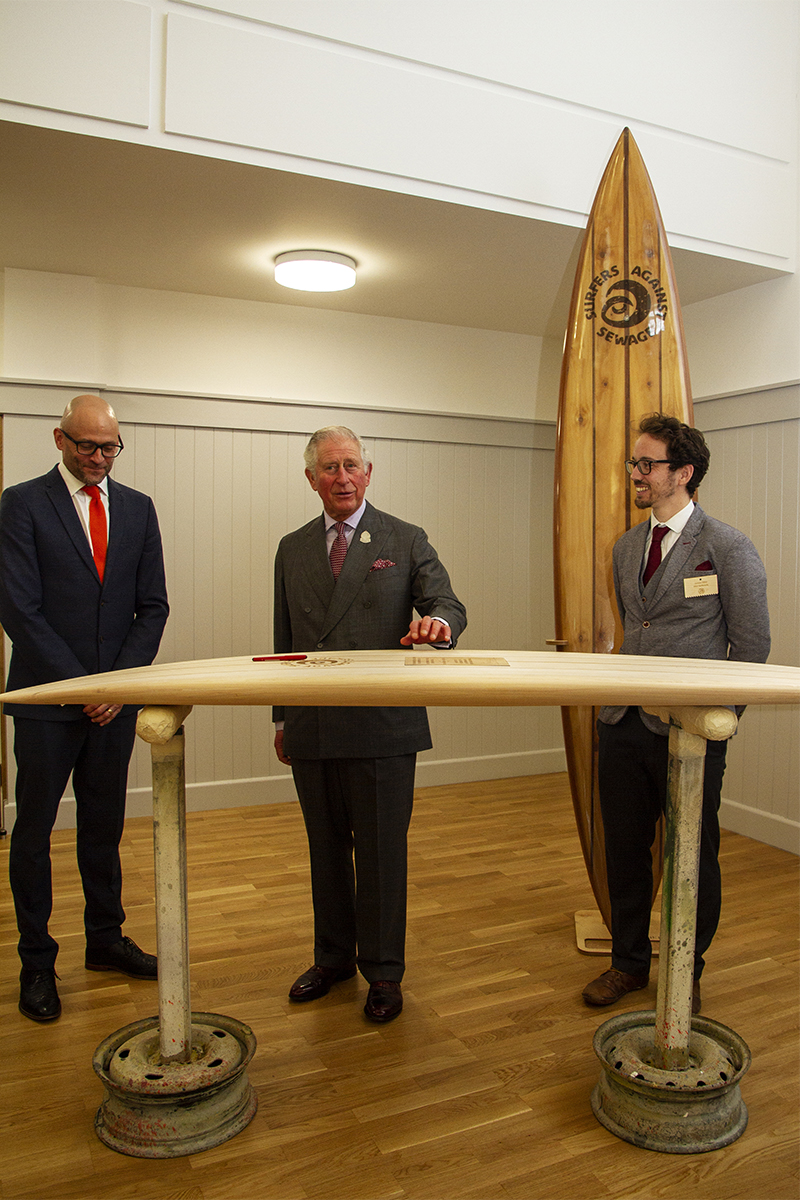 Surfers Against Sewage is proud to work with over 100,000 community volunteers around the UK, protecting our beaches for the future. The charity founded the Plastic Free Community movement, now active in 650 locations nationwide, and the Plastic Free Schools initiative which will reach 1.3 million school children in 2020. The charity will be rolling out an ambitious programme of marine conservation in 2020, and setting out a vision for the decade ahead, tackling issues including plastic pollution, climate change, habitat loss and water pollution.