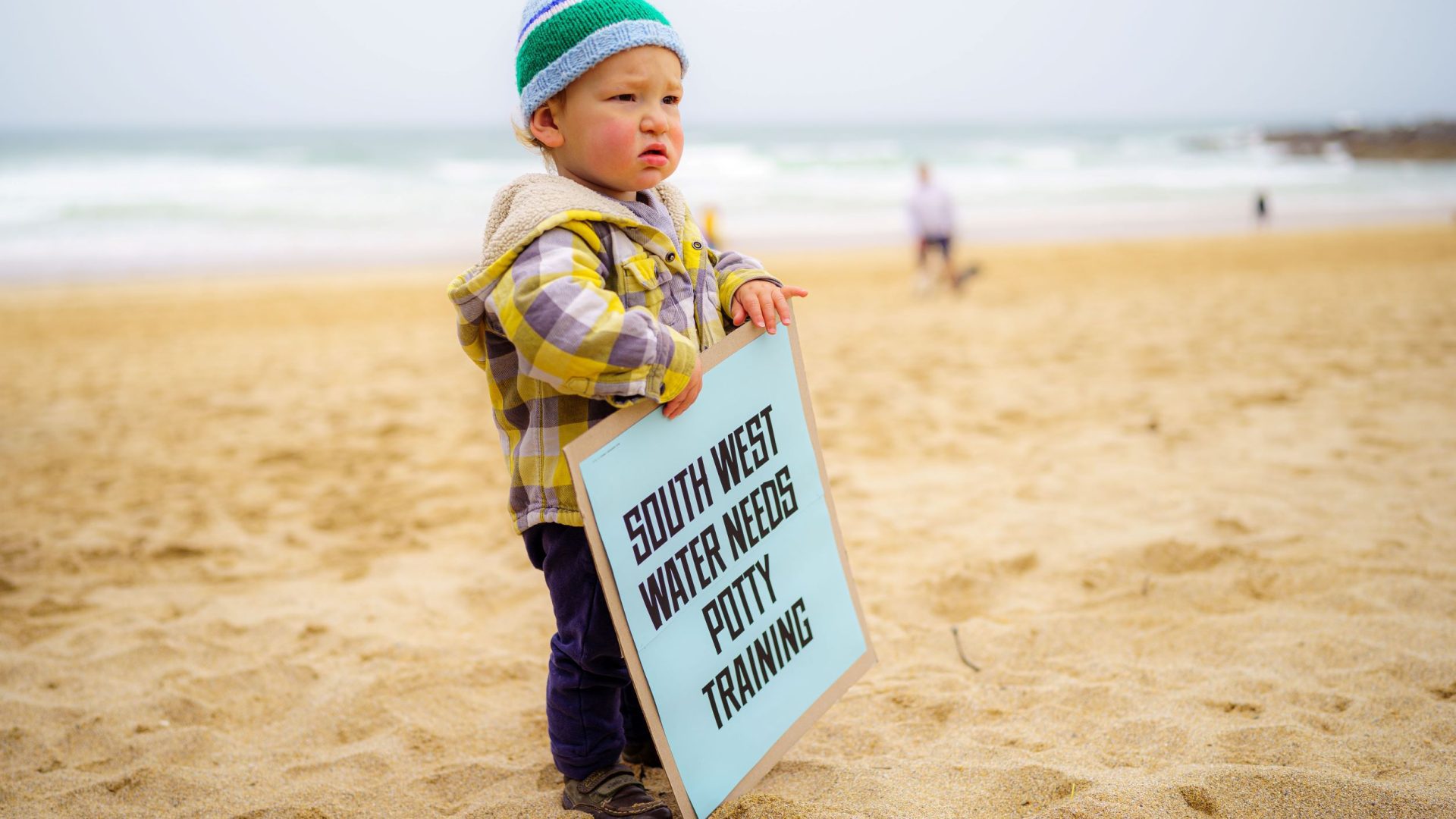 Demand to #EndSewagePollution Reverberates Across the UK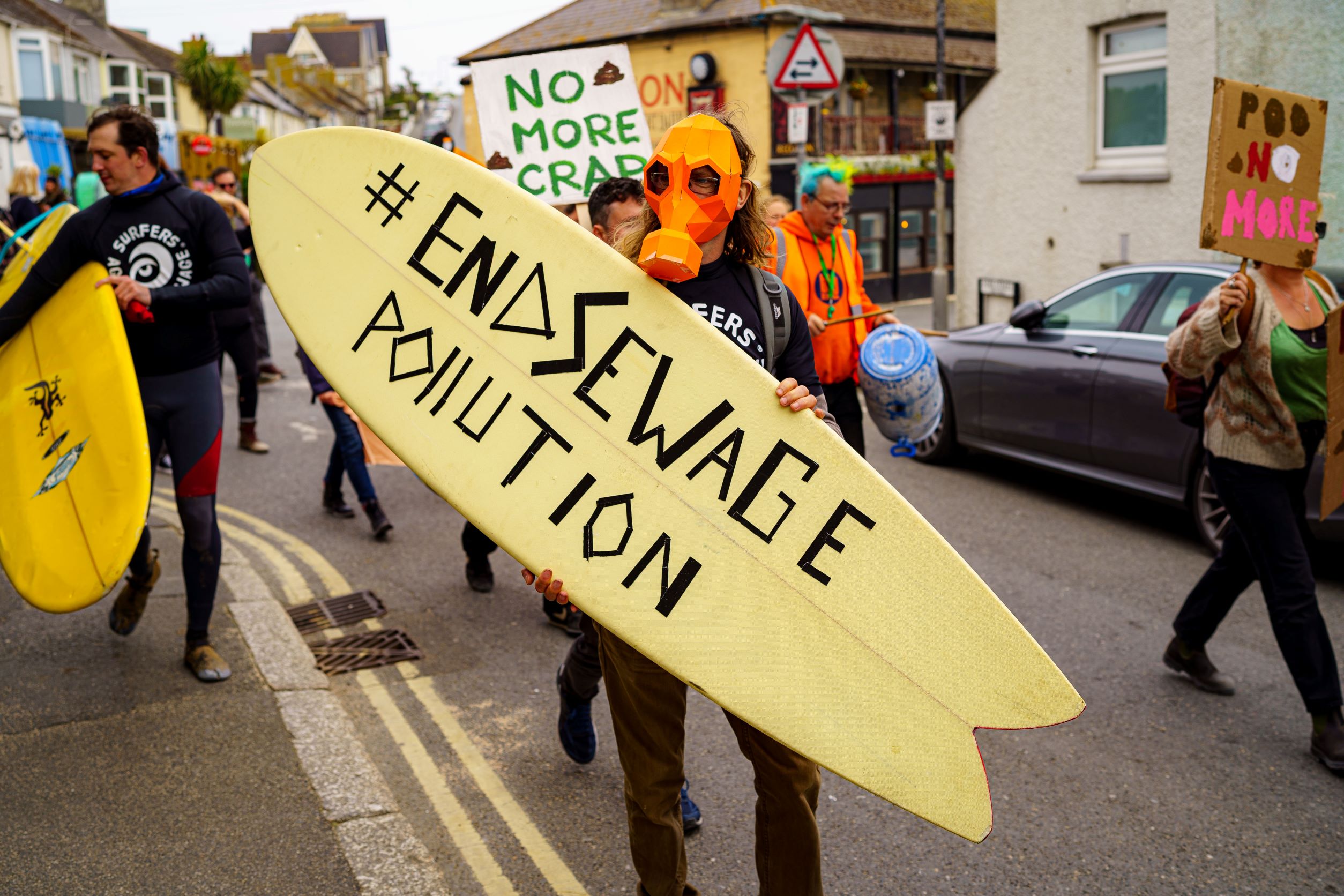 What a day. More proof, if any was needed, that the demand to #EndSewagePollution has wide public support and water companies can't bury their head in the sand any longer.
Yes, the first national day of action for water quality made huge waves right across the UK on Saturday and we really felt the full force of our Ocean Activists demanding change. Thank you to everyone who shared details of our campaign and who attended – with your wetsuits on, placards raised and passion high – you made these protests a knockout – right on the water companies' doorsteps.
Connecting water lovers from across the country, we came to the streets, riversides, and beaches in twelve locations, marching to hold water companies and the government accountable. From Belfast to Edinburgh, Newquay to London, protesters joined to share the #EndSewagePollution message and tell water companies we're sick of their shit. We saw an amazing diversity of groups participating in the action showcasing the widespread public support for action on the sewage scandal. A special thank you to the SAS Reps and other campaign groups who helped coordinate and lead these regional protests, helping to extend the reach of our message far and wide. An amazing effort from all involved.
Our protests splashed across the news in the UK, highlighting the unacceptable plundering of our rivers and coastlines. Channel 4 stopped off at our protests in Abergavenny and Worthing, you can watch the news segement here. Water companies have responded by claiming to have been setting the targets and making investments where needed – but they've been saying this for YEARS. We deserve better, and this is only the beginning!
Remind me, why did we protest?
Simply put, because water companies are polluting the planet in the pursuit of profit. And most recently, data released by the Environment Agency last month filled us with fury when it revealed the humongous scale of raw sewage being dumped into UK bathing waters. Government action has lacked the necessary ambition to tackle the issue and to follow up on commitments made in the Environment Act 2021. So on Saturday we marched to bring an end to sewage pollution plundering our bathing waters and to demand urgent action before it's too late.
Hugo Tagholm, our chief executive, who was at the Southern Water protest in Worthing, had this to say:
"Thousands of people are taking to the beaches and streets with Surfers Against Sewage in shared anger and disgust at the levels of sewage pollution that UK water companies currently preside over. These private monopolies are merciless in their pursuit of profit, seeing dumping untreated sewage in our rivers and seas as the fastest way to line the pockets of shareholders and executives. It's high time they clean up their act and end sewage pollution this decade, at this most critical time for our environment. We demand a decade of blue ambition, to restore our rivers and protect our seas from toxic sewage effluent.

Our rivers and beaches are national treasures – they don't belong to offshore tax havens, they belong to the wildlife and people of the UK. We all depend on clean rivers and seas – they are the blue arteries of this country, that should be thriving with life.

When I go for a surf, my son goes for a swim or when anyone takes time to enjoy the UK's blue spaces, we shouldn't have to do this with the risk of getting sick from sewage hanging over us. The message from the UK public has been made loud and clear from the streets today – water company execs, we are sick of your shit."
A huge thanks again to everyone that joined us. Your time and energy is our most valuable asset. But it doesn't stop here, our campaign to #EndSewagePollution continues.
But our ability to organise actions like this rely on your fundraising and donations. This week, until the 29th April, donations to our water quality campaign are being matched by The Big Give – doubling the total amount that we will receive and doubling our impact. Our campaigns will only grow in momentum and we won't stop.
So donate here to help fuel our campaigns against the profiteering and us reach our target for our #CutTheCrap campaign.
You can also speak up for our rivers by signing our petition calling for clean rivers.
You can see further press coverage of our event from across the UK here: