In the run up to the Global Wave Conference later this year, Surfers Against Sewage will be highlighting some of the enviro-surf organisations, campaigns, issues, protests and challenges from around the world.
Despite being one of the few nations with specific legislation to protect surf habitats, Peru recently saw clashes between riot police and Peruvian surfers trying to protect the Costa Verde. Local surfers were outraged that some of Lima's premiere beaches and iconic surf spots were threatened and damaged by the disputed expansion of a coastal road and the subsequent dumping of boulders without consultation, surveys or necessary technical advice.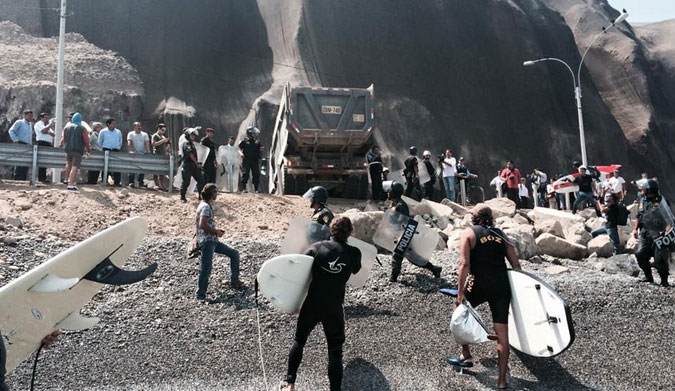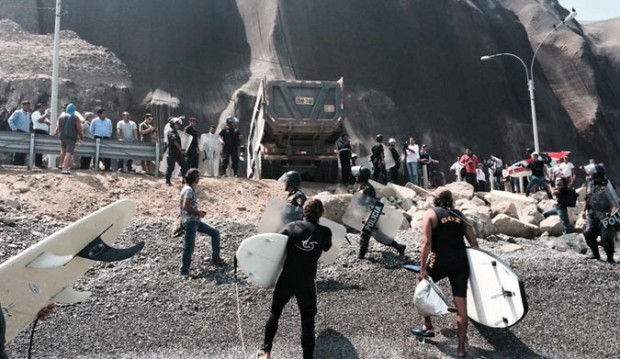 When work began on the controversial third lane along the Costa Verde, the local authorities were aware that many in the local community were opposed to it. Surfers, beach goers, campaigners and environmentalists argued that it created not only a dangerous situation for people using the ocean but also raised serious environmental concerns. Local news channels stated that the new road development was bordering on illegal and that the third lane wasn't even properly authorised. It was also claimed that environmental and technical studies required to execute such works were never completed, which is now being investigated.
Local surfers, who use this stretch of coastline most regularly, were there in force to put up the fight to protect the spots that are so important to them. They made a human barricade to prevent more boulders from being dumped from lorries onto the beach and were then forcibly removed from the water and the beach by police in full riot gear. Thanks to the intervention of these local enviro-surf campaigners and local, national and international press coverage it seems that just for now they won't be dropping more rocks, and that the Mayor will be called to the parliament to explain exactly what happened!
But local surfers remain vigilant!
Thanks to our colleague at Carlo Grigoletto from DG Costera. Carlo will be speaking at the Global Wave Conference in Cornwall in October. Priority tickets will be offered to SAS members in July – www.sas.org.uk/join