As a marine conservation and campaigning charity, our work relies on Ocean Activists.
We need petitions signed, bills passed, protests attended, voices heard. So we're accelerating Ocean Activism everywhere, to drive political and systemic change and turn the tide for good.
Having a passionate community around us who are ready and willing to take action to protect the ocean is vital to achieve our campaigning goals and leave a lasting impact. Because change can't happen without people power.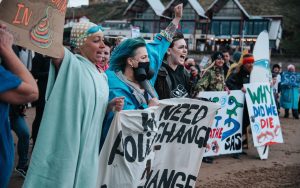 By giving communities the tools to act on the issues threatening the ocean, we're changing the systems and structures that are destroying marine ecosystems worldwide.
By building, educating, empowering, supporting and connecting diverse communities we're delivering more impact (you can read our Equity, Diversity and Inclusion statement here).
By meeting people where they are and running broad campaigns that engage them with Ocean Activism in all sorts of ways – political, scientific, fundraising and educational – we're becoming the wave that drives positive change.