SAS and Tom Curren at the Greenest Ever Boardmasters!
As the sea begins to heat up and the sun makes longer appearances, our thoughts turn to summer and festivals and they don't come much bigger than the Boardmasters Festival. This August marks the 16th year of our partnership with this iconic event, a relationship that has become stronger each year whilst Boardmasters has solidified its status as the UK's premier coastal surf festival.
This year is no different, with SAS pleased to announce the presence of three-time World Surfing Champion and very talented musician, Tom Curren, at the festival. After his visit to Cornwall in October last year to be awarded the first Global Wave Champion Award at the Global Wave Conference, Tom was keen to return and will be joining us for some waves, the Big Fistral Beach Clean, and of course, the music. He will be playing the Beach Sessions on Wednesday the 10th of August at Fistral Beach.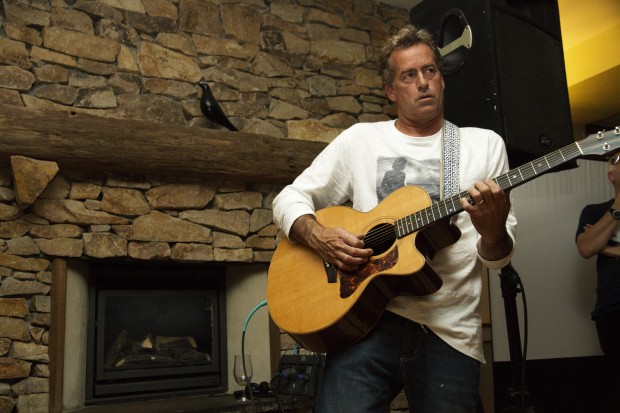 Green Boardmasters Guide
Last year saw the implementation of the 'Green Boardmasters Guide'. This was another fantastic step towards ensuring Boardmasters has as little impact on the stunning Cornish coastline and surrounding farm land as possible. We said last year that it is no secret that festivals can have a huge negative impact upon our environment and we were and are under no illusions that Boardmasters was any different; however the initiatives integrated last year DID cause positive change and laid solid foundations for 2016 and beyond. This year will see a renewed focus and development of the core beliefs set out in the Guide, such as:
Sustainable Transport – as with last year there is an emphasis on getting to the festival in a sustainable way with information on Liftsharing, GoCarShare and the Big Green Coach all on the Boardmasters website.
Caring Camping – there will be more toilets, bins and recycling facilities in the campsites and eco-friendly, water-saving showers have also been brought in this year. There will also be an opportunity to win tickets to next year's event through the 'Shore Dump' initiative.
Lowering fuel consumption – Boardmasters is working hard to reduce their non-renewable energy usage by 50% by 2025.
Improved waste disposal systems – there will be an increase of waste, recyclycing and cigarette bins throughout both arenas during the festival.
Return of the Boardmasters Green Team – To be part of this awesome team,  click here
SAS @ Boardmasters Programme
Our tent is packed full of activities so head down to our tent or say 'hello' to one of our team and join in!
Taking Place Daily at the SAS Tent
10:00 – 12:00 – SAS Breakfast Club – as a relaxed start to the day we will be bringing back our Breakfast Club with some amazing ocean films screened in a relaxed and comfortable environment including; Come Hell Or High Water, The Fisherman's Son, and North of the Sun.
12:00 – 17:00 – Various Campaign Actions – come and join our campaigns and events teams as they talk through the many campaigns we run and how you can get involved in protecting our waves, oceans and beaches.
14:00 – 15:00 – SAS Marine Litter Monsters Art Workshops – Led by one of our amazing Regional Reps, Mini-Boardmasters will learn about how marine litter is harming their beaches and wildlife via an interactive, noisy, messy, adventurous education show before  creating their own 'Marine Litter Monsters' in a free art workshop. Starting with a 'shopping trip' kids will collect what they need to make their creations from the beach.
15:30 – 17:00 – SAS Ocean Talks  – join us in our tent to hear from a range of speakers on the issue faced by our oceans. These will include members of the Regional Reps Programme and other SAS supporters.
All Day Activities – 10:00 – 17:00
SAS Annual Raffle – The prizes in this year's raffle are incredible, and tickets are only £1!
SAS Membership Recruitment – Join SAS for just £3 a month and get an exclusive free T-shirt!
SAS Shop – a wide range of merchandise will be on offer in the SAS shop located right next to the main tent.
Campaign Actions – there will, of course, be campaign actions going on every day. Keep your eye out for our amazing volunteers and why not join in with them?
Amazing Limited Activities!
Big Fistral Beach Cleans – Thursday and Saturday Mornings (11am) – 'Secret Gig Wristbands' for the first volunteers and day music tickets for the first 50 volunteers. Join SAS on Fistral Beach for the Big Fistral Beach Cleans. Give a little of your time to help keep this stunning beach clean before having an epic Friday and Saturday at Boardmasters.
Secret SAS Gigs – Thursday, Friday and Saturday afternoons 3pm – 5pm Fistral– Joined us for the Big Fistral Beach Cleans? Got your Secret Gig Wristband?? Well then head down to the SAS tent for a seat at the Secret Gigs!
Marine Litter Artwork Exhibition – This will be a culmination of the weeks work and will showcase the amazing work of our Mini-Boardmasters in raising awareness of the issues caused by marine litter.
So please do come and say "hi" at our tent at Fistral, join in with our Reps and Lead Volunteers who will be taking our campaigns to the beaches and get involved with the Boardmasters Green Teams who'll be dishing out 'Keeping It Green' tips and handfuls of good old fashioned bin liners.
Here's to our 'Greenest Ever (ever) Boardmasters'!