Plastic Pollution Campaign Victory! Deposit Return Scheme Announced for England!
Secretary of State for the Environment announces details of commitment to bring back bottle deposits to help curb ocean plastic pollution.
329,000 people signed SAS x 38 Degrees Message In A Bottle petition, the UK's biggest petition to bring back bottle deposits, and over 150,000 supporters took part in the government's consultation into the scheme.
Evidence from 50,000 SAS beach clean volunteers helps deliver new commitment to stop plastic bottle pollution with a deposit return scheme
New measure will build on plastic bag success, which has eliminated 9 billion plastic bags from circulation.
Surfers Against Sewage is thrilled that the government has committed to introduce a comprehensive deposit return scheme on drinks containers in England in the bid to end plastic pollution, reduce littering and create a more sustainable, circular economy. This huge victory for the environment comes in the wake of concerted campaigning from the beachfront to Parliamentary front benches, calling for a deposit  return scheme to end the environmental scourge of plastic bottles, one of the flagship plastic pollution offenders on our rivers, streets, countryside and coastline.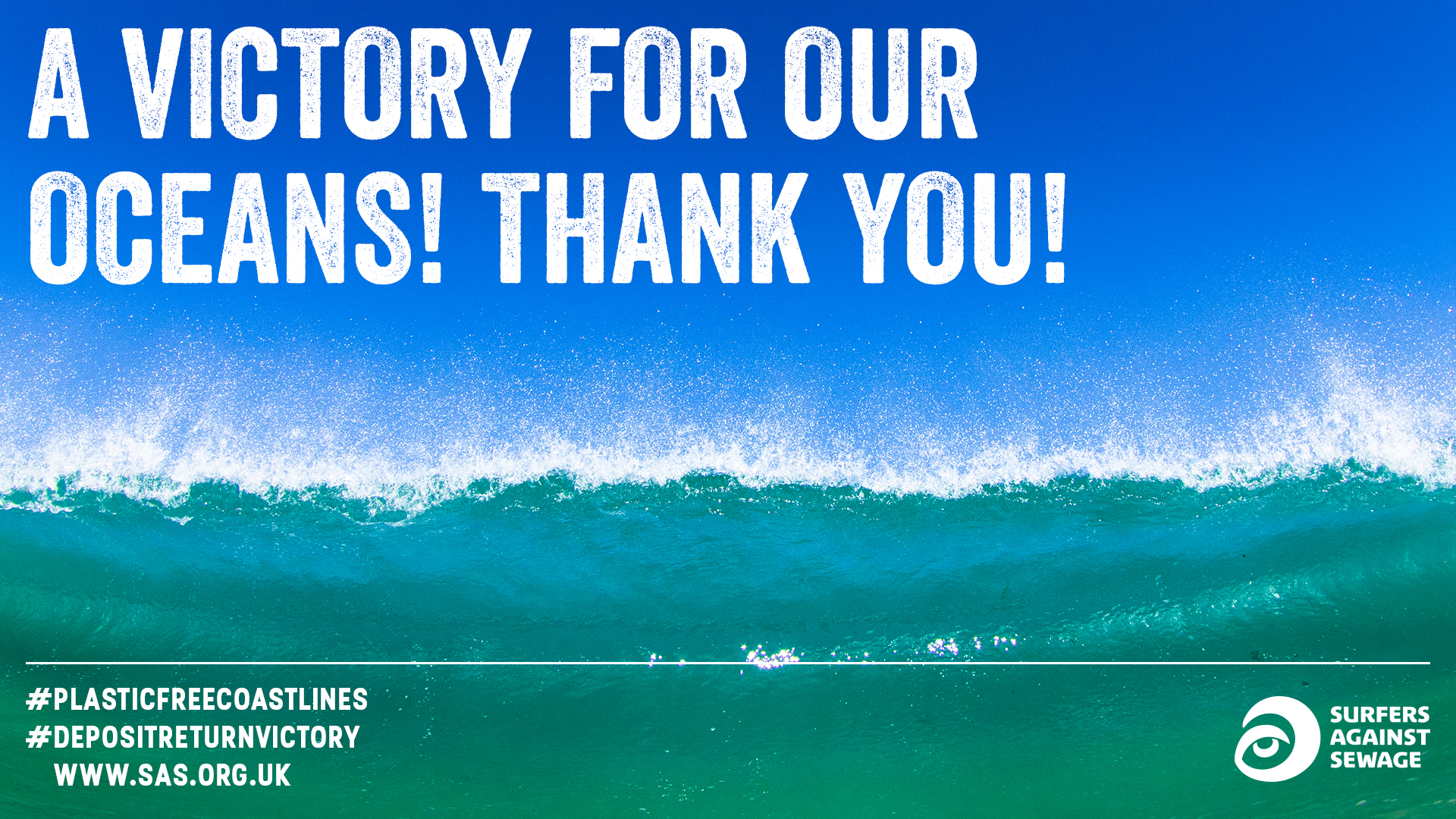 Hugo Tagholm, CEO of Surfers Against Sewage says: "Surfers Against Sewage is thrilled with the government announcement committing the country to a deposit return scheme on plastic bottles, drinks containers and cans. This huge victory for our oceans will stop millions of plastic bottles escaping into the environment annually, and stem the tidal wave of plastics swamping our coastlines. It's a testament to the power of the grassroots campaigners who united to call on the government to stop throwaway plastics at source. We'd like to thank all the signatories of our petition, volunteers and ocean advocates for creating the change our oceans need. This is another big step towards Plastic Free Coastlines."
For the last 18 months Surfers Against Sewage has spearheaded the deposit return campaign in the UK. With 38 Degrees, we created a petition that attracted the support of over 329,000 signatories and delivered it to 10 Downing Street. The campaign also presented expert evidence to the Environmental Audit Committee and to the Defra consultation on plastic bottle waste. By working collaboratively with other leading environmental and marine conservation charities, the campaign gave a cohesive and powerful voice on behalf of an environment being overwhelmed by plastic pollution. Surfers Against Sewage represents over 350,000 ocean campaigners around the UK and mobilises over 50,000 beach clean volunteers annually to take direct action on plastic pollution at the beach front. These voices are represented in our All Party Parliamentary Group, the only marine conservation focused group in Westminster, which is currently focused on solutions to deliver Plastic Free Coastlines.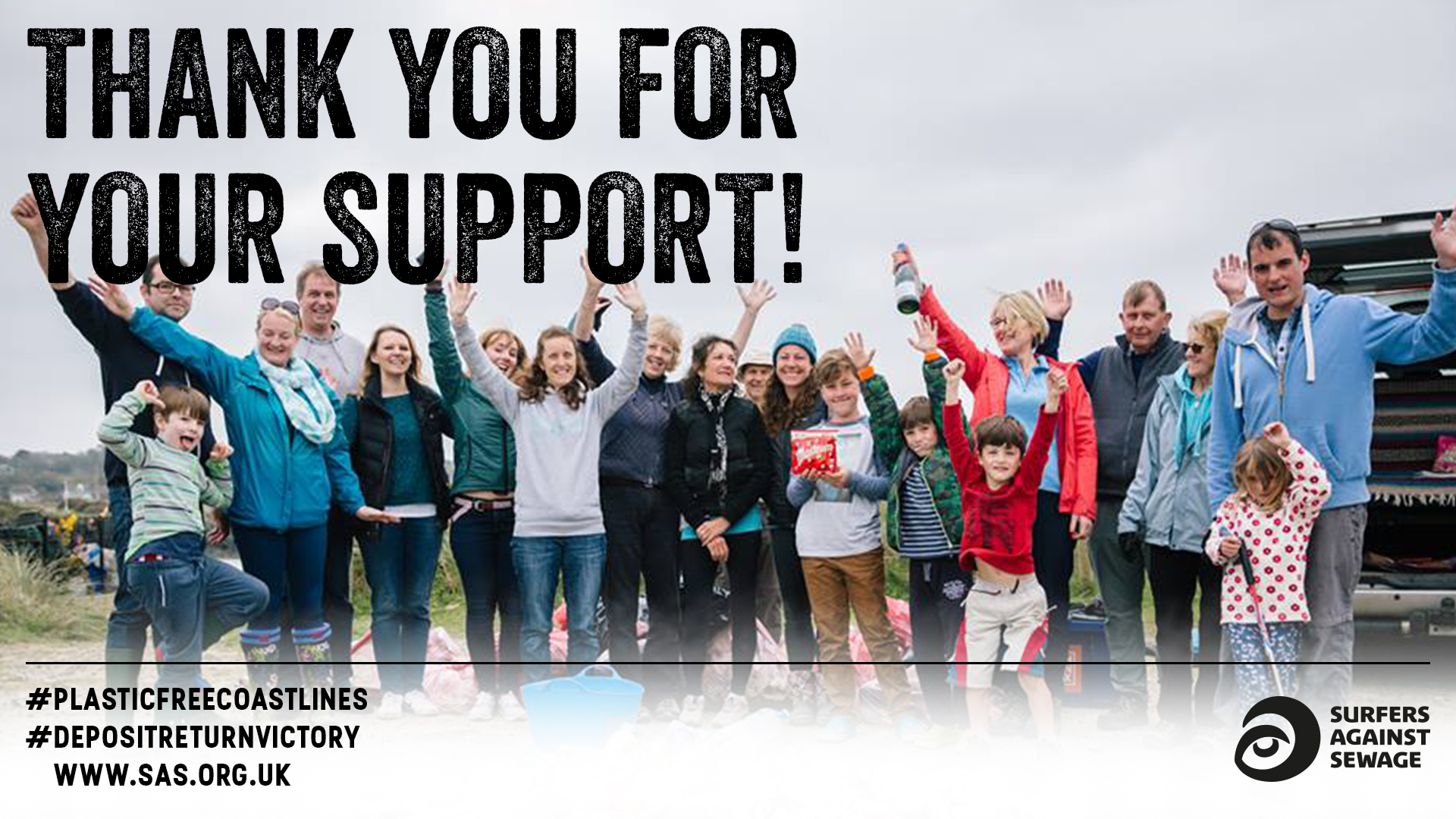 In the UK we use a staggering 38.5 million plastic bottles daily. Just over half of these are currently collected for recycling. Many end up in our oceans and on our beaches, with an estimated 255 million littered annually. The rest are simply burnt or consigned to landfill, creating other environmental hazards and wasting a valuable resource for the future. A well-designed deposit return scheme is expected to collect up to 95% of plastic bottles and drinks containers, keeping purer materials in the system for reuse as drinks containers or other higher-value products. This supports a circular economy within the drinks industry and reduces its reliance on virgin plastics.
Society has to act now to tackle its runaway plastic emissions. This requires a range of measures and system-wide changes to end our toxic relationship with single-use plastics. Plastic pollution is more than just a littering issue. Today's commitment to bottle deposits reflects the need to stop the flow of empty bottles at source.
Eliminating avoidable plastics and trapping plastic waste in the economy rather than the environment is the change we have been calling for. We need a range of tools to tackle the sheer scale of the plastic pollution crisis. Deposit returns are currently one of the most powerful weapons available to put the brakes on virgin plastic production and curb our rampant addiction to throwaway plastics.
Holly Maltby from 38 Degrees says: "This is an amazing result after huge pressure from the public urging the government to take bold steps to reduce plastic pollution. It's an incredible win for 320,000 people who signed the petition on 38 Degrees, and an incredible win for the environment with thousands more bottles getting recycled so our beaches and seas stay plastic-free. It proves that when thousands of people work together, our people-power is impossible to ignore."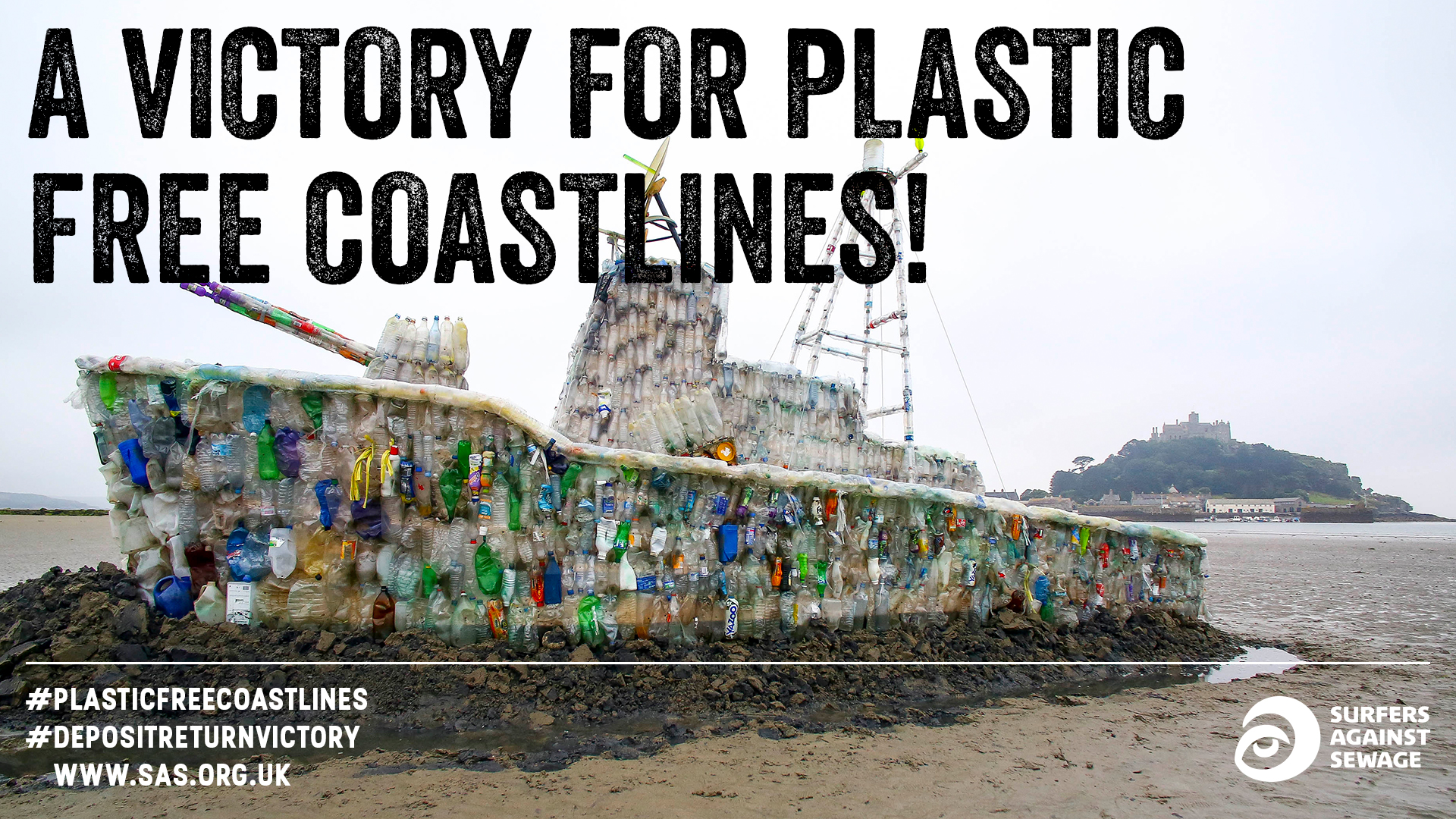 Surfers Against Sewage would like to thank everyone who signed the petition – 329,000 people who united to create meaningful change on plastic pollution. We would also like to thank all our members, beach clean volunteers, Regional Reps, funders and supporters who have helped deliver this result. We would like to thank Holly Maltby and the team at 38 Degrees. We would like to thank Greenpeace, Sam Harding and the team at the Campaign to Protect Rural England (CPRE), the Marine Conservation Society, James McKenzie and the Have You Got The Bottle? Coalition, Keep Britain Tidy, Eunomia, Surfing England, the Royal Yachting Association, the Outdoor Swimming Society, the British Sub Aqua Club, Sir Ben Ainslie, Land Rover BAR, John Harfield, Andrew Couldwell, the Blue Marine Foundation, Fathoms Free and the Protect Our Waves All Party Parliamentary Group. We would also like to thank Caroline Lucas MP, Steve Double MP, Geraint Davies MP and Kerry McCarthy MP.
For more information and interviews please contact Hugo Tagholm on 07980 727 294 or email [email protected]
Surfers Against Sewage Press Officer: Sally Fish – 01872 553 001 or email [email protected]