MP's show their support for #PlasticFreeParliament
Following the challenge that Surfers Against Sewage issued to Parliament to get their house in order and free from single-use plastic (read about our recent campaign success here), we provided every MP with a free, reusable stainless steel Kanteen water bottle – to kickstart their individual commitment in tackling plastic consumption.
Prior to the campaign, over 120,000 single-use plastic water bottles were used in Parliament per year. These avoidable plastic products have since been eliminated, with instead numerous refill points installed around the estate.
Following the bottle distribution, MP's have taken to twitter to showcase their support: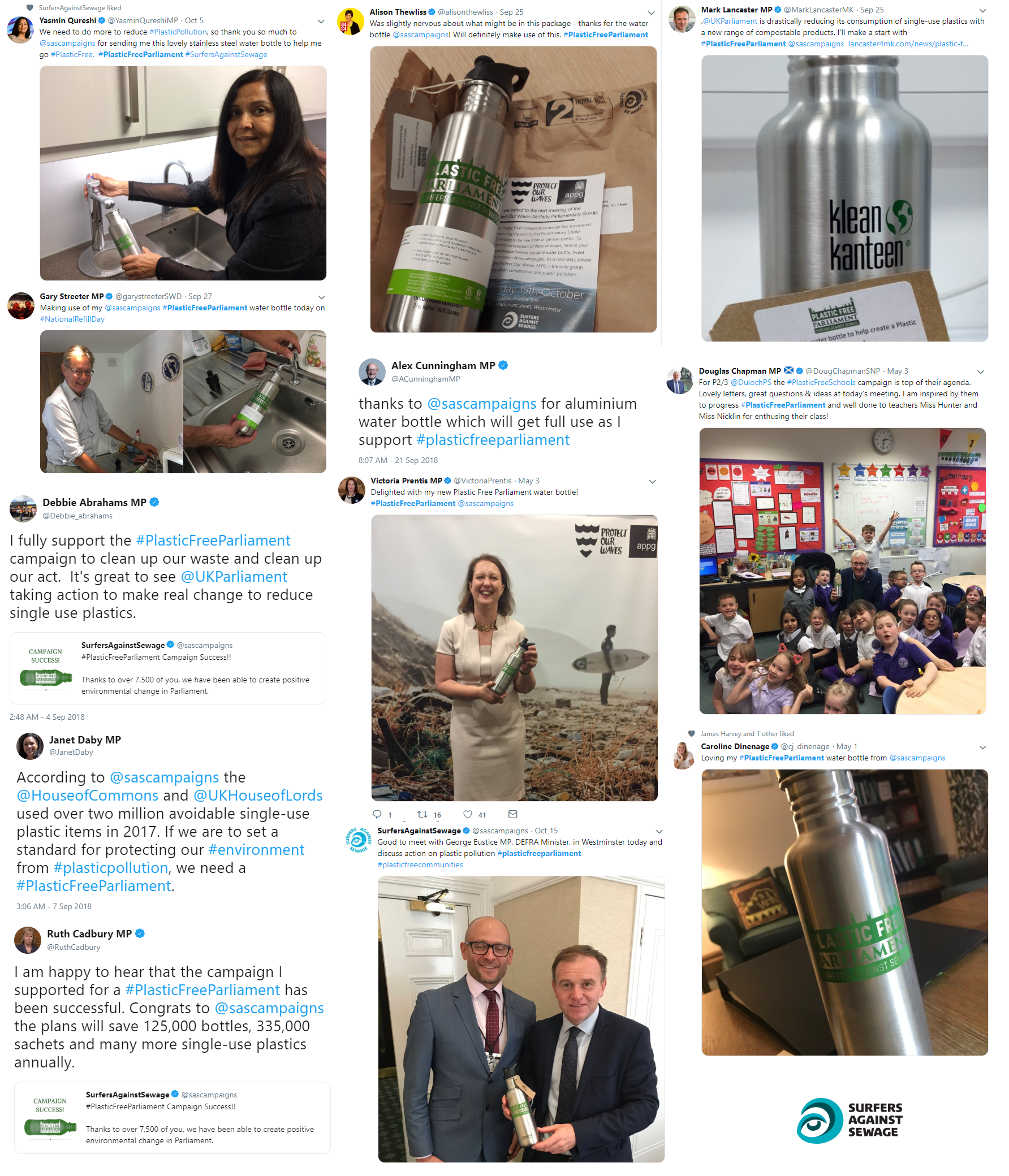 The full list of MP's that supported Plastic Free Parliament:
| | |
| --- | --- |
| Adrian Bailey | Louise Haigh |
| Afzal Khan | Luke Pollard |
| Alan Brown | Madeleine Moon |
| Alan Cabell | Marcus Jones |
| Alex Sobel | Margaret Greenwood |
| Alistair Carmichael | Maria Caulfield |
| Andrew Mitchell | Mark Field |
| Andrew Rosindell | Mark Hendrick |
| Andy Slaughter | Mark Tami |
| Angus MacNeil | Marsha de Cordova |
| Anna McMorrin | Martin Whitfield |
| Anne Main | Martyn Day |
| Barry Sheerman | Mary Creagh |
| Ben Bradshaw | Matt Rodda |
| Ben Lake | Matt Western |
| Bernard Jenkin | Matthew Offord |
| Bill Wiggin | Matthew Pennycook |
| Bob Blackman | Mike Amesbury |
| Caroline Dinenage | Mike Hill |
| Caroline Lucas | Mike Penning |
| Caroline Spelman | Mims Davies |
| Catherine McKinnell | Mohammad Yasin |
| Catherine West | Neil O'Brien |
| Chris Williamson | Neil Parish |
| Christine Jardine | Nick Brown |
| Christopher Stephens | Nick Smith |
| Craig Mackinlay | Nigel Evans |
| Daniel Zeichner | Norman Lamb |
| Darren Jones | Oliver Heald |
| David Amess | Oliver Letwin |
| David Drew | Patricia Gibson |
| David Crausby | Patrick Grady |
| David Hanson | Paul Farrelly |
| David Linden | Paul Girvan |
| David Tredinnick | Paul Williams |
| David Warburton | Pauline Latham |
| Deidre Brock | Pete Wishart |
| Dennis Skinner | Peter Bottomley |
| Derek Thomas | Peter Heaton-Jones |
| Diane Abbott | Peter Kyle |
| Douglas Chapman | Philip Dunne |
| Drew Hendry | Rachael Maskell |
| Edward Davey | Rachel Maclean |
| Faisal Rashid | Rebecca Pow |
| Frank Field | Richard Benyon |
| Geoffrey Cox | Richard Burden |
| George Eustice | Richard Graham |
| Geraint Davies | Robert Courts |
| Glyn Davies | Robert Goodwill |
| Gordon Henderson | Robert Neill |
| Graham Brady | Roger Godsiff |
| Grahame Morris | Ronnie Cabell |
| Hannah Bardell | Rosie Duffield |
| Helen Goodman | Rupa Huq |
| Helen Hayes | Rushanara Ali |
| Hilary Benn | Ruth Cadbury |
| Hugh Gaffney | Ruth George |
| Ian Blackford | Sandy Martin |
| Ian Lucas | Sarah Chaion |
| Ian Murray | Sarah Newton |
| Jacob Rees-Mogg | Scott Mann |
| James Cleverly | Seema Malhotra |
| James Duddridge | Sharon Hodgson |
| James Gray | Simon Clarke |
| James Heappey | Stephen Crabb |
| Jared O'Mara | Stephen Doughty |
| Jess Phillips | Stephen Gethins |
| Jim McMahon | Stephen Lloyd |
| Jim Shannon | Stephen Morgan |
| Jo Platt | Stephen Pound |
| Joan Ryan | Stephen Twigg |
| John Grogan | Steve Double |
| John McNally | Steve Reed |
| John Redwood | Stuart Andrew |
| John Whittingdale | Stuart C. McDonald |
| John Woodcock | Sue Hayman |
| Jonathan Edwards | Thangam Debbonaire |
| Jonathan Reynolds | Thelma Walker |
| Justin Tomlinson | Tim Farron |
| Justine Greening | Tom Brake |
| Karen Lee | Tommy sheppard |
| Kate Hoey | Tonia Antoniazzi |
| Keith Vaz | Tony Lloyd |
| Kelvin Hopkins | Vicky Ford |
| Kerry McCarthy | Victoria Prentis |
| Kevin Brennan | Wera Hobhouse |
| Layla Moran | Hugo Swire |
| Lilian Greenwood | William Wragg |
| Liz Saville Roberts | Zac Goldsmith |
| Lloyd Russell-Moyle | |
More information on Parliament's progress implementing it's plastic free measures can be found in our article here