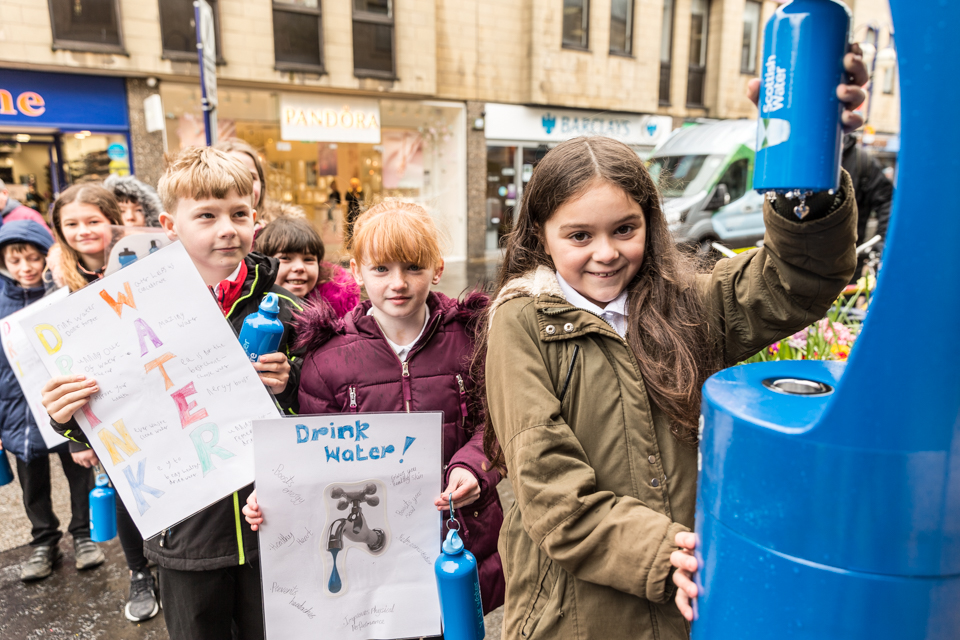 Join the Refill Revolution!
As hundreds of communities across the UK work to start freeing where they live from single-use plastic through the Plastic Free Communities movement, we are seeing a resurgence in public drinking fountains. Whether it's bringing old fountains back into use, installing new facilities or just making use of publicly available taps, our Plastic Free Communities are helping spearhead the Refill Revolution!
London has been leading the charge with a pledge to install more than 100 drinking water fountains across the city … inviting local communities to apply for one to be installed for free.  Here's a taste of some of the other projects getting off the ground across the rest of the UK with the support and help of their local councils, Community Allies and volunteers …
Plastic Free Falmouth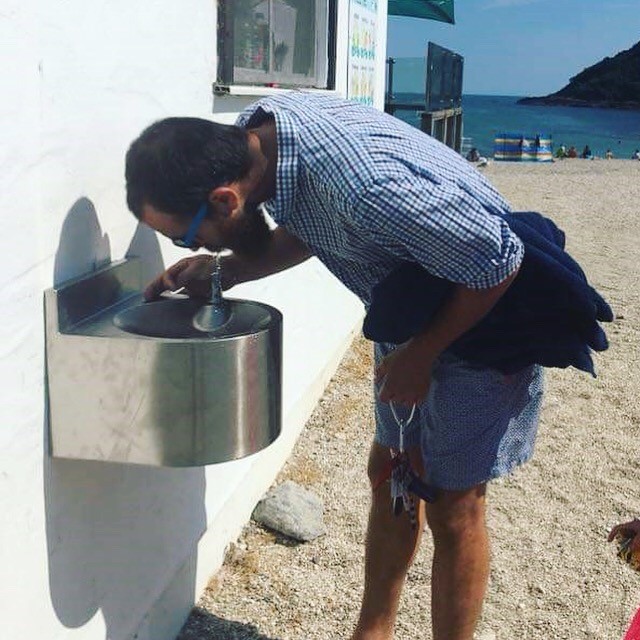 The team at Plastic Free Falmouth have instigated four public water refill points on all of the town's main beaches, Castle Beach, Swanpool Beach, Gyllyngvase Beach and Maenporth. They are now working on restoring historical water fountains in the main town in partnership with Community Allies, Falmouth Town Council and the Falmouth Civic Society.
Community Lead Kirstie Edwards told us: "It's a simple solution to a big problem. It's enabled us to radically reduce plastic use at the beach for all users and has been supported by businesses and locals alike. They are widely used and were by far the most popular project that we have been involved with. Huge credit goes to Councillor Tony Parker for spearheading this initiative via the beach management group and securing funding and permissions to have them installed last summer."
Plastic Free Sidmouth
Sidmouth Town Council has installed three fountains, saying it's very conscious that plastic is becoming more and more of a problem and councillors felt the town should be doing all it could encourage refill.  The scheme has been so successful it's helped Sidmouth Folk Festival go plastic free and a fourth fountain is planned for the near future! Town Clerk Chris Holland told us they're easy to install and maintain and there's 'no excuse not to do it really'
Community Lead Denise Bickley said: "They are subtle but we all make sure to use them every time we are nearby and make a point of it. I made my children refill many times during our Folk Week last year, as the Market Square one is right where people congregate to watch bands! I think they are a real asset to the town and need to be promoted more. We also have many cafes in the town signed up to the Refill system, and many more that are happy to refill"
Plastic Free Appledore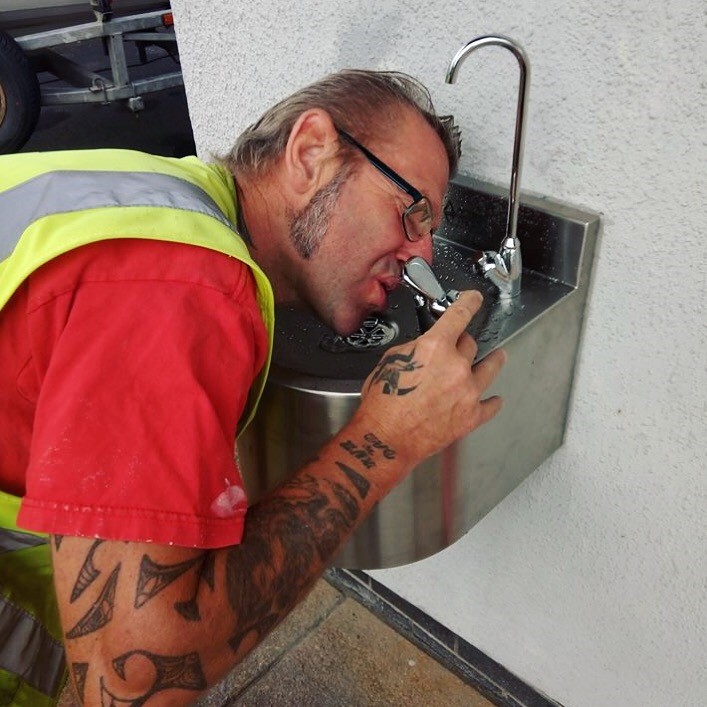 Northam Town Council installed a water fountain in Churchfields Car Park in Appledore last summer and, being set up in a busy car park, it has meant that day trippers, mooring boats, locals and campers are able to easily refill water bottles without needing to purchase single use bottles. It's proved so successful that local leads are now in the process of getting water fountains installed in Bideford and Westward Ho!
Plastic Free Appledore Community Lead Sadie Davies said: "We were keen to reduce the amount of litter in our small community especially in the summer when the populat ion increases considerably. Our local councillor Peter Hames, who sits on our Plastic free Torridge Steering Group and Northam Town council was instrumental in getting this fountain up and running for the Appledore community. As a community we are very active in trying to reduce our plastic consumption as we see first-hand the effects it is having on our beautiful coastline and coastal towns and villages."
Plastic Free Barry & Plastic Free Penarth
Fourteen drinking fountains are going to be installed in the Vale of Glamorgan in an effort to reduce single-use plastic bottles … with the majority being placed in our Plastic Free Communities in Barry and Penarth. The council's investing £40,000 in the scheme with the hope that it will also help improve its outdoor spaces and encourage people to stay hydrated while they're active. Community leads say they are pleased their campaigns are getting the bolster, to support their message to refill and reuse.
Anthony Slaughter is the Community Lead in Penarth and says it's an exciting development: "The local community has reacted very positively to the plastic free campaign and these fountains will help reduce further the use of single use plastics in the town by making it easier for residents and visitors to refill their reusable water bottles at convenient locations. The fountains will be a great help in the community's continued efforts to turn the tide on plastic."
Plastic Free Beaconsfield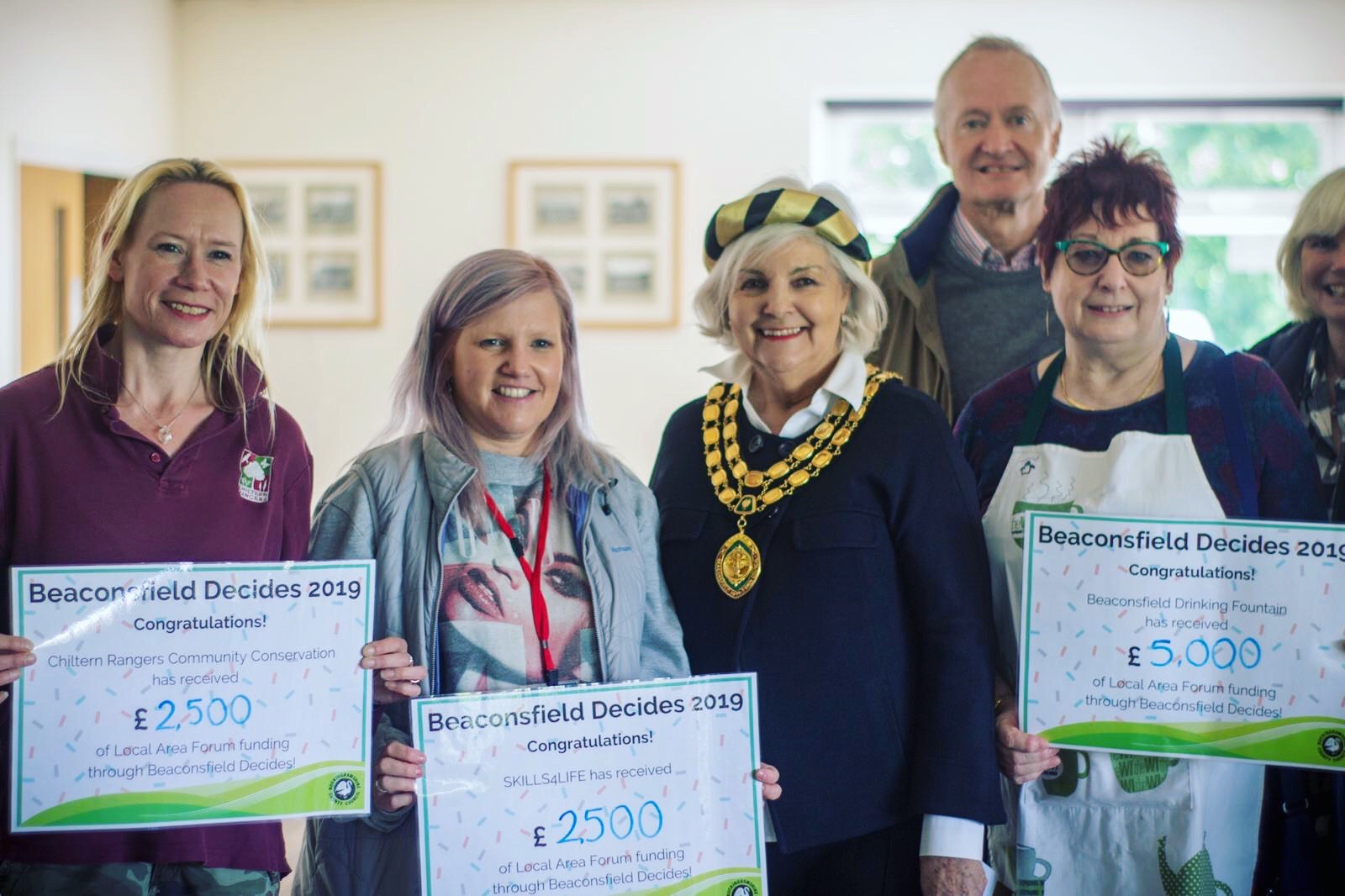 Plastic Free Beaconsfield are running a joint project with their local WI and between them have raised £8000 of community funding to install a water fountain in the town. The project was one of three projects selected to take part in 'Beaconsfield Decides 2019' and won twice – showing great public support for the scheme! It's hoped a joint refill station and fountain for drinking will be installed in the next few months … and there could be enough funds to install two!
Community Lead Jackie Slipper told us: "We think it is essential. Years ago all public places had fountains and free drinking water available, water is a basic human need and should be easily and freely available. Gradually people will automatically carry refillable bottles and not routinely buy single use plastic bottles. When canvassing for support we were really pleased with the encouragement and enthusiasm; we are pushing at open doors, the public really care."
Plastic Free Dunfermline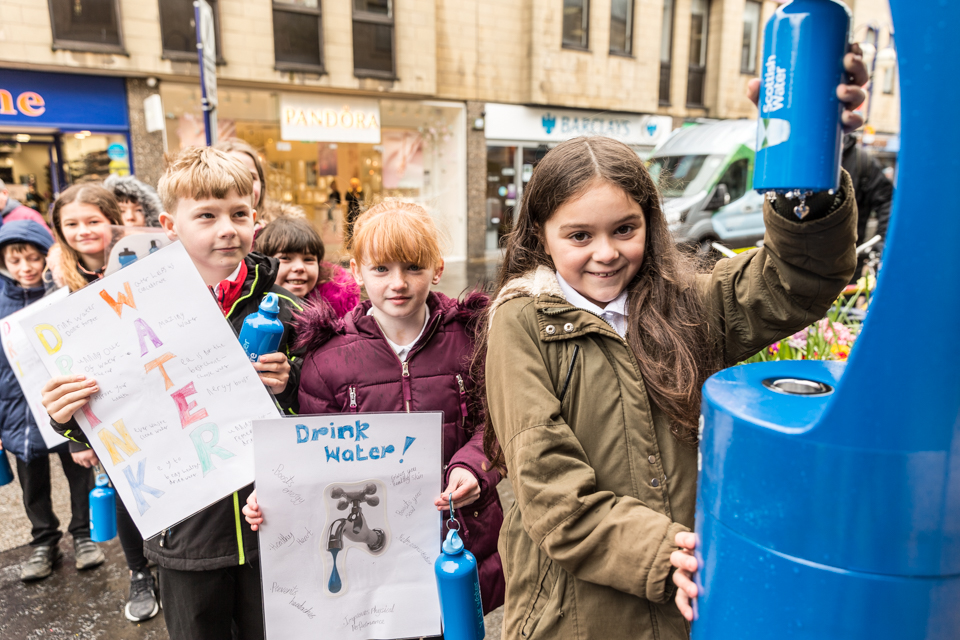 Dunfermline is home to an outdoor 'top-up tap' as part of a network of refill points being installed across Scotland by Scottish Water. Since it was installed in the high Street this April it's given out 668 litres of water, the equivalent of 1336 single-use plastic bottles in two months! The local council's so impressed it's looking at installing more and the town's been inundated with requests from other communities to find out how they can also get one.
Community Lead James Daw told us "The top-up tap is a valuable asset to the town centre and fits the work Plastic Free Dunfermline are doing to promote behavioural change around reducing single-use plastic. We have been recruiting businesses in Dunfermline to become 'Refill Stations' offering the public places where they can refill their reusable water bottle with tap water for free. We are delighted that all the work we put into this project has come to fruition from the email we sent proposing outdoor water refill point in the first place, to liaising with key local stakeholders about its location."
Have you got a great refill story to share from your community? Please tell us! You can drop us a line on [email protected]
To find out more about Plastic Free Communities click here
We're creating the Plastic Free Community network to free where we live from single-use. Together we're tackling avoidable single-use plastic, from the beach all the way back to the brands and businesses who create it. Wherever you live, whether you're on shore or inland, urban or rural, high-tide or high-rise, we're uniting communities in the fight against single-use plastics. It's not about removing all plastic from our lives. It's about kicking our addiction to avoidable single-use plastic, and changing the system that produces it. Join us and let's free where we live from single-use, one plastic bottle at a time.