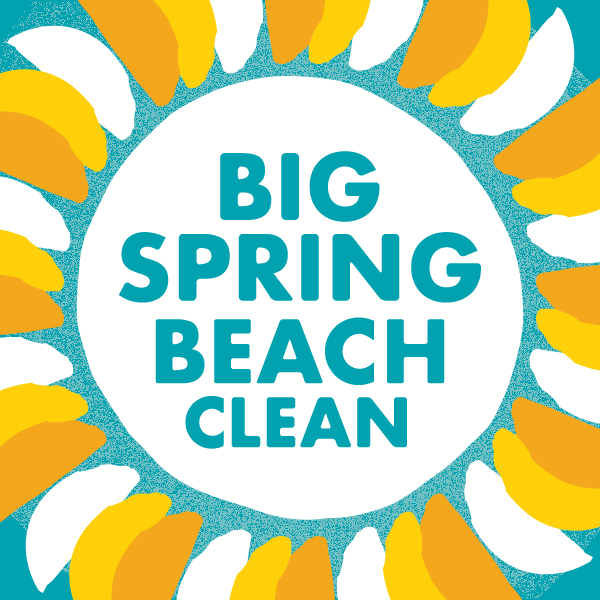 JOIN OUR BIGGEST BIG SPRING BEACH CLEAN EVER!
We call upon 20,000 beach clean volunteers to capture 'avoidable plastic' evidence at 550 coastal and river locations nationwide.
This April 7th – 15th we'll be welcoming 20,000 volunteers at a record breaking 550 community beach cleans across the UK. This call to action is timely, in a month that a Government report projected that ocean plastic is set to treble (to 16 TRILLIION items) by 2025 (1), never has it been more important for people to come together to tackle this human-made scourge of the seas.
Find your nearest event HERE!
THE 'ATTENBOROUGH' EFFECT
In the last decade, the Big Spring Beach Clean has grown into one of the largest and most impactful marine conservation actions in the world. However we believe that this year is different, this year there is light at the end of the tunnel in the journey towards Plastic Free Coastlines, a light that recently became an explosion of 'ocean plastic awareness' thanks to the 'Attenborough effect' of Blue Planet 2!
The Big Spring Beach Clean will convert this explosion of awareness into positive action by asking each of our volunteers to record and share the presence of millions of items of 'avoidable plastics' with the Governments Treasury consultation on single-use plastics (as well as removing and recycling thousands of kilos of marine debris).
Using the hashtags #AvoidablePlastics and #PlasticFreeCoastlines, this mass data collection will provide the Government with 'Un-Avoidable' evidence of the urgent need to introduce upstream solutions to reduce single-use plastic.
Dom Ferris, SAS Head of Community and Engagement says: "The scene is set and all that remains is for you to donate your time to the cause. The great news is that SAS beach cleans are also really fun, community spirited events and with over 550 taking place nationwide there's sure to be plenty to choose from near you".
To find your nearest event head to our Regions & Events page or email Jack and Harry at [email protected].
WHAT ARE 'AVOIDABLE PLASTICS'?
This is the UK Government's definition; "Avoidable means what is Technically, Environmentally and Economically Practicable". Simply put, this is single-use plastic that can be avoided, individually and/or collectively through the use of sustainable alternatives and simple behavioural choices.
OUR 'AVOIDABLE PLASTIC' CHECKLIST
Big Spring Beach Clean volunteers will be asked to remove, record and report the following prime plastic offenders;
Plastic bottles / bottle tops / cups / cartons
Coffee cups and lids
Plastic cutlery
Straws
Takeaway / on-the-go food packaging
Plastic bags
Bathroom plastics: Plastic toothbrushes, disposable razors, cotton buds, plastic sanitary items, shampoo etc. containers
Balloons
Individual condiment sachets/wrappers / sweet wrappers / lolly sticks
Polystyrene packaging / fast food containers
*Not currently classed as avoidable – Medical items, fishing gear, ship/automotive parts, any non-plastics.
UPSTREAM SOLUTIONS PARTNERSHIPS
Surfers Against Sewage are proud to be working with the Environment Agency (EA) to develop innovative solutions to tackle single-use plastic pollution in the wider environment. From partnering to make the Big Spring Beach Clean bigger than ever to teaming up with their  pioneering new South West Plastics and Sustainability team to reduce the amount of plastic pollution across land, rivers and the coastline, it is through collaborative relationships such as these that we truly can create plastic free coastlines.
Environment Agency Area Director, Richard Stockdale said: "We are delighted to support our partner Surfers Against Sewage in the Big Spring Beach Clean. If you love where you live then I encourage you to get involved, like so many of Team EA are, myself included.  Spend some time outside with friends, family or colleagues and help make your part of the world a greater place".
YOUR LOCAL BIG SPRING BEACH CLEAN
To find your nearest event head to our Regions and Events page or email Jack and Harry at [email protected] and just head down on the day with a smile, you'll be extremely welcome!
PS; There's still plenty of time to register to lead your own Big Spring Beach Clean and with 2500 beaches and coves in the UK there's plenty of room!
#BSBC18# / AvoidablePlastics# / PlasticFreeCoastlines