Government Moves Closer to Committing to Deposit Returns
We welcome the news that the Secretary of State for the Environment has announced that the Department for the Environment, Food and Rural Affairs (Defra) has launched a public consultation on the possible introduction of a deposit return system in England. The call for evidence, focusing on ways to increase the recycling rates of drinks containers and preventing the littering of plastic bottles, opened this week and will be running until the 30th October. It includes seeking evidence on the costs, benefits and impacts of deposit and reward and return schemes (DRS).
We urge you to respond to help reinforce the indisputable case for the government to now commit to deposit returns. LINK: https://consult.defra.gov.uk/waste-and-recycling/call-for-evidence-drinks-containers/
Mr Gove said: "We must protect our oceans and marine life from plastic waste if we are to be the first generation to leave our environment in a better state than we found it
"That means tackling the rise in plastic bottles entering our waters by making it simpler and easier to recycle and dispose of them appropriately.
"Today we are launching a call for evidence to help us understand how reward and return schemes for plastic bottles and other drinks containers could work in England.
"This approach has already seen great success in other countries such as Denmark in curbing plastic pollution and we want to hear people's ideas on how we could make it work in England.
"This adds to the progress we have already made in cleaning up our oceans by significantly reducing plastic bag use and drawing up one of the world's toughest bans on plastic microbeads."
The announcement comes in the wake of the delivery of our Message In A Bottle petition uniting over a quarter of a million voices calling for the introduction of a UK-wide deposit return system to help protect our oceans and beaches from plastic pollution. There is now overwhelming public support, with almost 3 out of 4 people in the UK in favour of the measure and business leaders Coca Cola and Suez also giving their backing to a 'well-designed' DRS system being established in the UK.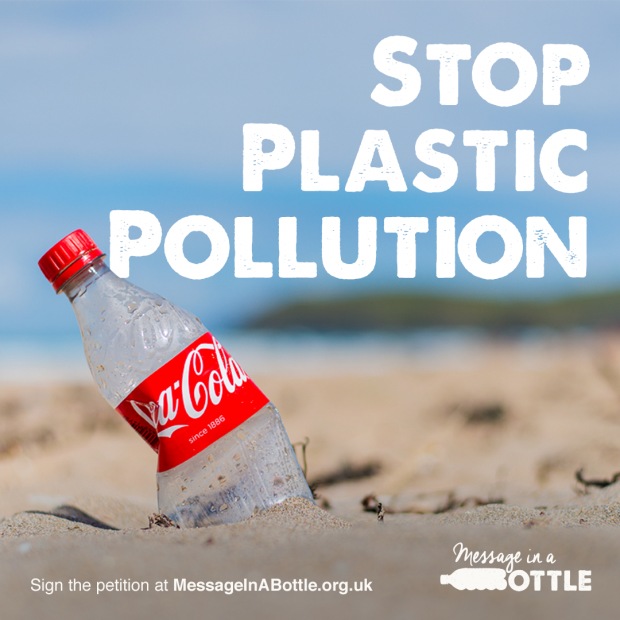 The consultation is being coordinated by the National Litter Strategy Voluntary & Economic Incentives Working  Group, which will look at regulatory measures to tackle specific types of litter and increase resource efficiency. Defra said that "In this wider context of improving local environmental quality, and potentially increasing recycling, as its first piece of work, Ministers have asked the Working Group to look at regulatory or voluntary measures to reduce littering and/or improve the recycling of drinks containers. We have also specifically been asked to consider the advantages and disadvantages of different types of well-designed and well run deposit and reward and return schemes for drinks containers.
We use a staggering 38.5 million plastic bottles in the UK every single day, with only just over half of these collected for recycling, leaving 16 million to be landfilled or to escape into the environment daily. Our kerbside systems also fail to provide an efficient way of collecting the plastic bottles and containers that are used 'on the go', which then clog up public bins or can be littered. Many of these end up on our streets, in our countryside or in our oceans, posing a threat to marine wildlife and poisoning the marine environment and food-chain. 
There is now irrefutable evidence at the efficacy of deposit return systems in capturing much higher rates of plastic drinks bottles and other containers than current kerbside collections in England, where collection rates have stagnated since 2012 and currently hover at 57%. There are many nations currently operating very successful deposit return systems, including Norway, where collection rates of plastic bottles reaches 96%.
The benefits of DRS include massively increasing not only the quantity of recycling collected, meaning far fewer plastic bottles littered, but also the quality of the recycling. Separating the high quality material at collection avoids contamination by other materials, increasing the value, which in turn could boost investment in more domestic recycling facilities to create high quality products. The introduction of DRS would also help create new green jobs and help save local authorities money.
 The First Minister for Scotland, Nicola Sturgeon, recently committed to develop a deposit return system for Scotland. Whilst Westminster is now playing  catch up, the sooner England commits to DRS the more cost effective any new nationwide system will be. Having a different system for Scotland, Wales and England would add confusion and complications. Now is the time for the government to commit to deposit returns in England.
The scale of the evidence to introduce DRS is growing every day and we believe we should focus now on learning from and emulating the most effective deposit systems in the world that will work best for the UK's towns, cities and rural communities, increase resource efficiency and protect our countryside, streets and coastline.
We look forward to representing the voice of our supporters and presenting the positive case for deposit returns through the consultation. We will also be presenting oral evidence to support the case for introducing a deposit return system in England to the Environmental Audit Committee inquiry on 17th October.
In the meantime, help us tackle plastic bottle litter at  beaches nationwide with the Autumn Beach Clean Series