The 10th May officially marks Surfers Against Sewage's 25th anniversary, providing us with a great opportunity to reflect on past achievements, but more importantly, to shine a spotlight on the urgent environmental challenges ahead.
The last quarter of a century has seen Surfers Against Sewage evolve from a highly publicised single-issue campaign group to a fully-fledged environmental charity, working on increasingly diverse, complex and challenging marine conservation issues. The organisation has had to adapt to tackle these new, sometimes global threats by developing new environmental initiatives, partnerships and projects to safeguard surfing habitats. After 25 years, 'Surfers Against Sewage', a name and message we love and stand by, doesn't fully reflect the range of issues the organisation currently works on or the diversity of the community we represent. And never before have our oceans been under more threat.
SAS 2015
Together with your support, this year we hope to create an even sharper focus on today's key marine conservation issues, from marine litter to climate change, coastal development to health and wellbeing, through:
amplifying our call for a 50% reduction of UK beach litter by 2020 and building the road map of activity to help achieve this.
working with communities to empower, train and mobilise between 10,000 – 15,000 coastal volunteers.
calling for greater restrictions on the thousands of sewage discharges our surf spots and beaches are subjected to annually from the UK's network of over 30,000 combined sewer overflows.
demanding better protection of our coastline from inappropriate coastal developments that destroy habitats, waves and wildlife.
taking your voice to Parliament as part of the Protect Our Waves All Party Parliamentary Group, to call for legislative change and improved protection for the coastal places we all love and enjoy.
working with Europe's leading scientists to explore the emerging health impacts of poor bathing water quality.
highlighting the catastrophic implications of unabated climate change for coastlines, surfing environments and coastal communities worldwide.
bringing together the world's enviro-surf community in Cornwall and London for the Global Wave Conference.
SAS 25th Anniversary – Campaigns & Successes Along The Way
In the meantime, to celebrate this auspicious year and anniversary weekend we decided to pick out 25 campaign highlights, environmental achievements and marine conservation victories sprinkled with a few amusing capers and celebrity supporters to share with you to mark the occasion!
Surfers Against Sewage activists campaigning in the European Parliament to secure higher water quality standards at all UK bathing waters through the Revised Bathing Water Directive in 2006, better protecting the health of surfers, swimmers and all other recreational water users at hundreds of the UK's most prized beaches & surf spots.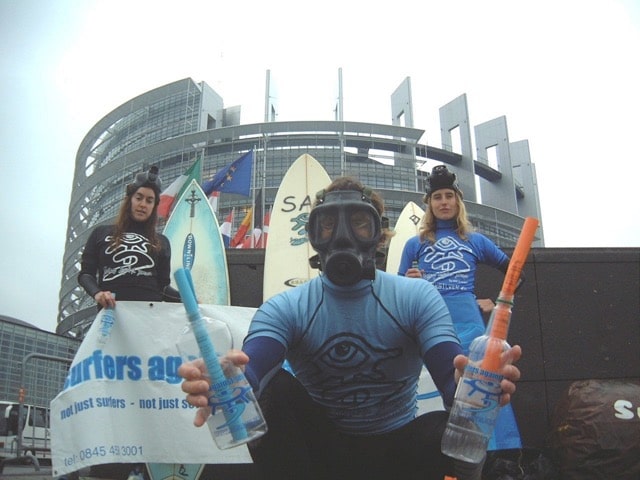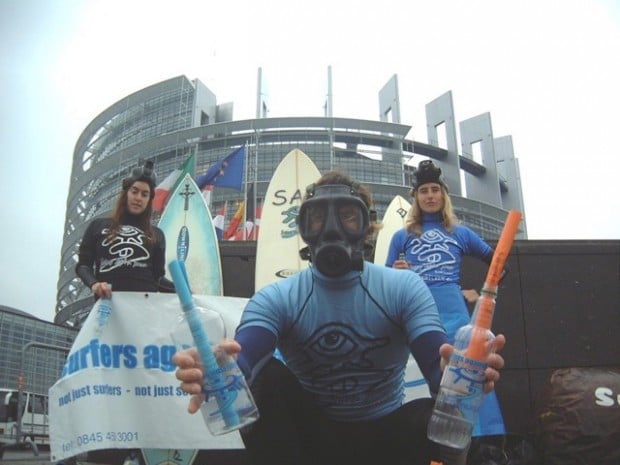 Surfers Against Sewage activists and campaigners demanding an end to continuous disposal of sewage at UK beaches and for the Urban Waste Water Treatment Directive to be fully implemented to introduce full sewage treatment around the coastline of England and Wales. Surfers Against Sewage has been at the forefront of calling for and securing £billions of ongoing investment in the sewerage infrastructure and cleaner oceans between 1990 – 2015.
Campaign Actions & Stunts! Surfers Against Sewage activists wearing gas masks; carrying inflatable turds into meetings; wetsuits in the Houses of Parliament; mass demonstrations with hundreds of surfers; doorstepping business leaders; sending marine litter back to corporate giants and developing some of the most iconic campaign imagery of any marine conservation organisation globally!
Exposing the UK's network of over 30,000 combined sewer overflows, which are often hidden just out of sight of beach communities but are currently responsible for thousands of sewage pollution incidents at many of the country's best beaches and surf spots. Surfers Against Sewage has been leading the campaign to expose and monitor CSO's and are currently calling for more legislation to prevent their misuse and abuse of the UK's natural surf heritage.
In 2013, Surfers Against Sewage delivered the biggest petition in enviro-surf history to 10 Downing Street, calling for better recognition and protection of Sites of Special Surfing Interest right around the UK. The Protect Our Waves petition was supported by over 55,000 individuals including Kelly Slater, Rob Machado, Ben Skinner, Stephanie Gilmore and Ben Howard. The petition has led to the formation of SAS's own All Party Parliamentary Group, which is an unprecedented platform for SAS to raise its coastal conservation concerns with politicians in Parliament.
Surfers Against Sewage today runs one of the UK's biggest campaigns to tackle marine litter – mobilizing between 10,000 – 15,000 community volunteers annually, lobbying government and industry for more urgent action to reduce the tide of trash on our beaches, and highlighting the issue in the mainstream media. Last year, SAS published the Marine Litter Report, a 5-year action plan mapping out the scale of the marine litter crisis and solutions, which could help deliver a 50% reduction in marine litter by 2020.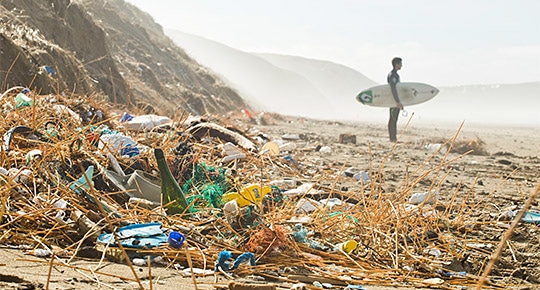 YOU! Our members, volunteers and supporters nationwide – we couldn't do it without you! THANK YOU!!
UK waves and beaches – the true reason behind the campaigns – we protect what we love and we urge all surfers to join SAS to help grow the impact of the campaigns in our 25th anniversary year! Join the campaigns today www.sas.org.uk/join
SAS today has its biggest ever network of supporters nationwide, estimated at over 150,000, with a team of 50 Regional Reps leading grassroots campaigns, running local initiatives, organizing actions and creating positive change to protect the surf spots they most love.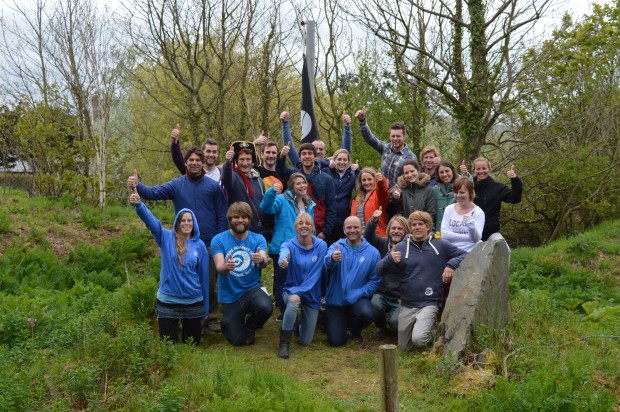 Surfers Against Sewage was awarded charity status in 2012 and is today considered one of the country's leading marine conservation charities and most effective enviro-surf  NGO's in the World. With marine litter, climate change and water pollution at critical levels, the need for action has never been more acute.
Surfers Against Sewage producing the most ever watched Panorama on combined sewer overflows, exposing the new threat to our surf spots and beaches from the insidious creep of sewage pollution coming from the UK's now ailing sewerage system.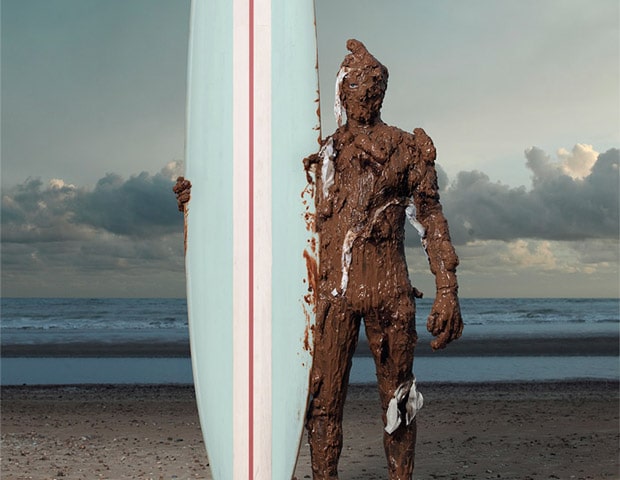 Introducing the 'Marine Litter Crisis' into the lexicon of coastal conservation and calling for the most radical raft of action to tackle the new scourge of our beaches – plastics – which is one of the biggest threats to our marine ecosystems in history.
Break The Bag Habit –  Securing new government legislation to massively reduce plastic bag litter in 2015! This was highlighted in the Queen's Speech in 2014 and was a huge win for SAS and the environment!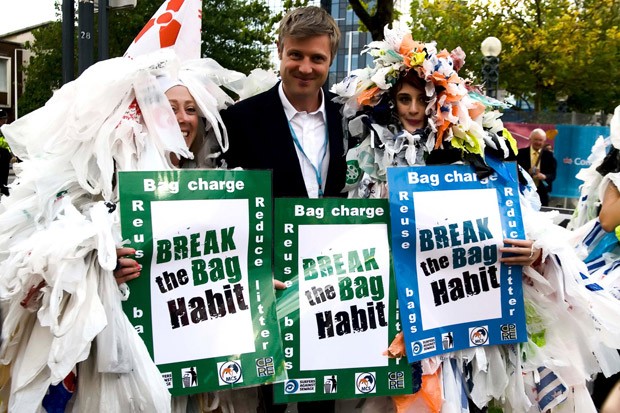 Founding member Chris Hines and passionate environmental campaigner being awarded an MBE for his services to the environment in 2008! Chris was campaign director of SAS from 1990 – 1999 and then went on to work at the Eden Project during the 2000's. His achievements were recognised by the Queen in 2008 and today he runs his own successful environmental consultancy – A Grain of Sand – in Cornwall, right where Surfers Against Sewage began.
Becoming the first European NGO to receive an award through the Surf Industry Manufacturers Association (SIMA) Environmental Awards at the prestigious Waterman's Ball in California in August 2014.  This was amazing international recognition for the impact of the current campaigns to promote and protect waves, wildlife, oceans and beaches. SAS also managed to go head to head with Fernando Aguerre, President of the International Surfing Association, in the flamboyant suit stakes and hung out with Rob Machado, Jordy Smith and Shaun Tomson. SAS will be taking the campaigns to the international stage again this summer 2015 at the Waterman's Ball and are already planning the suits.
Superstar Ben Howard's amazing set at the Blue Bar Porthtowan, following an epic beach clean in the sunshine, which over 250 SAS members volunteered at. The music was amazing, the sun was shining, the wine was flowing and the waves were pumping that day! We also removed hundreds of kilos of litter from one of our favourite beaches and birthplace of Surfers Against Sewage!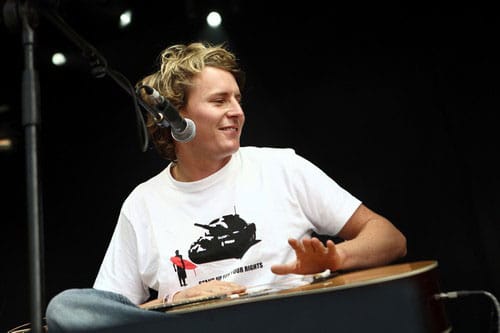 Launching the first ever report to highlight the UK's Sites of Special Surfing Interest in mini tanks on Fistral Beach Cornwall. The campaigns team needed special permission to set off flares across the beach. This report has been widely used as a basis in wave protection cases around the UK since 2011. Surfers Against Sewage's scientific reports have become go to documents to protect surfing habitats UK wide.
The SAS Ball – the party that everyone wanted a ticket for – with the likes of Faithless, Razorlight, Feeder, Republica and the Darkness gracing the stage for this SAS member's only night of madness and mayhem, all in the name of cleaner oceans, waves and beaches. Many a happy memory was formed and babies were even made thanks to the SAS Ball. It was the template and precursor to the Masked Ball and other hedonistic wonders we see today! A great community celebration that dominated the SAS airwaves in the 1990's!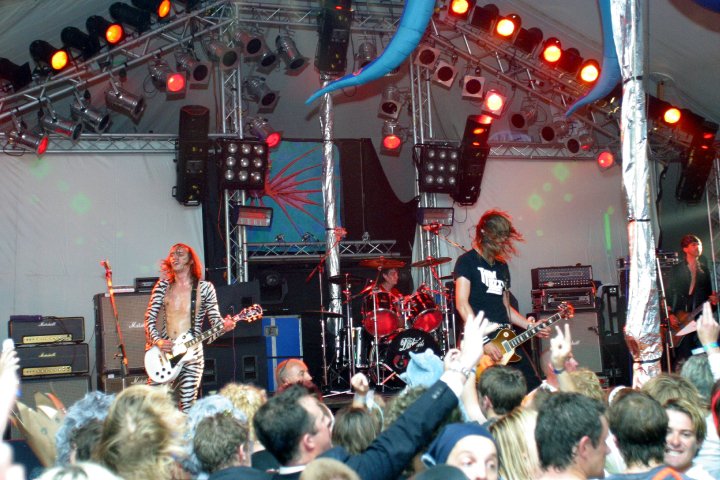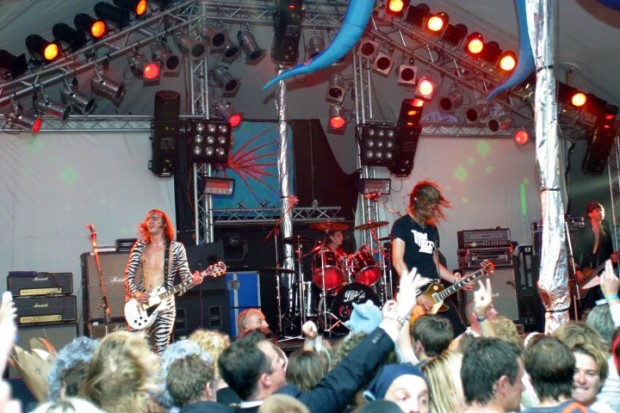 Surfers Magazine recognising Surfers Against Sewage as 'Agents of Change' in 2014 amongst just a handful of individuals and organisations globally.
Surfers Against Sewage being shortlisted in The Observer Ethical Awards in 2010 and being featured in Vogue Magazine for wearing the time-tested suit and board shorts combination at the black tie gala dinner!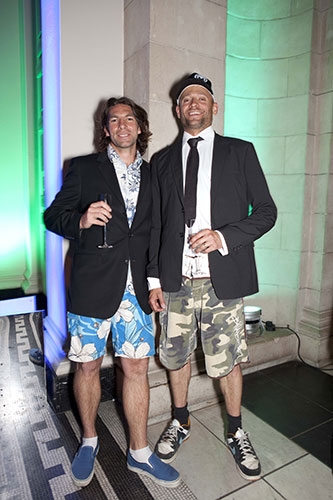 Surfers Against Sewage has been responsible for creating some of the most valuable surfboards in history. Damien Hirst, Sir Paul McCartney, Tracey Emin, Banksy and many others have donated works, which have been created on some of the country's most sustainable surfboards thanks to Homeblown and Laminations. Sir Paul's board was recently valued at over £55,000!!! Unfortunately the initial auction raised a lot less for SAS!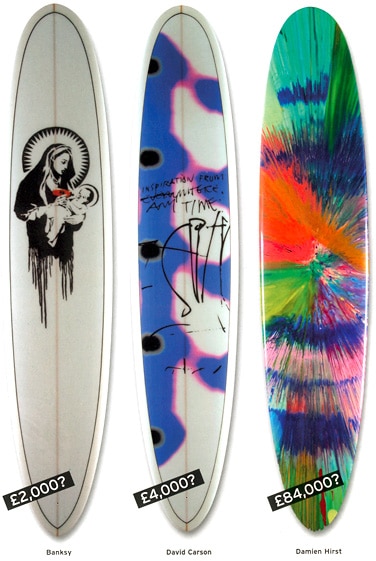 Rob Machado and Carve Surf Magazine popping past SAS HQ in 2012 to spend a few hours talking campaigns and hatching plans on how Rob could support the Protect Our Waves petition. Team SAS will be catching up with Rob again in 2015 to work on collaborative projects.
Pipe Master Tom Carroll surfing with Team SAS at Trevaunance Cove, St Agnes. Former world Champion Gary Elkerton and UK hero Gabe Davies hitting the education trail with SAS campaigners on the now legendary SAS Tour Bus.
Collaborating with the Surfrider Foundation International, Save The Waves and Sustainable Surf for what will be one of the most ambitious international enviro-surf conferences ever, the Global Wave Conference, which will bring together surfers and environmentalists from around globe to discuss emerging threats to waves, oceans and beaches.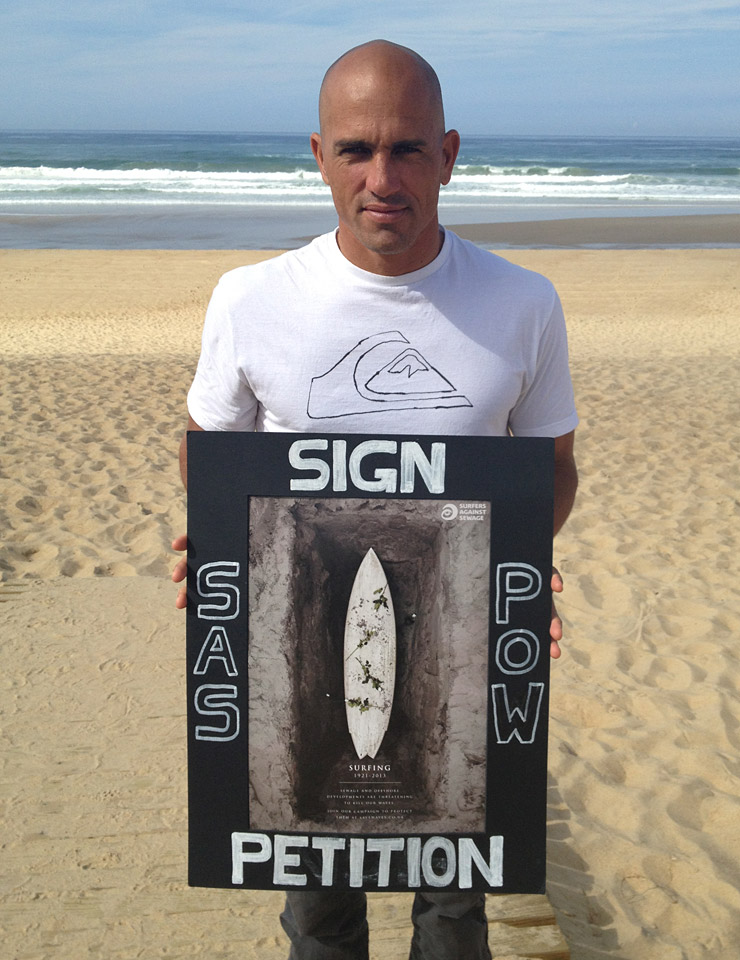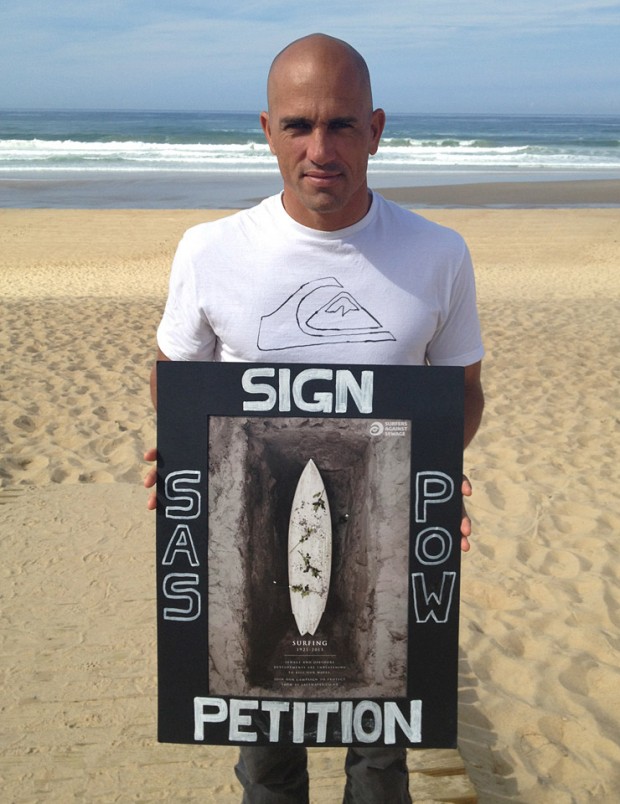 Making Waves Since 1990!
Thanks for all your support!
Team SAS