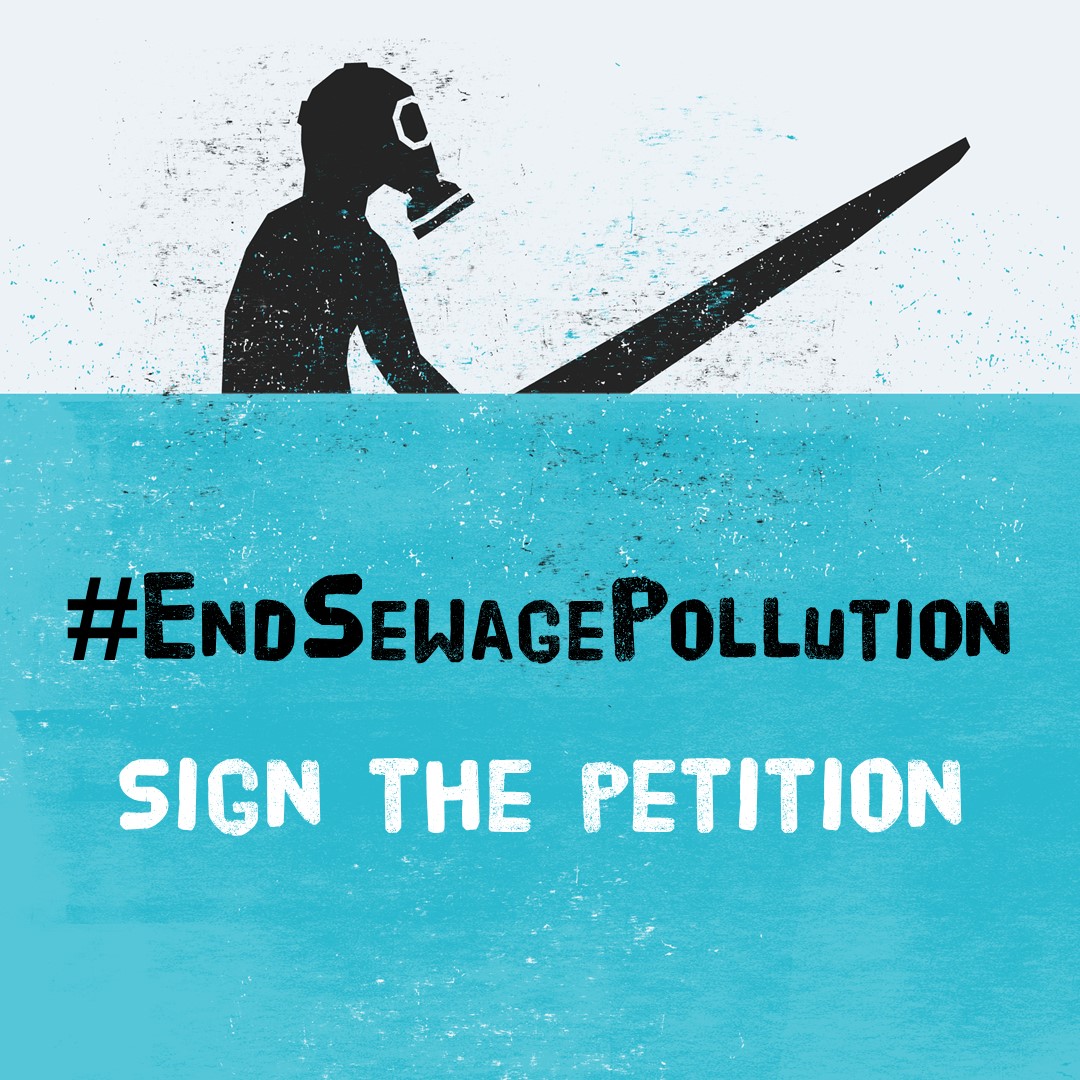 #EndSewagePollution: Petition launches for better water quality across the UK

Today, we've launched the #EndSewagePollution petition calling on the government to protect the health and well-being of the public and to help restore the rivers and Ocean. Targeted at George Eustice, the Secretary of State for the environment, we aim to change government policy and legislation by generating over 50,000 signatures.
Despite the proven public health risks, the government is continually allowing big businesses to pollute UK waters with huge volumes of sewage and agricultural waste. Our water quality consequently remains at the same dire level as it was in the 1990s, meaning the UK is ranked a pitiful 25th out of 30 EU countries for coastal water quality and just 14% of UK rivers meet good environmental standards.
The government is willfully ignoring the worst pollution events in our country, putting the health of all UK water-users at risk and exposing delicate Ocean and river ecosystems to harm. As our  #GenerationSea Blueprint Survey highlighted, these natural places are crucial for the wellbeing of society and should be highly protected, not used as a dumping ground for big business.
The #GenerationSea Blueprint Survey also revealed that the UK population has had enough. Over 55% of the public want more water quality testing and more real-time information on sewage discharge and surfing conditions. The Secretary of State for the environment, George Eustice, has the power to make the change to government policy and needs to hear this message.
It's time for the UK Government to end sewage pollution and guarantee safe-seas all year round. To ensure this becomes a reality we are calling for:
An enhanced water-quality testing regime
We want assurance that COVID-19 is not transmitted in sewage effluent
We want to see the immediate reinstatement of the 2020 water quality testing regime
We want an enhanced regime which tests for emerging threats such as antibiotic resistant bacteria and viruses
We want accurate real-time water quality information available all-year round for all UK inland and coastal bathing areas
 World-leading water quality legislation
We want an Environment Bill that exceeds existing EU water quality standards
We want Sewage legislation that sets ambitious and legally binding targets to end untreated sewage discharge in all bathing waters by 2030
We want legislation that upholds the same high standards for both inland and coastal waters
 Nature-based solutions to sewage pollution
We want increased investment and associated targets for the restoration of natural habitats to reduce pressure on the water systems and help prevent sewer overflows
Hugo Tagholm, CEO of Surfers Against Sewage says:
"The public demands more water quality information and action to protect them at the beach. With the governments water quality testing programme on hold this summer, our campaigns have never been more important to help keep swimmers safe. That's why we track and monitor hundreds of sewage spills annually, and share real-time water quality information for the whole of the UK through our Safer Seas Service app. But without bigger government support, changes cannot be put in place to constantly protect the public and the environment from the dangers of sewage."
Sign the petition today to make sure these demands are met. It's time to come together as #GenerationSea and #EndSewagePollution.
This petition is supported by: