Surfers Against Sewage Calls For Giant Wave of Volunteers To Join Its Biggest Ever UK Spring Clean, From Summit To Sea!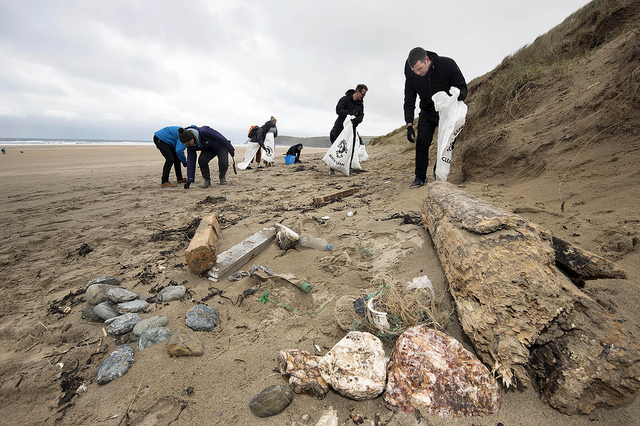 Urgent call for volunteers to join more than 600 mountain, river and beach cleans across the UK between April 6-14.
Surfers Against Sewage Reps across the UK warn of the scale of the plastic crisis in the aftermath of Storm Gareth.
Growing awareness of the plastic crisis and the "the Attenborough effect" has led to this being the biggest year of cleans ever.
Volunteers will track the brands they find during the cleans as part of a UK wide Plastic Pollution Brand Audit to share with government and industry.
Find your nearest clean: https://www.sas.org.uk/regions-reps/
Across the week of the 6th to the 14th of April, Surfers Against Sewage (SAS) is organising its biggest ever Big Spring Beach Clean. Encompassing the full Summit to Sea message, SAS has over 600 events taking place from mountain tops to rivers and beachfronts across the UK.
SAS is now calling for a giant wave of volunteers from across the UK with aims of over 30,000 volunteers taking to our beaches, mountains, streets and waterways to keep them clear of plastic.
With the effects of Storm Gareth being felt nationwide, SAS hopes this united front created by armies of volunteers will be able to urgently remove tonnes of plastic pollution and waste from our environment.
The clean locations include:
Most Northerly – Skara Brae, Orkney
Most Southerly – Le Braye, Jersey
Most Easterly – Lowestoft, East Anglia
Most Westerly – Enniskillen Island, Northern Ireland
Most Rural – Arnol, Outer Hebrides
Most Urban – Royal Docks, London
Most Daring – Surfers Against Sewage Rep Laura Sanderson will be swimming the 26kmn Afon Glaslyn in Snowdonia from the highest point Llyn Glaslyn on Snowdon, down to the sea. Laura will be collecting plastic and water samples throughout the swim to be tested at the laboratory at Bangor University where the research will give us a greater understanding of levels of microplastics through a water catchment system.
Hugo Tagholm, CEO of Surfers Against Sewage said "We are just emerging from a series of heavy storms battering the UK, including Storm Gareth a few weeks back. We have to mobilise as many people as possible to take action in the face of this plastic crisis, right across the UK, from summit to sea. Collectively we can all make a difference"
Hugo continued: "This is our biggest beach clean ever, and we're seeing higher numbers of people than ever engaging in plastic pollution campaigns and wanting to take action due to the Attenborough effect and the awful scenes on television and in our newspapers"
Find your nearest clean: https://www.sas.org.uk/regions-reps/
As part of the cleans this year, Surfers Against Sewage is asking volunteers to track the brands they are finding during the cleans as part of a UK-wide Plastic Pollution Brand Audit, aimed at identifying the big businesses most responsible for plastic pollution around the UK.
Almost a decade ago, Surfers Against Sewage conducted an award-winning Plastic Pollution Brand Survey that revealed that the majority of all beach pollution (56%) was attributable to just twelve corporations, dubbed the 'Dirty Dozen'. This included Nestle, Coca Cola, Walkers Snacks / Frito Lays, Kraft, Tesco, Mars, Unilever, PepsiCo, United Biscuits, Carlsberg, Co-Op and Asda.
Ten years later, SAS is updating the survey to find out what has changed and will use the data to inform the UK Government's current consultation on plastics.
Hugo Tagholm said "Every single piece of plastic we intercept is a victory for our oceans and environment, but it is vital that we concentrate on stopping pollution at source and challenge the systems responsible for its production. The evidence gathered by volunteers across the UK will be used to send a direct message to big businesses and those in power that we need to make tangible changes."
The Big Spring Beach Clean has been made possible with the kind support from the Iceland Foods Charitable Foundation (IFCF) and the players of the People's Postcode Lottery.
Find your nearest clean: https://www.sas.org.uk/regions-reps/