Surfers Against Sewage warned the public of almost 1,500 separate pollution incidents at UK beaches during the 2014 bathing season in England and Wales. This equated to 212,772 real-time pollution warnings being issued to protect Safer Seas Service subscribers from 786 separate sewer overflow discharges and 771 predicted diffuse pollution events.
The Safer Seas Service is the first and only national real-time water quality service that protects all water users from pollution. This pioneering free service alerts water users when sewer overflows discharge untreated human sewage and storm water into the sea and when water quality is reduced by diffuse pollution at beaches across England and Wales via a free smart phone app, SMS messages and online map.
Safer Seas Service – The 2014 Bathing Season in Numbers
1,496 pollution events reported on across 323 beaches in the UK.
212,772 free, real-time pollution warnings sent in 2014 bathing season by the Safer Seas Service
786 sewer overflow events reported on across England and Wales in the 2014 bathing season
771 diffuse pollution warnings issued since integrated into the Safer Seas Service (29th July – 30th September)
63 beaches included within the Safer Seas Service were free of pollution events in the 2014 bathing season
14,129 subscribers of the Safer Seas Service
The Safer Seas Service is an enhanced version of SAS's Sewage Alert Service which was launched in Summer 2010, followed with an App in 2013. In 2014 the Safer Seas Service issues real-time alerts for 323 beaches around England and Wales on Sewer Overflows discharges and Pollution Risk Forecasting's (PRFs), provided by water companies and the Environment Agency respectively.
The current water quality testing process will not always pick up on these pollution incidents as sampling only takes place once a week and is frequently undertaken at significant distances from the pollution source. SAS believes that bathing water quality sampling spots should be reviewed to ensure results accurately represent what the public can expect to experience across designated recreational bathing waters. We believe that currently there are too many sample spots that are sited in areas that are unrepresentative of water quality in general and can mask poor water quality at some locations. Large numbers of bathers, surfers and other recreational water users often use the bathing waters close to the source of pollution, such as river mouths.
Godrevy is a key example of this problem; a beach that consistently achieves a higher water quality rating yet was subject to 6 pollution events during the 2015 bathing season. The pollution events predominantly impact the northern section of the beach where many surfers use the beach, yet bathing water samples are taken several hundred meters to the south of this area.  So while a pollution event could be taking place at one end of the beach, good bathing water reading might be found at the bathing water sample spot.
Cleaner Seas Forum
This month, Surfers Against Sewage campaigners will be delivering a report on the Safer Seas Service to the Environment and Rural Affairs Minister, Dan Rogerson MP at the Cleaner Seas Forum in Westminster. The primary actions SAS are calling for at the Cleaner Seas Forum are:
Increased & mandatory sewer overflow data coverage – geographically and seasonally – We are calling for  the provision of real-time water quality data to become a mandatory requirement at all recreational waters and bathing waters affected by sewer overflows and pollution risks.
Extend the bathing season – An extended bathing season to better protect bathers and sea users such as surfers, sailors, kayakers that use the sea year round. Ideally, a year-round bathing season would allow maximum safety, however an extended season covering Easter and October holiday weeks would incorporate current peak 'out-of-season' bathing.
Download the full Safer Seas Service Cleaner Seas Forum Report 2014
St Ives Bay – case study
A key success story from the Safer Seas Service was reflected in events that took place at Godrevy Beach, St Ives Bay, Cornwall in June.  A sewer overflow event was triggered on the morning of 28th June, at the same time a surf contest was being held by the National Trust.  Safer Seas Service real-time warnings informed contest organisers, RNLI life guards and competitors via text messages and the new app.  The contest was postponed due to the health risks posed by surfing or bathing in sewage contaminated water. Read the full story here.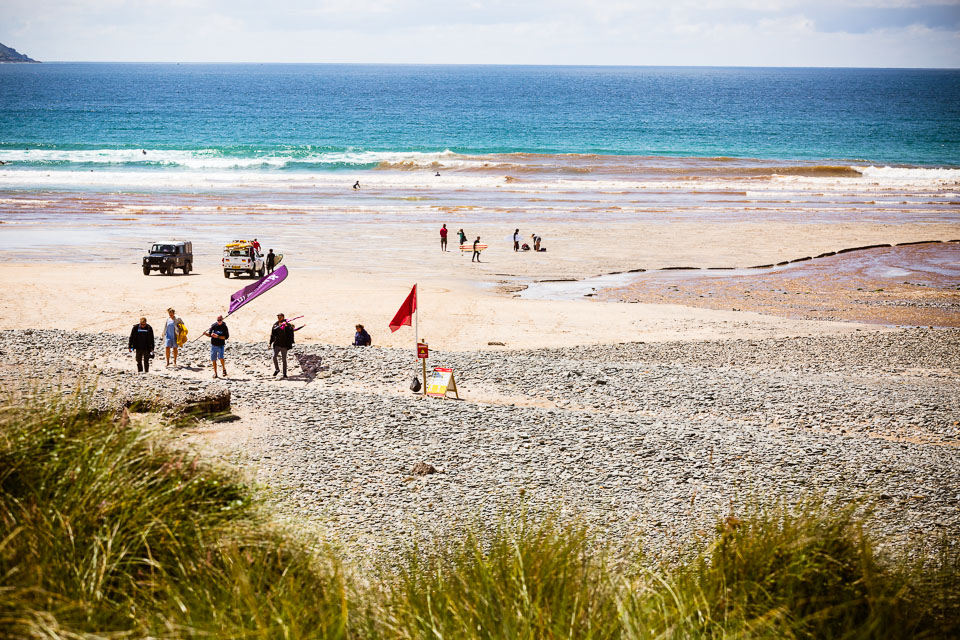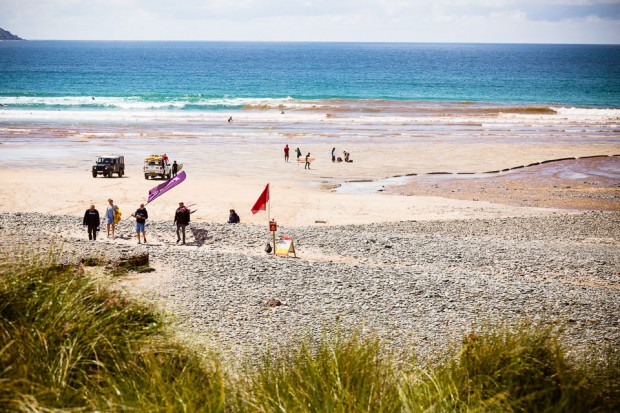 The Safer Seas Service App and Interactive Map will continue to provide real-time sewer overflow warnings at 90 beaches around the UK throughout the year.  A detailed list of these beaches can be found here.