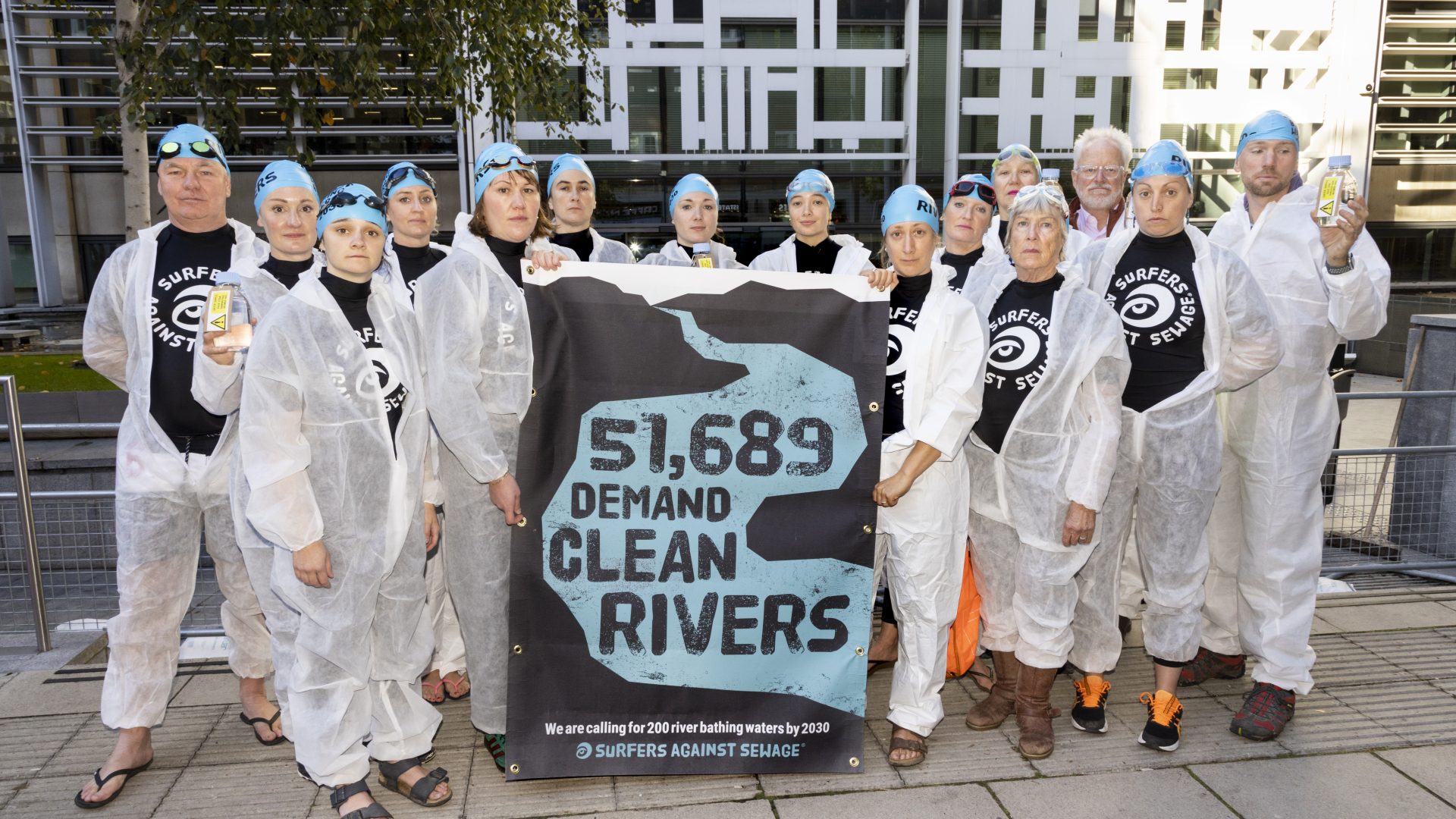 River pollution petition delivered to government
Ocean Activists from SAS' communities delivered a 51,000 strong petition calling for more inland bathing waters to UK government.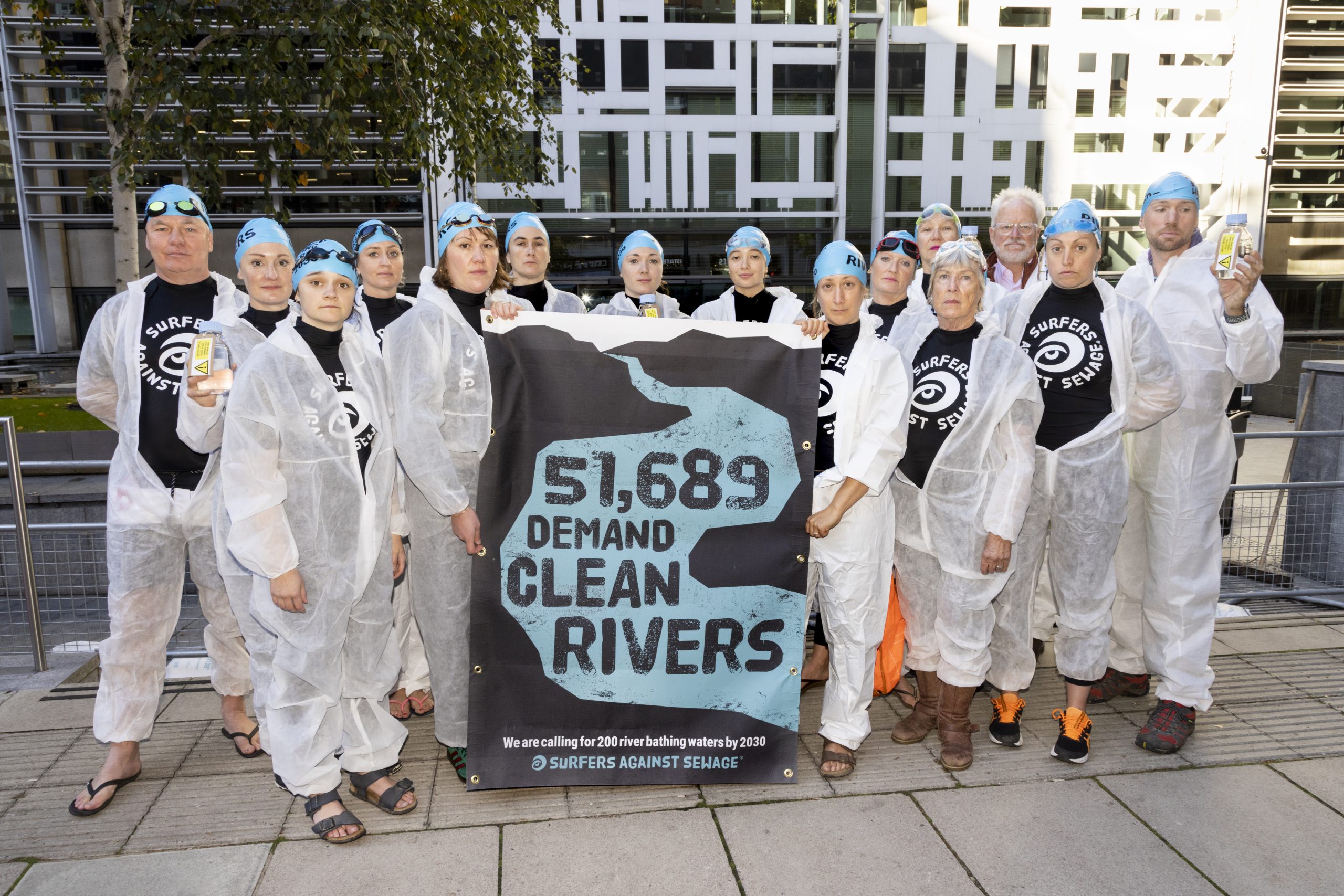 Over the course of the summer, 51,689 of you signed the petition to demand action for our inland blue spaces. Today, we've been at the government's Department for the Environment, in London, with swimmers, paddle boarders and kayakers, to deliver the petition to the Secretary of State, demanding that the government speaks up for rivers.
Together, we are calling for 200 River Bathing Waters by 2030. At present, 3 out of 4 rivers pose a serious risk to human health and there are just two official bathing waters located on UK rivers. This must change. We're calling on the UK Government and the devolved administrations to set legally binding targets to increase the number of official River Bathing Waters in the UK and work with regulators and communities to ensure the target is delivered.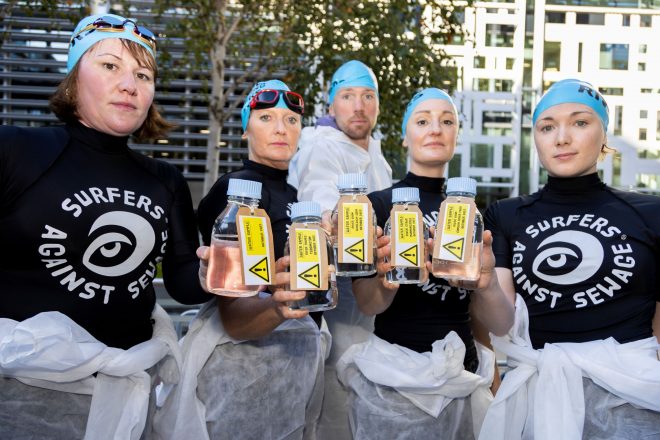 Rivers are being shamefully neglected when it comes to legal protection and there is simply no excuse for the mistreatment of these popular and precious spaces. Designating rivers as bathing waters forces regulators to monitor them for harmful bacteria and viruses. And, critically, legal obligations are placed on industry to stop sewage and agricultural pollution. It's a vital first step in the process of restoring our rivers and getting this shit sorted out.
Amy Slack, Head of Campaigns and Policy at Surfers Against Sewage says:
"Today, we handed in the demands of thousands of Ocean Activists to government, calling for an explosion in the number of official bathing waters, as a vital first step towards a future of thriving rivers and beaches, free from sewage pollution. The public have spoken and now the government must listen, act, and end sewage pollution for good."

"Designated bathing waters help bring communities together, driver water quality improvements, and protect both people and planet. More bathing waters, both coastal and inland, will help lift the lid on poor water quality and so be the catalyst for real, systemic change. We need to see hundreds more official swimming sites, across our rivers, to help drive a decade of ambition for clean water.

"Now is the time for action, from source to sea, to rid our blue spaces of the scourge of sewage pollution. We demand better and we won't rest until the government, regulator and water companies shift course towards a cleaner future."
The UK's rivers are under threat. It's a dirty secret that, thanks to YOU, is being exposed. The government simply cannot ignore it anymore.
We look forward to receiving the response from the Secretary of State and hearing how the Government will designate more rivers to official bathing water status to tackle the ecological emergency and health crisis.
What's next?
Last month, following your calls for action, the UK Government published its plan to tackle sewage pollution in England. Whilst the plan did improve the governments protections for bathing waters, it continues to lag behind the action required. To force water companies and other polluting industries to put people and the planet above profit, it is vital governments sets legally binding targets to increase the number of inland bathing waters for England, Northern Ireland, Wales, and Scotland.
Historically local authorities have applied for bathing water designation, but the tide is turning. Both of the two designated rivers in the UK achieved bathing water status by communities leading on the application. If your local river or lake is used for swimming or dipping, have you thought of making an application? Applications are made to the specific government agency across the four devolved administrations.
To support applicants through the process we have launched our community support and application toolkit. Our Community Water Quality Officer is on hand to guide you through the process; from selecting a suitable stretch of your river to submitting the final application, we are here to support you. Contact our Community Water Quality Officer and for further information on how to take action.
Together, we're a powerful force. And together, we can end sewage pollution.