GRAB YOUR GLOVES FOR THE AUTUMN BEACH CLEAN 2016!
We're calling on YOU our incredible supporters to don your trusty beach clean gloves and 'lead out' thousands of volunteers to help us rid our coastline of marine litter this October.
Thanks to support from the The Crown Estate and Greggs, we have recruited and equipped a team of 'Lead Volunteers' who, together, will be leading over 250 Autumn Beach Cleans at many of the UK's most beautiful beaches.
We are now inviting all coastal enthusiasts, from big wave surfers to sandcastle makers, to join their local Autumn Beach Clean this 24th – 30th October and give a little back to the precious coastal environments that are so important for the health and well-being of communities nationwide.
Find your nearest beach cleans on our EVENTS PAGE. There's no need to register, just arrive at the time and date advertised wearing suitable clothing, say hello to the Lead Volunteer and you'll be made to feel like part of the SAS family! For more information contact SAS's beach clean team on [email protected] or 01872 553001.
With over 269,000 tonnes of floating plastic in our oceans (1) Surfers Against Sewage recognise that we cannot end the marine litter crisis with beach cleans alone. So this year SAS will also be calling on all Autumn Beach Clean volunteers to help 'beyond the beach clean' by supporting their new 'Message In A Bottle' campaign by recording and recycling all plastic bottles and cans found at each and every beach clean. Sadly there are now an incredible 250 plastic bottles per kilometre of the UK's beaches (2) and together with cans they make up approximately 40% of all litter (by volume) (3), so SAS expect to record huge numbers of them this autumn.
The Autumn Beach Cleans unites and inspires coastal communities across Great Britain to take action against this often overwhelming marine litter crisis. It strengthens coastal communities and forges lasting friendships and keeps our beaches safe for everyone to use.
Head down to your nearest event this October the 24th – 30th and become part of the SAS beach clean team!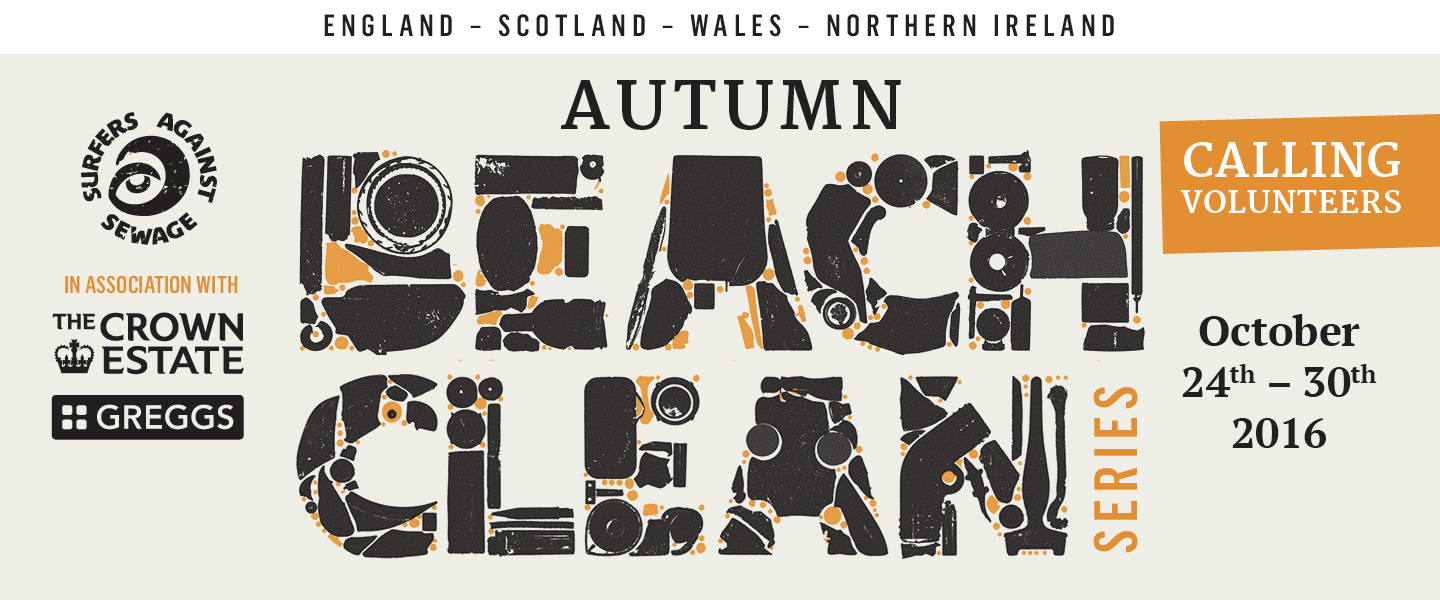 References
Eriksen M, Lebreton LCM, Carson HS, Thiel M, Moore CJ, et al. (2014) Plastic Pollution in the World's Oceans: More than 5 Trillion Plastic Pieces Weighing over 250,000 Tons Afloat at Sea. PLoS ONE 9(12): e111913. DOI: 10.1371/journal.pone.0111913. Read more at: http://phys.org/news/2014-12-scientists-total-weight-plastic-world.html#jCp
http://www.mcsuk.org/downloads/gbbc/2016/487-2016%20Beachwatch%20GBBC%20Summary%2016pp%20A5%20WEB%20Spreads.pdf
http://www.zerowastescotland.org.uk/sites/default/files/ZWS%20DRS%20Report_MAIN%20REPORT_Final_v2.pdf