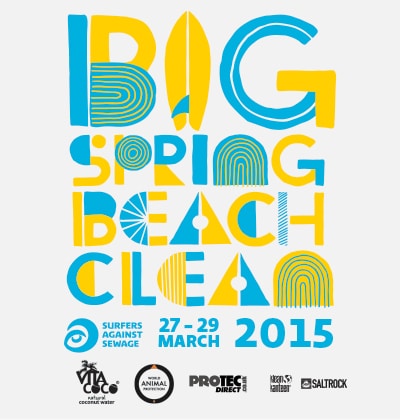 We are proudly launching our biggest Big Spring Beach Clean ever to protect the UK's beaches, waves and wildlife from the rising tide of marine litter, in association with Vita Coco Coconut Water, World Animal Protection and Protec Direct.
We are calling for community volunteers to lead Big Spring Beach Cleans at their favourite beaches over the weekend of the 27th – 29th of March. Set to be the biggest ever, the Big Spring Beach Clean 2015 aims to cover at least 150 beaches and mobilise up to 5,000 beach clean volunteers to remove tonnes of beach litter from around the UK coastline.
Over 75 lead volunteers have already registered to host and run events at iconic beaches covering Skye, Edinburgh, Portrush, Cardiff, Blackpool, Scarborough, Brighton, Bournemouth & Newquay. To register to host an event at your favourite beach please email beachcleans@sas.org.uk or call 01872 555956. You can also get started with our simple 'Step By Step Guide To Organising Your Own Big Spring Beach Clean here.
Beach clean events are a fantastic way of uniting and inspiring coastal communities to protect the beaches and coastal spaces most important to them, and every piece of litter removed is a victory in the fight against the marine litter crisis. Community beach clean events also leave a lasting positive legacy, with many volunteers forming new networks and beach clean initiatives to protect local beaches on a regular basis.
The marine litter crisis is one of the biggest threats to the health of the marine environment and it is vital that we ramp up our collective actions to combat the issue. Approximately 8 million individual pieces of marine litter enter the sea every day, contributing to the death of over a million sea birds and 100,000 marine mammals annually from ingestion and entanglement.
Shockingly in some parts of the ocean there is now more plastic than plankton. In response, we are calling for a 50% reduction in UK beach litter by 2020 and recently published an action plan highlighting initiatives at community, corporate and government levels to help achieve this goal.
The catalyst for our ambitious target is the Marine Strategy Framework Directive (MSFD), Europe's current key piece of legislation supporting the protection and sustainable use of the marine environment. Over the next five-year period (2015 – 2020), SAS will collaborate with government, charities, scientists, industry, communities and individuals to work towards this radical target.
Big Spring Beach Clean volunteers will be asked to use a special App on their smart phones to record the marine litter they find. The litter will then be categorized, documented and published as part of SAS's annual impact report, and will help identify and inform new actions to tackle the most frequently found items of litter polluting our coastlines.
Working closely with World Animal Protection, volunteers will also be specifically monitoring and recording ghost gear (abandoned and lost fishing gear) through the Sea Change Campaign Hub, to better understand associated impacts and effects in the marine environment. World Animal Protection estimates that more than 136,000 seals, sea lions and large whales are killed by ghost fishing gear every year and aim to save the lives of over 1,000,000 marine animals by 2018 through the Sea Change initiative.
Beach Cleans are fun and simple to organise and our Beach Cleans Team will be at the end of the phone or email from start to finish. You can also get started on planning your Big Spring Beach Clean here. To find your nearest clean see below:
We would like to thank lead sponsors Vita Coco Coconut Water who will be providing drinks for all lead volunteers, World Animal Protection and Protec Direct for their support in making the Big Spring Beach Clean possible. We would also like to thank Klean Kanteen and Saltrock for their ongoing support.
Hugo Tagholm, Chief Executive of SAS says:

We are delighted to see more and more individuals and communities joining us at the frontline to take hands-on action to stand up to the wave of plastic and other junk swamping our beaches. Together we can make a real difference!
Giles Brook, CEO Europe of Vita Coco says:

As a brand, Vita Coco was born on the beaches of Brazil, so we fully support the importance of protecting our beautiful beaches for future generations to enjoy.
Alyx Elliott, Campaign Manager at World Animal Protection says:

World Animal Protection's Sea Change campaign aims to protect the some 8,000 marine species, that live and breed around the coasts of the British Isles from the devastating impact of ghost fishing gear, the Big Spring Beach Clean will give people a chance to learn more about and take action against this largely unknown issue.
Chris Wyer, Brand Manager at Protec Direct says:

Protec Direct are delighted to support the Big Spring Beach Clean. As a leading supplier of personal protective equipment and clothing nationally, we are excited about utilising our expertise and our products to help support and protect these incredible volunteers.
Angus Thomson, Managing Director of Saltrock says:

Saltrock is a UK company proudly founded on a love of the outdoors and the sea and so I'm thrilled to support SAS and the Big Spring Beach Clean in bringing communities together to protect our coastline.