The Beach Clean Box – Marine Litter Disaster Relief for UK Beaches
We are encouraging coastal communities around Great Britain to pick up a new 'Beach Clean Box' to help us rid our shores of 75 tonnes of litter over the next 12 months.
Thanks to a £100,000 award from players of People's Postcode Lottery, we are proud to launch these specially designed beach conservation kits, which include beach clean tools such as; buckets, bin bags, gloves, litter picker and shovel as well as vital scientific monitoring and education materials.
Sadly, all too often the UK's beautiful beaches resemble 'marine litter disaster zones', strewn with 'landslides of litter' after busy days on summer heatwaves and 'tidal waves of trash' following winter storms. We believe that the marine litter crisis needs even more urgent action and we're encouraging more communities to become part of the emergency response team.
Thanks to vital funds received from players of Peoples Postcode Lottery we have designed, developed and created the 'Beach Clean Box'. Beach Clean Boxes are specialist beach protection kits, easy to use they are accessible for all and available for the whole community to use. Managed by our network of highly trained Regional Reps, Beach Clean Boxes will be available at 125 coastal locations across the UK for communities to coordinate group beach cleans, plan local marine conservation campaigns and record the results in what will help map action and progress at each beach.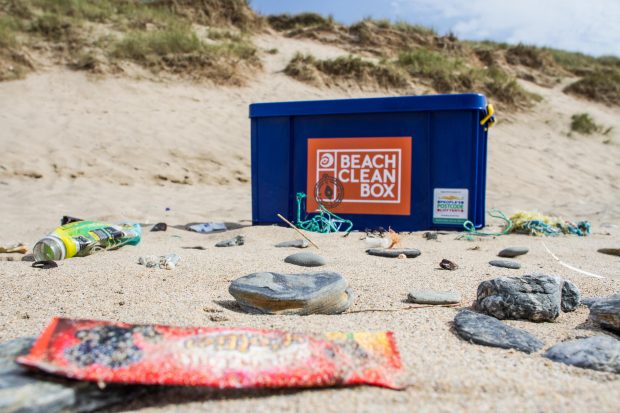 Beach Clean Boxes contain vital equipment, tools, guidance and safety kit to facilitate group beach cleans and campaign actions, that will not only allow these communities to remove many tonnes of marine litter from their beaches but also enable them to take action beyond beach cleans, to stop the flow of plastic, litter and pollution to the beach.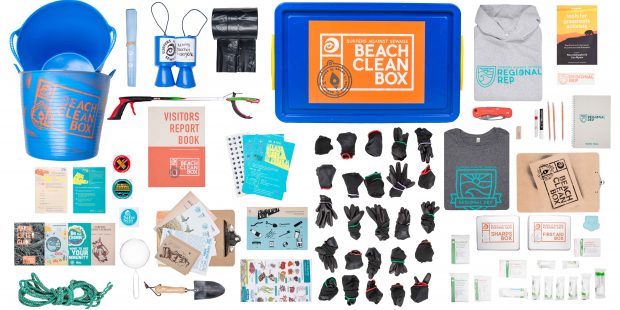 The marine litter crisis is one the most significant threat to our oceans today. It is an environmental problem on a global scale and adversely impacts wildlife, the economy and human health. A significant part of this global problem can be tackled at a local level through initiatives including the Beach Clean Box.
Every stretch of coastline in every ocean is affected by marine litter, it is present through all layers of water, floating at the surface, suspended in the water column and of course, washed up on our beaches, incredibly 80% originates from land based sources (1)! There may now be around 5.25 trillion macro and microplastic pieces floating in the open ocean (2) and studies show that there are well over 3,000 items of litter per KM of UK beach (3). This costs our struggling local authorities £18m each year to clear up (4).
Marine litter is responsible for the deaths of over 100,000 marine mammals and turtles and 1 million seabirds each year (4). At least 267 different marine species have suffered as a consequence of contact with marine litter (1).
However small our coastal communities may feel, however daunting the task of halting this modern day scourge of the seas can seem, SAS supporters are committed to playing their part in the solution and can achieve great change together. The Beach Clean Box is one of the tools to help deliver this vital job, enabling and empowering people to take local action to protect their precious beaches for years to come.
Over the next 12 months the Beach Clean Boxes will be used to;
Deliver 1500 Beach Cleans
Remove 75 TONNES of marine litter
Empower 15,000 beach clean volunteers
Collect vital marine litter data to help scientists further understand the extent of the marine litter crisis
Produce evidence that will enable policy makers to make informed decisions and create stronger legislation that tackles litter at source
Inspire community action to stop the flow of plastic pollution to our beaches.
Help in our bid to reduce marine litter by 50% by 2020
Beach cleans make a real and noticeable difference to the health of our beach, wider marine environment and the people and wildlife that live within it. The tireless army of volunteers who lead them set an incredibly positive and powerful example to us all. SAS and People's Postcode Lottery are incredibly proud to be able to equip these marine litter heroes with the Beach Clean Box.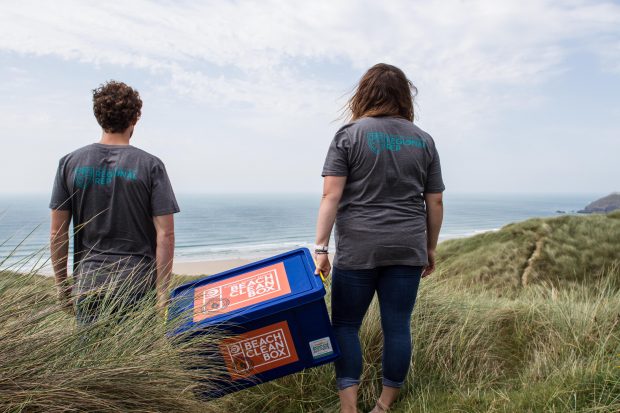 All that remains now is to put them to use! To find your nearest Beach Clean Box and lead your own SAS Beach Clean contact us at [email protected] or call 01872 553001.
References