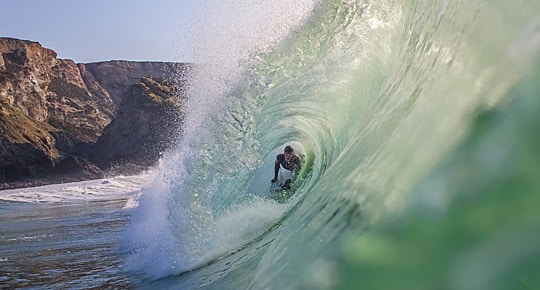 Sunglasses & Sustainability: we take a deep dive into our partnership with SunGod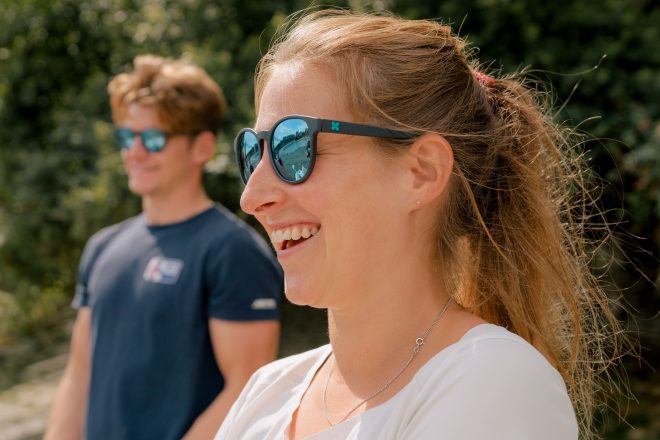 Who is SunGod?
SunGod is a British performance eyewear brand, founded in 2013. Co-founders Ali and Zoe Watkiss were always looking for ways to spend more time outdoors. But, they were frustrated by what the existing eyewear market had to offer. This involved either expensive designer sunglasses, or cheap knock-offs that broke in a few wears. Seeing a gap in the market, Ali and Zoe created SunGod: an eyewear brand that offered high-quality, fairly priced sustainable sunglasses and ski goggles. 
9 years later, SunGod has grown into a global challenger brand. The mission is to See Better. Through their lenses, through their actions, and through doing business better. To achieve this, SunGod base their work on three pillars: better products, better customer experience, and better for the planet. 
"SunGod is built on community, and our partners, ambassadors and customers are the core of our brand. Together, our mission to See Better is multiplied."

What does sustainability mean at SunGod and what challenges have you faced?
"At SunGod, we're driven by our mission to See Better. To see a better future, we need to build a business that's better for our customers and better for the planet. From our 1% For the Planet membership, to our Carbon Neutral products; from our charity partnerships, to our Lifetime Guarantee; protecting our playground is at the heart of everything we do." – Ali Watkiss, Co-Founder and CEO

Sustainability has been core to SunGod's business model since day one. SunGod have upheld sustainable ways of doing business, like their Lifetime Guarantee, since the start. However, as they've grown, they've gained opportunities to increase positive impact through sustainable interventions focused on people and planet. 
"We've always wanted to use recycled plastic, in line with SDG12. In our early days we were too small to influence manufacturers, but by 2022, we'd grown to a size where we could put sufficient pressure on manufacturers to work with recycled frame and lens materials. We're now rolling this out across our range. This innovation aligns with our mission of creating better products that are better for the planet, as well as improving our value proposition for customers so helping us progress commercially. The same applies for almost all of our sustainability initiatives, such as being certified Carbon Neutral."
As a Certified B Corporation, SunGod are committed to maintaining and improving their sustainability initiatives in order to re-certify every three years. A key change brought on by B Corp was the changing of SunGod's Articles of Association, to embed a triple bottom line of people, profit and planet into the legal charter of the company; shifting from shareholder to stakeholder focus.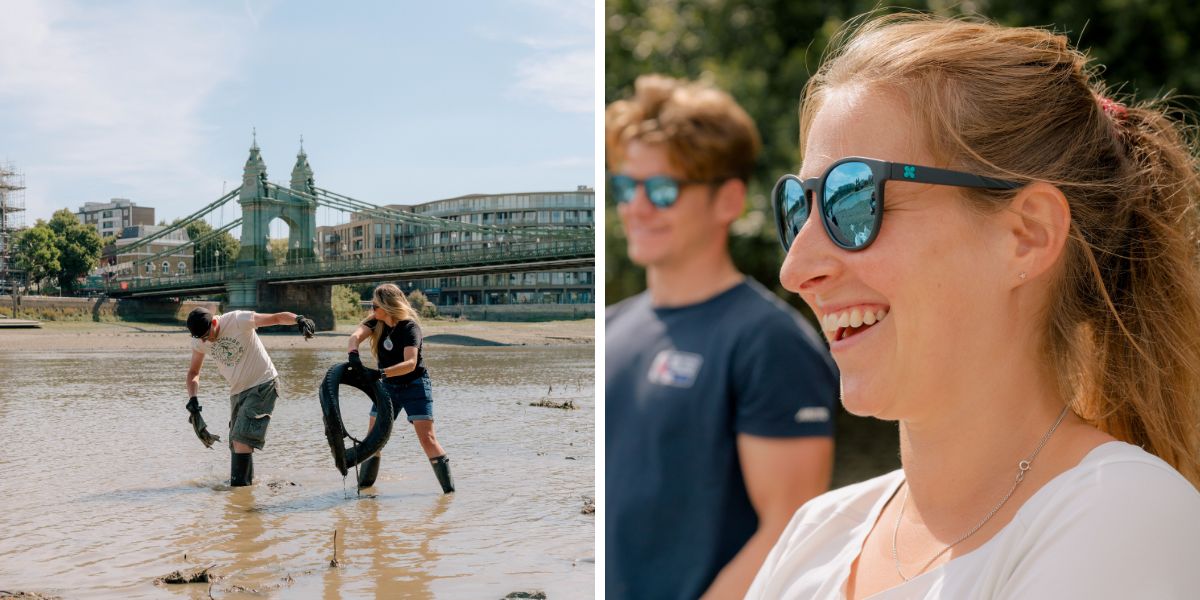 What role does sustainability play in shaping new designs?
"We aim to produce and sell eyewear in the most responsible way possible. Firstly, one of our key design principles is "built to last". All SunGod products should be classic, timeless designs – not fads that fall out of fashion – and ultra-durable, built to withstand any adventure. The majority of embodied carbon in our eyewear comes from inbound logistics (shipping from manufacturer to warehouse) – in 2021, this accounted for 68.3% of our total emissions – so by creating long-lasting products, we limit our environmental impact significantly."
Secondly, all SunGods are backed by their Lifetime Guarantee. If your SunGods break, SunGod will repair them free of charge. This applies to every single product, encouraging their community to repair rather than replace. SunGod also keep products in circulation and out of landfill by donating over 1000 factory seconds to charity Shades of Love, who distribute them to indigenous mountain communities where a thin atmospheric layer causes eye disease in up to 80% of the population. 
In 2021, SunGod introduced Infinite™100% recycled frames, offering the same durability as their virgin counterparts but made from 100% recycled TR90, with a 7x lower impact. SunGod aim to phase out virgin frames completely by the end of 2024.
In 2022, in partnership with SAS, SunGod also introduced Infinite™ recycled lenses, made from 50% recycled materials, which reduce CO2 emissions by 43% in comparison to virgin lenses. All SunGod products are packaged in recycled and recyclable packaging, including a microfibre pouch which doubles up as a lens cloth, made from recycled plastic bottles. By continuously increasing our use of recycled and recyclable materials and reducing waste, we're working towards our goal of Net Zero by 2030.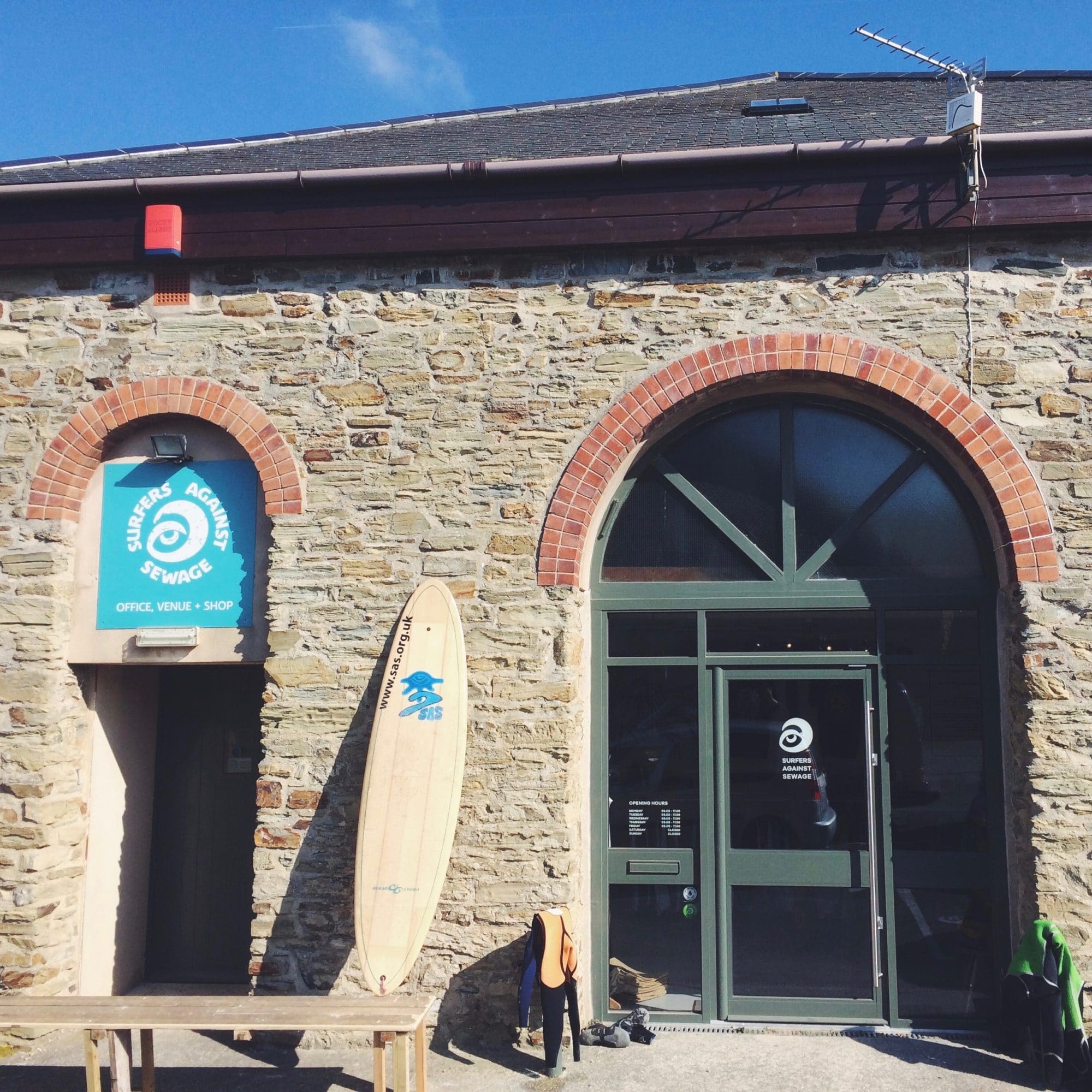 What sustainability initiatives are of highest priority to SunGod?
"We use the following 4 SDGs to structure our sustainability interventions. These were voted on by our employees as the areas where we can make the biggest impact:
Goal 12: Responsible consumption & production

We aim to produce and sell eyewear in the most responsible way possible. This means building products that are designed and built to last, and stay in their useful lifecycle as long as possible. Driving the eyewear industry away from fast fashion, to a more responsible approach.
All SunGods are backed by our unrivalled Lifetime Guarantee. If your SunGods break – or you break them – we repair them free of charge, again, keeping products in their useful life cycle as long as possible.
We also encourage responsible consumption through our returns policy: we don't have one. Returns create waste on a massive scale in e-Commerce. All SunGods (excluding Limited Editions) are custom-built to order, with customers using our ultra-realistic online design tool to design each pair. So, we don't allow returns – instead, we encourage customers to make considered, informed purchases in the first place.

GOAL 13: Climate action

We're an outdoor brand, so our planet is our playground and we have a duty to protect it. We've measured our carbon emissions right back to Day 1 in 2013, and we've offset across Scopes 1, 2 and 3 for products and operations. However, carbon neutrality isn't enough. Now we've measured our footprint, our primary focus is on reduction to reach Net Zero by 2030, through many of the initiatives outlined. We partner with climate-focused NGOs (e.g. SAS, Protect Our Winters) and donate 1%+ of our ~£8m revenue to sustainability-focused non-profits through 1% For The Planet.
GOAL 5: Gender equality 

SunGod is led by Ali and Zoe Watkiss – co-founders, co-CEOs and husband and wife – and the 50/50 gender split runs throughout (we currently have 12 male and 12 female employees). We had a KPI to achieve 40% women in Team SunGod (SunGod-sponsored professional athletes) by the end of 2022, and we're currently at 46%. We aim to maintain a 50/50 split across our employees and Team SunGod through comprehensive inclusive hiring practices.

At industry level, we're pushing for increased female representation in sport through our campaigns, which includes film heroing our Women's World Tour cycling team and their journey to the first ever Women's Tour de France, among other activations.
GOAL 3: Good health and wellbeing

Our purpose for increasing sports participation is twofold. Firstly, our products are designed for outdoor sports, so our commercial success relies on active outdoor lifestyles. Secondly, we aim to promote healthy living in line with our triple bottom line of people, profit and planet. Externally, all our marketing promotes active outdoor lifestyles, and we use our Explore page to hero stories of athletes in our community, such as: Meet the Women shaping the Future of Cycling and Urban Exploring: The City Dweller's Guide to Trail Running. 

We promote healthy living internally too, offering flexible working hours to allow employees to get active during the day, green commuting incentives, free bike servicing and healthcare support. Mental and physical well being go hand in hand, so we also offer free unlimited mental health support through Spill, paid volunteering hours, and a training budget that covers both professional and personal learning (and has already been used for everything from French lessons to Mountain Leadership training!).

We use these initiatives to inspire our community to get active and enjoy the mental and physical benefits that come with exercise, while simultaneously strengthening our brand presence.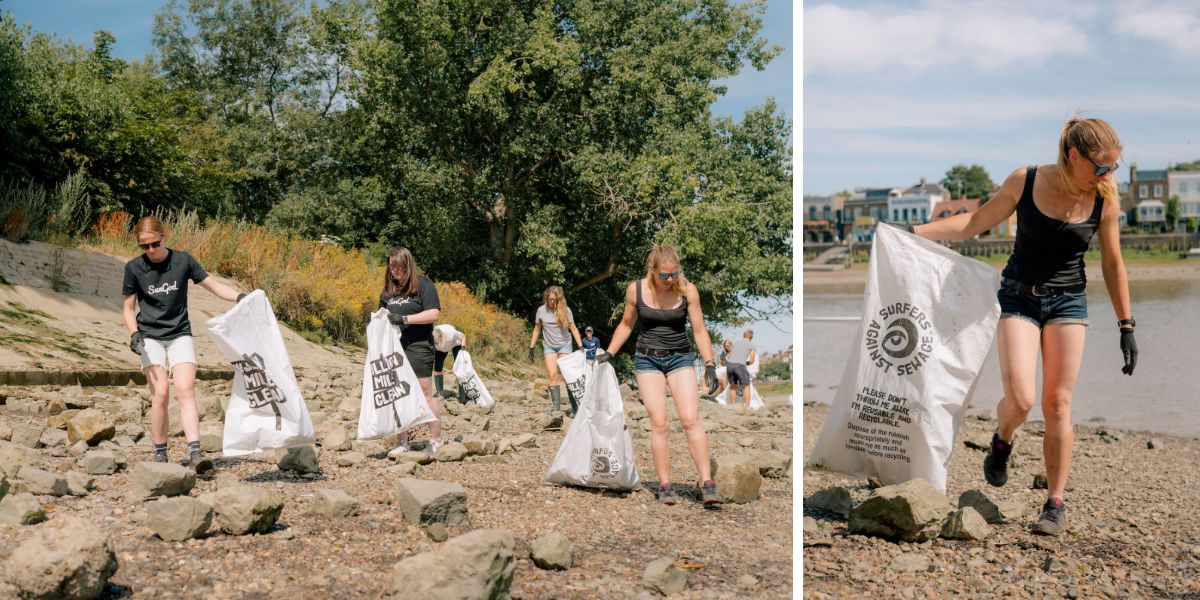 Why did SunGod choose to partner with Surfers Against Sewage?
"At SunGod, we see a better world; through our lenses, through our actions and through doing business better. Our charity partnerships are central to this. Our partnerships team specifically seek our partners whose mission aligns with our own. Our longstanding relationship with SAS contributes to our See Better mission, where we aim to use business as force for good. Equally, SAS seeks to drive positive change to create a thriving future for our oceans and waterways, and through collaborating with SunGod they are able to inspire sustainable product innovations, like our recent product collaboration, and the use of recycled materials – which in turn keep plastics in circulation and out of our waterways – as well as raising awareness and donations through the sale of these recycled SunGod products. It's the perfect alliance."

How does the SAS limited edition sunglass range for 2022 compare to previous years of support?
"We have a triple bottom line of people, profit and planet, and the Surfers Against Sewage Limited Edition Collection is an example of this in action. By developing our lowest-impact sunglasses yet in collaboration with SAS in 2022 – incorporating recycled plastics into high-clarity 8KO® lenses for the very first time – we're not only reducing our impact, but also driving a sustainable agenda in the eyewear industry on a wider scale. In turn, this encourages the broader use of recycled plastics. It also contributes to SAS's mission to secure a thriving future for our oceans. Finally, each Surfers Against Sewage Limited Edition Collection pair sold includes a £4 donation to SAS, which we will match collectively targeting a fundraising total of £16,000 for SAS this summer alone."

Does SunGod get involved in Surfers Against Sewage campaigns? And if so, how?
"At SunGod we look to build a relationship based on the full 360 degrees of our partners' missions. Looking at not only product and donations, but further into causes and campaigns, and how we as a brand, can make a difference. For Surfers Against Sewage this making a genuine difference includes:
Driving donations

Pushing innovation forward; e.g

Surfers Against Sewage Limited Edition Collection with our first ever recycled lens material

Engaging with our community to help support our missions. For example, the SAS x SunGod Beach Clean on the Thames this summer

Raising awareness of campaigns and SAS's mission across our community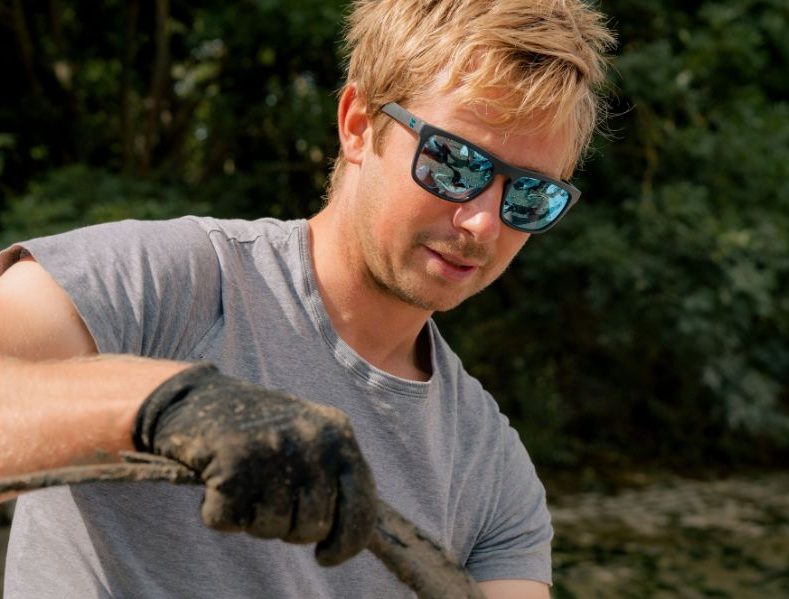 Does SunGod support any other charities?
"Yes, at SunGod we support 4 other charities across the scope of our community:
The SAS x SunGod Partnership 2022