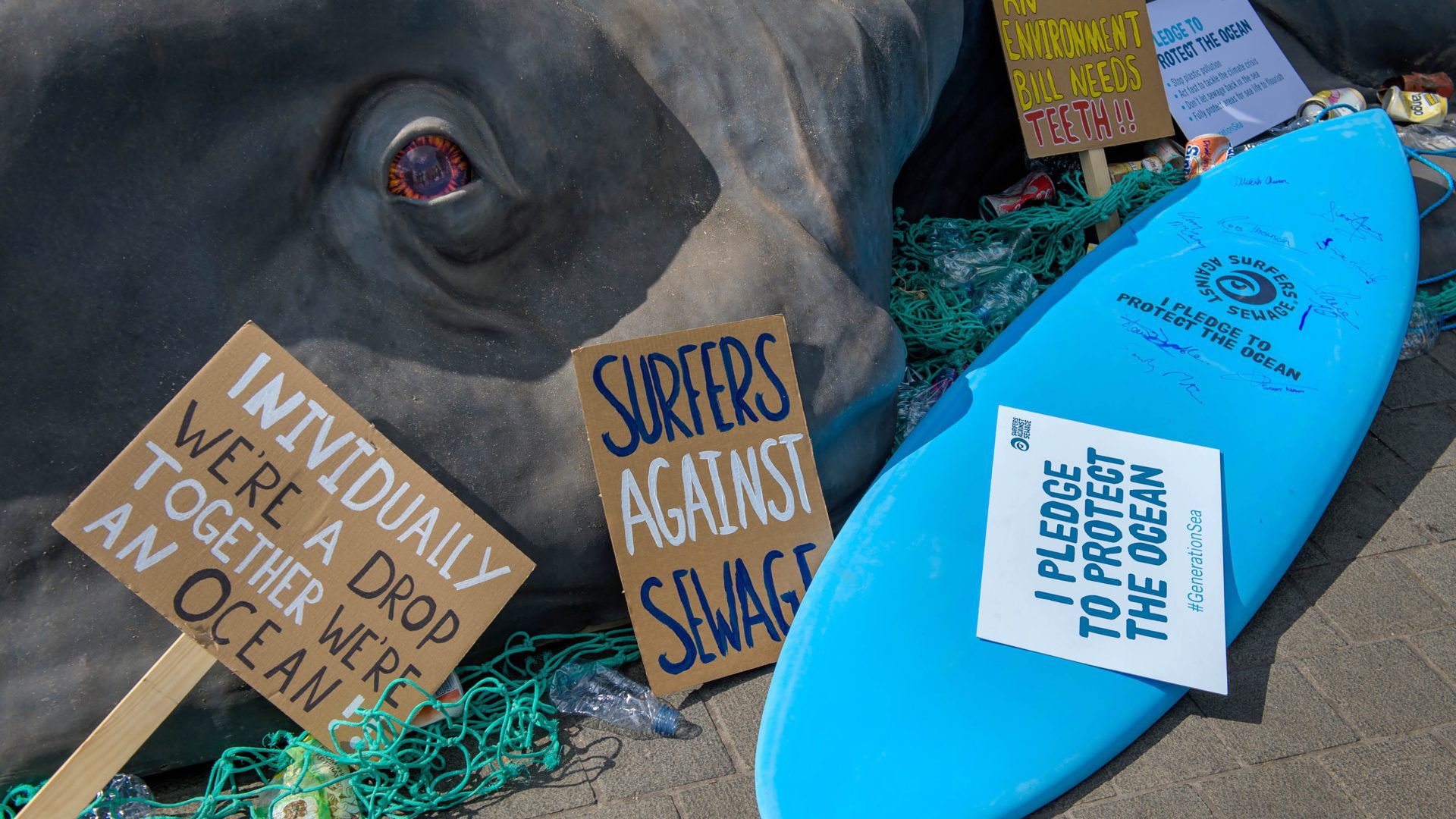 'Stark reality check' for MPs as 'giant creature' placed outside Parliament on World Environment Day
Campaigners are giving MPs a glaring reality check with a 15ft 'sea creature' as they urge government to protect the ocean for generations to come.
Surfers Against Sewage (SAS) says that those in power are not taking enough responsibility for the 'climate crisis' – and that urgent action is needed to save our seas.
Now, to mark World Environment Day, SAS has taken its 'unknown sea creature' to Parliament, along with a team of campaigners, as a powerful message to MPs that ocean life is choking on plastic and dying from global heating.
The 15ft 'creature' recently featured in a campaign film produced by the charity, which was watched by more than a quarter of a million people and brought to life the unprecedented effects human action is having on the world's oceans.
They have described it as a stark reminder to politicians that even animals that have not yet been discovered, as well as those that have been, are facing the life-threatening realities of plastic pollution.
Now, as the campaigners march, thousands of SAS supporters are also contacting their MPs and calling on them to take action by signing the charity's #GenerationSea pledge.
Take Action: Contact your MP now: https://www.sas.org.uk/TellYourMP
Within the pledge, it urges MPs to support the fight to stop plastic pollution, act fast to tackle the climate crisis, stop sewage from being let back into the sea and to fully protect areas for sea life to flourish.
The charity is also hoping it will encourage the government to take decisive action before it's too late by establishing a powerful independent watchdog to enforce environmental targets for government and hold big business to account.
Hugo Tagholm, CEO of SAS, said: "We want to plunge into the sea and know that sea life is thriving, not choking on plastic or struggling to survive the climate crisis.

"We need powerful laws and a fully independent and punchy environmental watchdog to protect our oceans and enforce targets for government and big business. "
It comes as one sea bird or marine mammal dies every 30 seconds due to plastic pollution (that we know of) – with close to one third of marine species at risk of extinction.
And with 95% of the world's oceans still unexplored, the charity fears that without proper legal intervention, plastic pollution and global heating will continue to kill marine life that is yet to be discovered and destroy any chance of making a difference before we are even aware of it.
Hugo Tagholm continued: "The Ocean Emergency is now. We want the UK government to stop plastic pollution, act fast on climate change, protect sea life and prevent sewage creeping back into our waters.

"We need powerful paper legislation and rhetoric to become meaningful action, enforcement and investment to safeguard our seas.

"Together, we can be the voice of the ocean, from our beaches to the corridors of power."
Following the campaign, members from SAS will meet MPs in Parliament as part of the Ocean Conservation All Party Parliamentary Group, which brings together NGOs, MPs, campaigners, scientists, businesses and the media to discuss urgent marine conservation issues.
Take Action: Contact your MP now: https://www.sas.org.uk/TellYourMP
During the meeting, SAS will be calling for specific targets to be put into place.
These will include protections for 30% of the ocean by 2030, a net-zero emissions target before 2050 to be passed into law and what they describe as a 'materials and systems revolution in plastic packaging' – which would see the likes of a full Deposit Return Scheme implemented across the whole of the UK.
Article written by Hazel Murray for Surfers Against Sewage