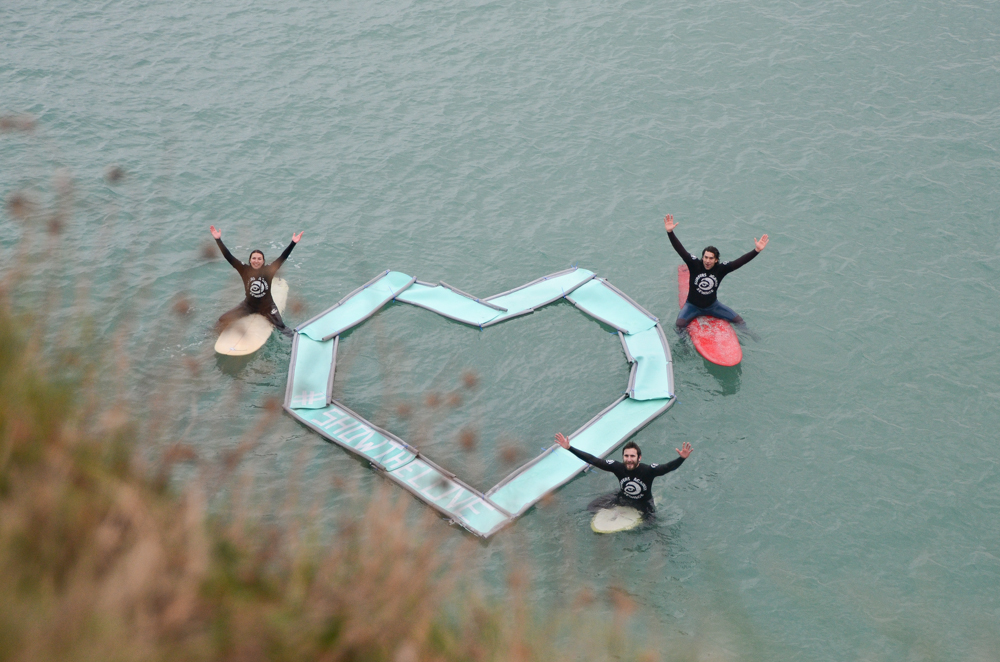 #ShowTheLove For The Ocean

Surfers Against Sewage is joining the #ShowTheLove campaign to make sure the ocean is front and centre of the climate action – and that's where you come in. We want to mobilise as many people as possible to show their love for the ocean and join the biggest climate conversation in the UK. Here's how you can #ShowTheLove this month:
🔹 Get crafty – create, display and share a blue heart on your social media (tip: plastic pollution you've collected could make something nice..) – don't forget to #ShowTheLove and tag @surfersagainstsewage. Check out this creation from last year.
🔹 Share your ocean love story – Help us flood social media with stories of love for the ocean! We want to see videos or photos that show why you love and want to protect the ocean. Send your content before 14th February via email to [email protected] or tag us on Valentine's day via Instagram & Twitter .
🔹 Heart shaped paddle out – What represents the love for the ocean more than creating a heart in it?! Here at SAS HQ we are going to get in the water and create a heart shaped paddle out – why not try it with your community?
Find out more information in our Show The Love Action Pack.
Last year, hundreds of thousands of you marched, paddled and raised your voice to demand ocean and climate action. We delivered 70,000 supporter signatures direct to Number 10 Downing Street, and worked with young people from across the country to create an in-depth Ocean and Climate Manifesto, which we will be discussing with politicians later this year.
Despite the incredible impact and momentum, sometimes it's hard not to get caught up in the disheartening news that can surround the ocean and climate crisis. It is so important, to take a step back and remind ourselves, and others, what it is we are fighting to protect and why it is so important. That's why this February, we want to #ShowTheLove for the ocean.
Show The Love is an annual campaign run by The Climate Coalition, of which Surfers Against Sewage is a member. The campaign aims to join communities, organisations and businesses together to show decision makers that we want to see real and rapid action to tackle the ocean and climate emergency – for the love of our blue planet.
The ocean plays a fundamental role in mitigating human-induced climate change, whilst also bearing the brunt of its impact. However, as carbon emissions and atmospheric temperature continue to rise, the ocean has almost reached capacity. The impacts of warming waters, increased ocean acidity and sea level rise already reach from deep ocean ecosystems to coastal communities and will only intensify unless we act now. The inextricable link between the ocean and climate highlights that the voice of the ocean must be heard, if we are to tackle this environmental emergency.
We need to collectively show those in power that it's time to listen and time to act. By taking part in Show the Love, you will be adding your voice to the conversation on the climate crisis in a positive and hopeful way.