#ShowTheLove For Oceans, Waves & Beaches This Valentine's Day
This Valentine's Day, hundreds of thousands of people the length and breadth of the UK showed their love for the people, places and life they want to protect from climate change. This all part of the Show the Love campaign calling for 100% clean energy within a generation. This is a climate campaign like no other; it's about love
5 million people watch specially-made short film from Ridley Scott's team, scripted by Michael Morpurgo and starring Jeremy Irons and Maxine Peake
Hundreds of thousands of people make, wear and share green hearts – the iconic symbol of the campaign
Astronaut Tim Peake tweets his support from outer space!
Popstars, actors, comedians and top fashion designers such as Jessie J, Thandie Newton, Wayne Hemingway, Tamsin Greig and Emma Thompson don green hearts in support, alongside Simon Pegg, Will Young and Cel Spellman
Over 100 Show The Love events took place across the UK
Premier League football clubs, the BT Tower, the sea of St Ives and the tallest mountain in the UK also went green
Premiership football clubs, designers, schoolchildren, surfers, celebrities, churches, ramblers and businesses all made and wore or shared green hearts to kick start the conversations about the things they love and don't want to lose. Green hearts also appeared in unexpected places – from a tattoo on a WI member to the BT Tower, floating in St Ives Bay to the top of Ben Nevis to Formby beach.
The SAS campaigns team floated our giant green heart to #ShowTheLove for a healthy thriving blue green marine environment.  We are calling on our supporters to add their green hearts to the special places and people and support the action on social media with #ShowTheLove.
To inspire people to take action, actors Jeremy Irons & Maxine Peake, author Michael Morpurgo, Oscar-winning composer Rachel Portman and director Stuart Rideout of Ridley Scott Associates have joined forces to make a short film. 'I Wish for You…' is a beautiful and heartrending film motivating people to protect the people, places and life we love from climate change for generations to come.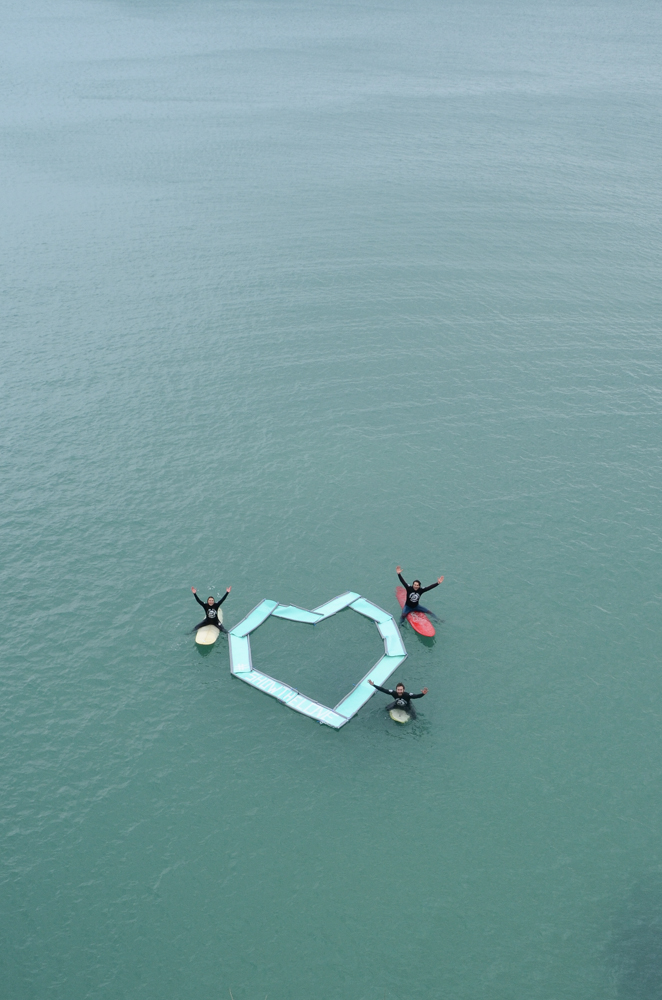 Designers from Wayne Hemingway to Maria Grachvogel have designed green hearts badges for high profile artists to wear and show their support, including Anna Friel, Thandie Newton and Tamsin Grieg. A nationwide schools initiative is inviting thousands of schoolchildren to take part in a letter writing competition describing the world they love and want to protect. Businesses such as Unilever & BT are supporting the campaign.
Jeremy Irons said: "So much we love is under threat from climate change. December's historic agreement in Paris might lead some people to believe that the job is done – but Paris simply set the direction of a journey we must now all take together. My grandchildren won't be safe and secure until we take proper care of our one and only planet. "
The Show the Love campaign is organized by The Climate Coalition – Surfers Against Sewage are coalition members alongside some of the UK's biggest group of people working together for action on climate change – including WWF, ActionAid, RSPB, the National Trust, The WI and Christian Aid.
Show the Love for what's important to you this Valentines Day, with a green heart and post across your social media networks with #ShowTheLove and #SurfersAgainstSewage