The SSRS is on 'Poo Watch' ahead of the Jubilee Weekend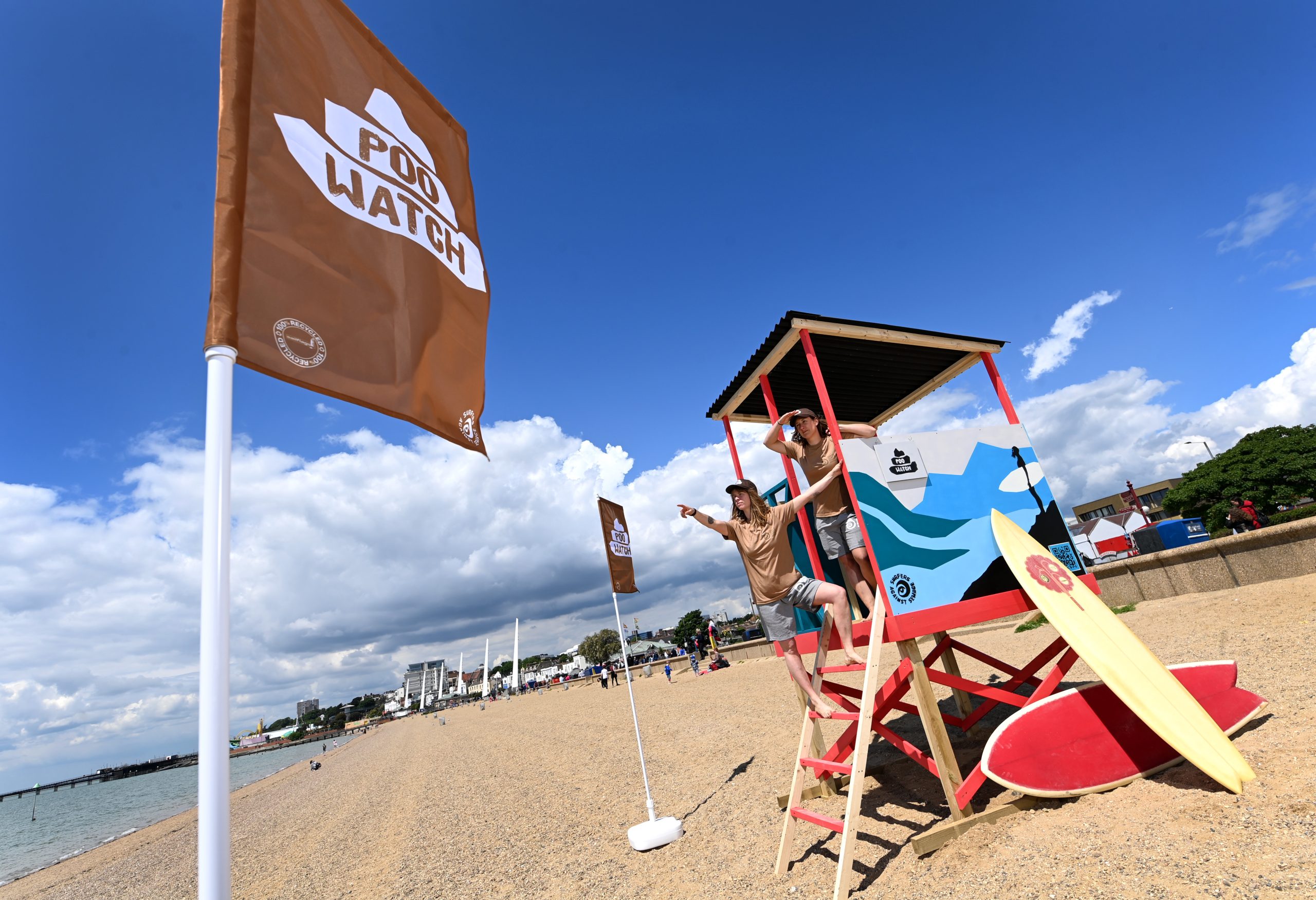 Surfers Against Sewage relaunches the Safer Seas & Rivers Service with a 'Poo Watch' stunt on Jubilee Beach, as new data shows the public are scared to swim outside for fear of dirty waters.
On the eve of the long Jubilee weekend, when the public will be flocking to coastlines and river banks to enjoy a sun-soaked 4-day break, Surfers Against Sewage is relaunching the updated Safer Seas & Rivers Service (SSRS) to help keep people safe from sewage and agricultural pollution (you can download the app on your mobile app store for free now).
This vital public health information, provided as real-time alerts straight to the user's phone, helps beach goers make an informed decision on how, when and where to use the UK's beautiful beaches and rivers to avoid any potentially harmful pollution coming from sewer overflows and farming run-off.
Water companies discharged raw sewage into UK waters over 370,000 times in 2021 alone, demonstrating just how important real-time pollution alerts are in helping the public dodge poor water quality and have the cleanest and safest experience possible.
What is the SSRS?
The Safer Seas & Rivers Service app – already a trusted source of water quality information for its 88,000 subscribers –  enables users to see where untreated sewage has been discharged in real-time. The platform allows the public to check water quality at over 400 bathing locations across England, Scotland, and Wales, submit reports of illness suffered after time spent in the water, and take direct action by contacting their MP and the CEO of their local water company to demand an urgent end to sewage pollution. In the last 2 years, 640 reports of illness have been submitted through the app, ranging from ear and eye infections to gastrointestinal and diarrhoea.
Shit scared of the water
To relaunch the SSRS, Surfers Against Sewage commissioned a poll that has revealed that over half of the British public (52%) are scared of swimming outside due to not knowing if the water is clean or polluted. Of the one in six Brits (17%) that have tried wild swimming in UK waters, over half (55%) have subsequently fallen ill.
The survey also shows that wild swimming is increasing in popularity, with 43% of Brits inspired to try it since the start of the COVID-19 pandemic. The majority of swimmers said the practice has connected them to nature and the need to protect the environment (61%), as well as improving their mental and physical wellbeing (54%). However, the survey also found that almost a quarter of Brits (24%) are avoiding swimming in UK water due to the sewage scandal, with one in five saying that they would like a service to check for sewage pollution before entering UK rivers and seas.
An overwhelming majority (74%) of the public agree that sewage pollution is a real issue in UK waters, with almost half (45%) having become aware in the last year of the risks associated with swimming in UK waters. Worryingly, a fifth of Brits (21%) say they or someone they know has fallen ill after swimming in UK rivers and seas, most notably with an ear infection (10%) or diarrhoea (9%). The younger generation (aged between 18-34) are most at risk as the most likely age group to brave the UK's open water, with a third having tried wild swimming or water sports.
Just over a third (31%) of Brits believe water companies are violating the public's right to a safe, clean and healthy environment. Over half (55%) believe funding for improvements to sewage infrastructure to combat pollution should come from water companies' profits.
Commenting on the story, Hugo Tagholm, CEO of Surfers Against Sewage, said:
'This Jubilee weekend, the public will flock to our amazing coastlines and rivers to enjoy the water and all the health and wellbeing benefits that taking a dip provides.

'We're proud of the improvements we've already helped deliver for bathing waters nationwide, ensuring swimmers, surfers and holidaymakers have a cleaner and safer experience. However, there is much work still to be done. It is clear the UK public are fearful about swimming due to the amount of raw sewage being discharged into waterways, and believe the water industry must cut this crap.

'Surfers Against Sewage is proud to have pioneered the provision of real-time water quality information, through the Safer Seas & Rivers Service, which alerts the public to sewage and agricultural pollution as and when it happens at hundreds of beaches and rivers nationwide. This helps surfers, swimmers and beach-lovers avoid polluted water and all the potential dangers it carries.'
'Poo Watch'
Today's relaunch of the SSRS is timed to coincide with the Jubilee weekend when thousands of Brits are expected to take to the water. To mark the event, SAS have created a 'Poo Watch' lookout on Jubilee Beach in Southend-on-Sea, highlighting how people can stay safe this bank holiday and enjoy the UK's coastlines and rivers with the Safer Seas & Rivers Service.
The sewage scandal and rivers
The Safer Seas & Rivers Service is currently only able to cover 8 river bathing sites, despite rivers being public favourites for swimming and water sports. And the sewage scandal has meant UK rivers are in a particularly bad state, with only 14% deemed to have 'good' ecological status.
There are over 600 designated bathing waters in the UK but only two are located in rivers, meaning rivers are not subject to the same monitoring as many coastal waters. As a result, public information on water quality is limited.
SAS are calling for 200 river bathing waters by 2030 to kickstart a step change in river pollution and you can help by signing the clean rivers petition.