Plastic Free Parliament Success!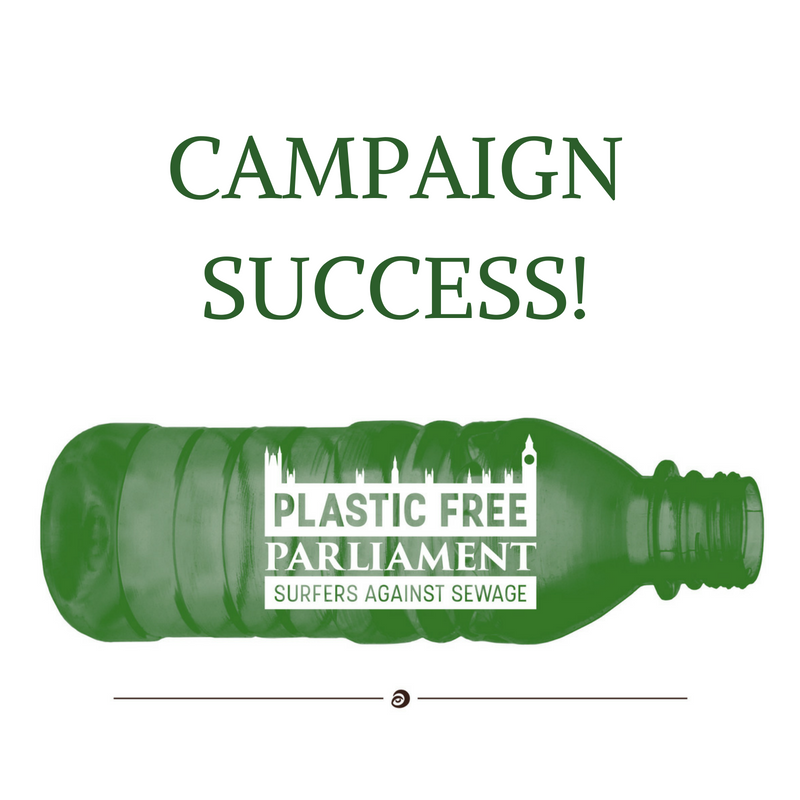 Today we celebrate the success of the Plastic Free Parliament campaign with the parliamentary estate committing to the elimination of single-use plastics.
Thanks to over 7,500 of you contacting your MPs, 180 Members of Parliament have supported the campaign, leading to radical measures being agreed by the House of Commons and House of Lords.
The Plastic Free Parliament campaign called on the public to contact MPs to reduce their avoidable plastic footprint. Eliminating avoidable plastics and showcasing the procurement and use of 'plastic-free' alternatives can set an example for individuals, communities and businesses as society decouples from its single-use plastic addiction.
An investigation by SAS uncovered that over 2 million avoidable single-use plastic items were purchased by the House of Commons and House of Lords in 2017. Plastic straws and stirrers, coffee cups and lids, condiment sachets, plastic cutlery and disposable plastic water bottles are all still used in large quantities across the Palace of Westminster estate, all of which can be eliminated or replaced by more sustainable and reusable options.
We are pleased to see measures that will be introduced by 2019 to reduce parliaments consumption of these single-use plastic items. These radical steps can be an exemplar of the institutional changes that can be made to protect our environment and highlight the power of the public voice.
Radical Measures Agreed by Both Houses:
Stopping the sale of water in plastic bottles and installing water dispensers
Introducing fixed condiment sauce dispensers to eliminate condiment sachet consumption
Introducing the Latte Levy – a 25p additional cost on hot drinks purchased in disposable cups
Substituting disposable catering items (including drinks tumblers, cutlery, straws, coffee cups, coffee lids, fruit pots, salad boxes, sandwich sleeves and all other food packaging) with compostable alternatives and the introduction of a compostable waste stream.
Eliminating plastic bags
Implementation of a 'green stationery' catalogue.
Procedures in place for incorporating the environmental impact of packaging into the weighting of relevant procurement and tender exercises.
Hugo Tagholm, CEO of Surfers Against Sewage said:

"Surfers Against Sewage welcomes the leadership shown by Parliament to take meaningful action to eliminate avoidable single-use plastic in response to the Plastic Free Parliament campaign  This ambitious plan should set an example to other institutions and large-scale businesses to decouple from throwaway plastics as soon as possible. Eliminating and replacing avoidable plastics can be done, and this proves it can be achieved quickly. Changes to go plastic-free at scale will play a huge part in stopping plastic pollution from choking our oceans, countryside and city streets. The time for change is now if we want a plastic-free future."
Over the course of the campaign, SAS, along with Kerry McCarthy MP met the In-House Services team to help outline the proposals to eliminate single-use plastics across the estate and to provide evidence of the support from MPs and the general public.
Kerry McCarthy MP, Protect Our Waves APPG Treasurer said:

It's great that Parliament is taking a lead on this issue, with its Plastic Free Parliament action plan. The public expects parliamentarians to match their words with deeds, and, with everyone talking about plastic pollution, it's right that we should be setting an example to the country – showing how it's possible to reduce your plastic footprint by taking small but significant steps, like using a keep-cup, and replacing single-use plastic items with compostable alternatives. These measures add up to an ambitious package, that I hope other institutions will emulate. I'd like to congratulate everyone who has been working so conscientiously on this plan – it has been clear from the outset there's been real determination to do the right thing.
The campaign has received widespread recognition with the Secretary of State for the Environment and the Speaker raising the campaign during a session in the chamber as well as being featured heavily in a Westminster Hall Debate: Reduction of Plastic Waste in the Marine Environment.
The campaign received further support from an Early Day Motion (Early day motion 963, Reducing Plastic Use in Parliament) raised by Zac Goldsmith MP (Protect Our Waves APPG Member). The EDM has received support from 67 MPs and further highlights the desire of elected officials to address the plastic pollution crisis.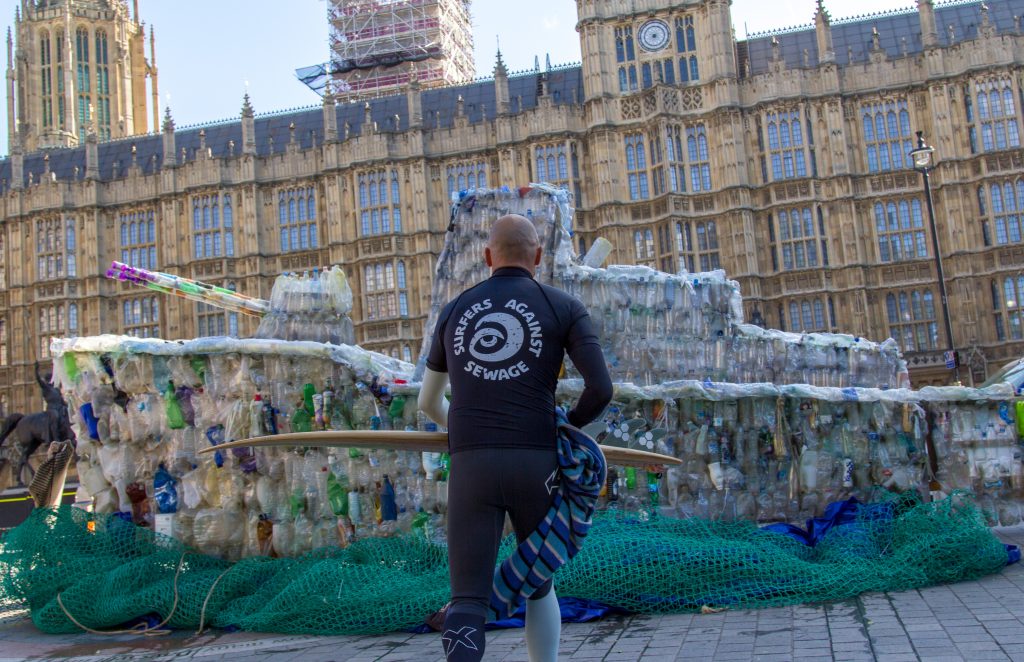 SAS will continue to run the campaign by connecting with MPs and issuing a reusable Plastic Free Parliament water bottle to assist MPs in reducing their personal reliance on single-use plastics. Teaming up with the #OneLess movement SAS urge members to stop buying bottled water entirely, and instead switch to using a refillable bottle in their everyday lives.
Plastic Free Parliament is supported by the Calouste Gulbenkian Foundation (CGF) through its 'Valuing the Ocean' programme. CGF is supporting Surfers Against Sewages' marine conservation work through the Protect Our Waves All Party Parliamentary Group.
Louisa Hooper, Senior Programme Manager, Calouste Gulbenkian Foundation (UK) "We are delighted Parliament is showing leadership over the issue of single-use plastic, a material which is causing serious damage to the ocean, marine life and probably human health. We were all haunted by the scenes in Blue Planet II last year and it is exciting to see such swift action from our leaders. Congratulations to Surfers Against Sewage which has tirelessly worked to raise awareness of this problem in everyone, from schoolchildren to MPs."