Join the Resistance against single-use plastic
Ocean plastic pollution is one of the biggest global environmental threats of our age. It's time to take a stand against throwaway plastic culture that is feeding the rise of Wasteland, a new 'super-power' threatening the world. One that needs a powerful community response! Join the Resistance today!
Wasteland is our powerful take on the threat of single-use plastics and throwaway plastic culture.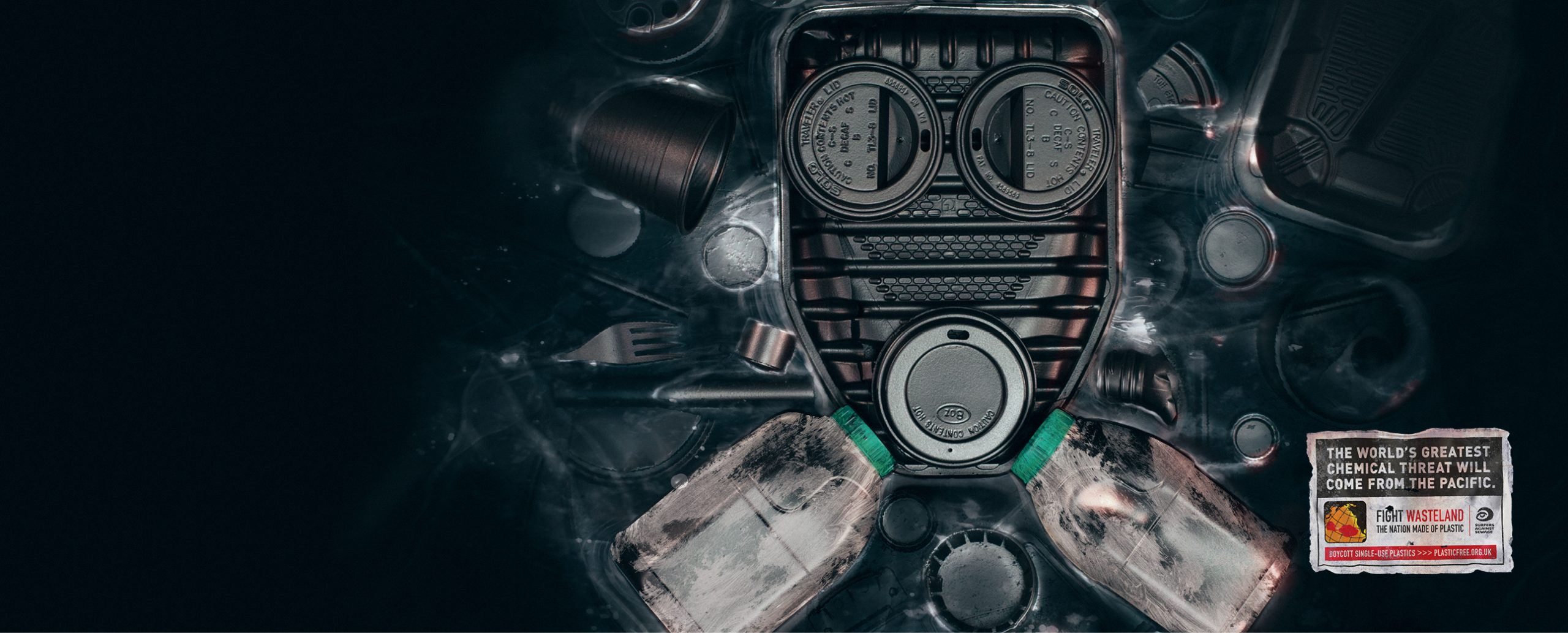 There is a new 'continent' in the Pacific, a continent so vast and impenetrable that no explorer has yet fully mapped it. It's called Wasteland. It has its allies grouping in the North Atlantic and other oceans gyres.
Wasteland was not forged by a shift in tectonic plates, but simply, by us – it is a continent made entirely of plastic… throwaway plastic.
Five times the size of the UK, Wasteland is growing and threatens to destroy us and our planet, yet it is a 'country' not many of us know about.
We have produced a powerful campaign film with Oscar-nominated actress Imelda Staunton providing a chilling voice-over across footage and animations, showing the emergence of the fictional super power, Wasteland. Whilst this is a creative interpretation, the reality is no less stark for all of our oceans.
To highlight the scale of the threat, we also commissioned the installation of SAS Wasteland Warship, a curation of thousands of plastic collected from beaches around the UK into a gigantic warship. Infiltrating Marazion's iconic beach in Cornwall, the 30ft structure has been installed to represent the nation's greatest threat to environmental security – single-use plastic.
Join the Resistance now at www.plasticfree.org.uk
Throwaway Plastic Culture
Throwaway and single-use plastics are items built for the speed of our modern lives, generally used only once before they are thrown away, landfilled or, worse still, released into the environment to make their way into our oceans, 'ocean-bound' plastic as it were.
In our ever-growing world, single-use plastic has come to define our lives. But what was once a proud symbol of convenience and progress has become a blot on the landscape of humanity and our oceans.
Some of the most common throwaway plastics we find on our beaches, in our cities and countryside include all too familiar 'single use' items such as plastic bottles, straws, confectionary and condiment sachets and plastic cutlery.
Hope, Strength & Resilience
Our response to Wasteland is one of community strength, hope and resilience.
There is still time, there is still hope. We have the ability to stop Wasteland. By joining the Resistance and by doing your bit, you can help reduce the global threat of plastic pollution and be a vital part of our movement for Plastic Free Coastlines.
Hugo Tagholm, CEO of Surfers Against Sewage says: "In a remote area in the North Pacific lies one of the most catastrophic man-made disasters to have ever affected us. Five times the size of the UK, Wasteland is growing and threatens to destroy us and our planet, yet it is a 'country' not many know about. Our Wasteland Warship is designed to highlight this, helping to spread the message about what is one of the greatest environmental threats of our time, plastic pollution."
"There are easy steps we can all take join the resistance against the flow of plastic feeding Wasteland. Whether that's refusing throwaway plastics wherever we can, taking refillable water bottles with you instead of buying single-use bottled water, reusing plastic bags on your weekly shop at the supermarket or making sure you recycle more, we all have our role to play."
Join The Resistance at www.plasticfree.org.uk