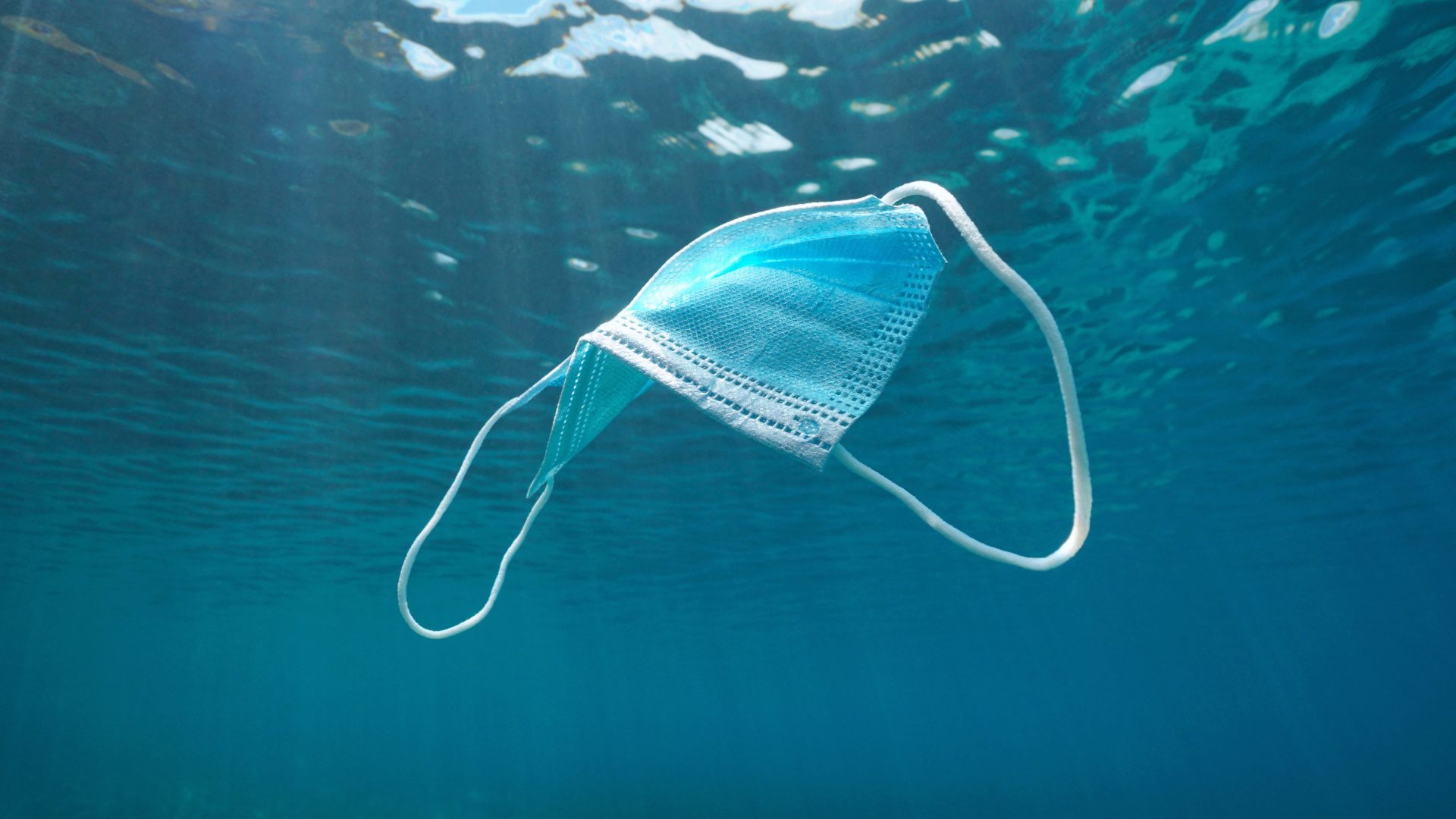 How to reduce single-use plastic in the pandemic. #LessPlasticPlease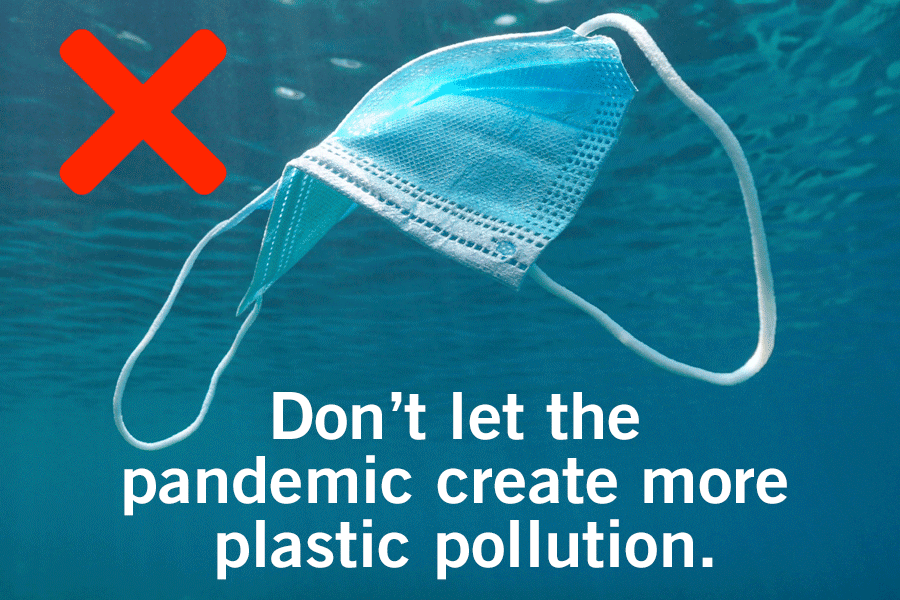 This Plastic Free July is really important. It's happening just as huge plastic polluters are using the pandemic to roll back hard-won victories on plastic pollution. But we can resist their attempts to create another wave of avoidable plastic.

There are changes we can make in our lives to reduce the amount of single-use, avoidable plastic we use, while also pushing for big brands to take urgent action to reduce the packaging they pump out.
Here are some tips on how to start a less plastic lifestyle. Just try one at a time, get used to it and let it settle into your life … then try another. Before you know it you'll have made a huge difference to your plastic footprint!
Want to help stop plastic at its source? Get sponsored to reduce your plastic footprint this #PlasticFreeJuly and you'll raise money to support our vital campaigns against huge polluters. Take the challenge.

Tips for getting started: make a few simple swaps
There are a few, really easy simple swaps you can make in your daily life to avoid single-use when out and about. If you're worried about using refillable containers during the pandemic, check out our safety guide.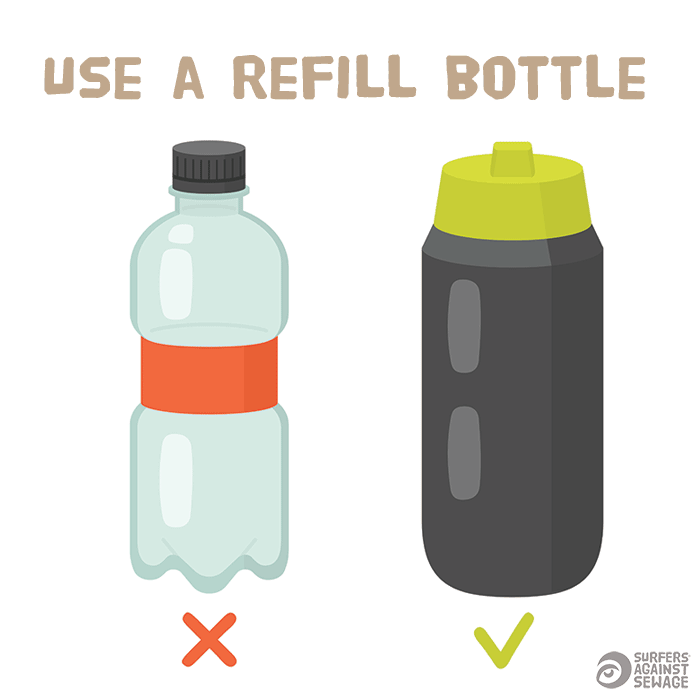 Use a refill bottle:
36.5 million single-use bottles are bought every day in the UK. Only half are recycled. The rest are burnt, buried or end up in the environment. Just this action alone makes a big impact on resources, pollution … and our pockets! You can save up to £400 a year by refilling with tap water.
Use a refill coffee cup: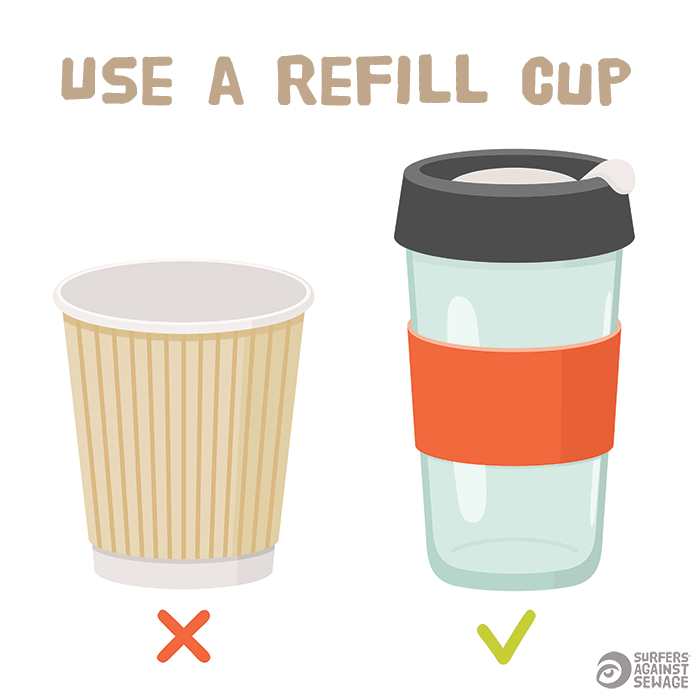 Seven million disposable cups are used each day in the UK. 99% end up in landfill, being burnt or left polluting the environment. Compostable cups are not a solution so refuse single-use outright! Many cafes offer a discount for using refill cups.
City to Sea has an excellent guide to #ContactlessCoffee, using refillables safely at your local coffee shop.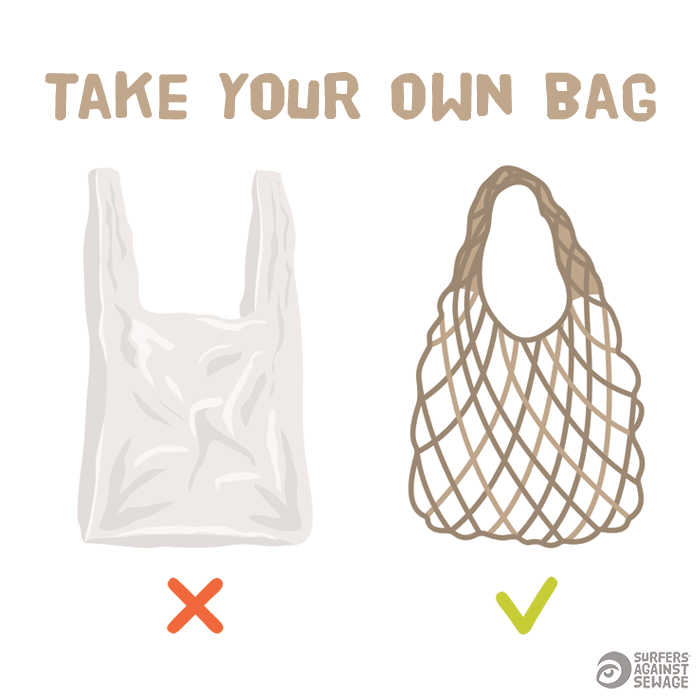 Take your own bag:
Carrier bags stay in the environment indefinitely. Bio-plastic bags break down quicker, but are still plastic. Marine wildlife mistake carrier bags for jellyfish and eat them. You have to pay for carriers. Pretty good reasons to take your own reusable bags when shopping!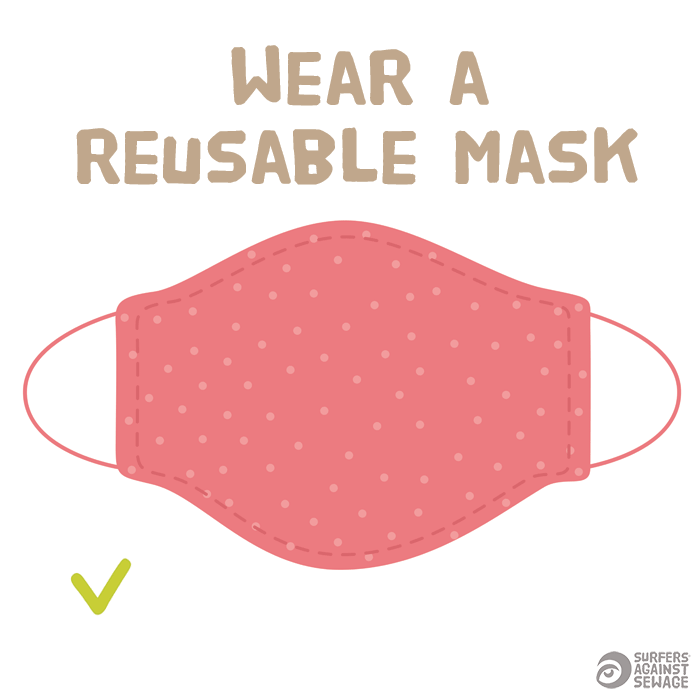 Use a reusable mask:
Personal protective equipment (PPE) is an emerging pollution crisis. More than a billion PPE items have been given out in the UK and it's been found discarded on our beaches, in waterways and on our streets. But personal protective equipment doesn't have to be disposable. Some key workers will need disposable, surgical PPE, but for the vast majority of us, the government has said reusable masks are safe.
Re-use cotton from clothes to make your own mask, or you can support independent crafters by buying a mask on sites like Etsy (many are donating a proportion of sales to causes like the NHS).
#LessPlasticPlease: avoiding plastic packaging when you shop: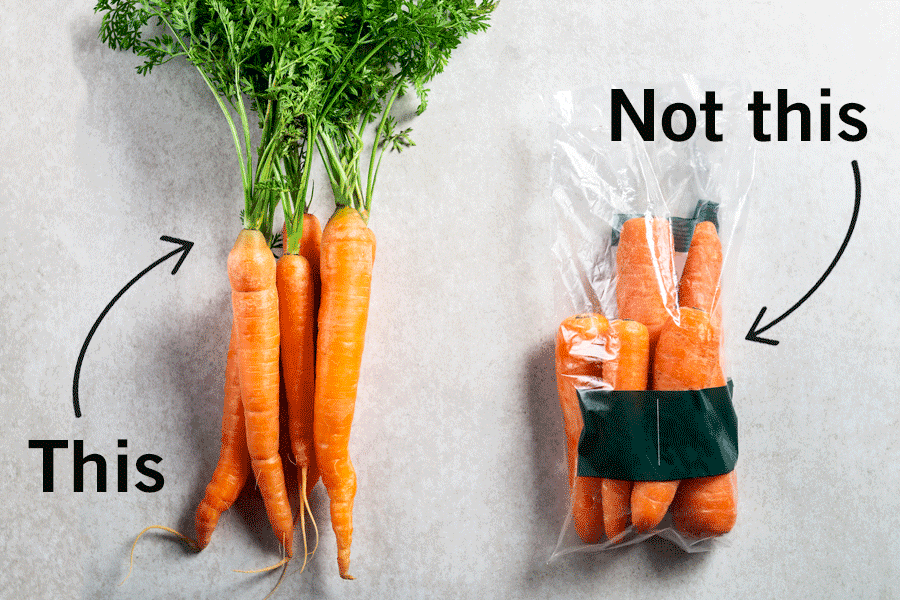 As part of our #LessPlasticPlease campaign, we're calling on supermarkets to reduce the amount of plastic surrounding their products. But, for now, how can you avoid the mountain of plastic that comes with the weekly shop? Try these top tips and again let each one settle into your lifestyle. Some things cost more, some things are cheaper and some things you just won't buy anymore.
Reducing single-use plastic is an ongoing aspiration and you can balance up the books along the way. The key is to shop local as much as possible which has the added benefit of keeping our hard earned cash in our local economy – especially important after the effects of lockdown. Find refill shops around the UK.
Fruit and veg:
As a first step, why not decide to stop buying fruit and veg in the supermarket, where it's plastic wrapped within an inch of its life? Head to your local high street grocer, farm shop, roadside stall or order a veg box from a local grower. Less plastic and less food miles = wins all round! You can also buy some fruit and veg loose in the supermarket, just pop it straight in the trolley and then into a reusable bag to take home.
Cold drinks:
Opt for drinks in cans or glass bottles and make sure you recycle them. Even better, take the opportunity to make a healthier lifestyle choice and cut down on/stop buying sugar-filled cordials, juices & fizzy drinks. Have go at juicing oranges at home for a fresh, zingy breakfast shot. If you've got a juicer, blender or Sodastream, use it. If not – don't buy another white good for the kitchen. #Reduce.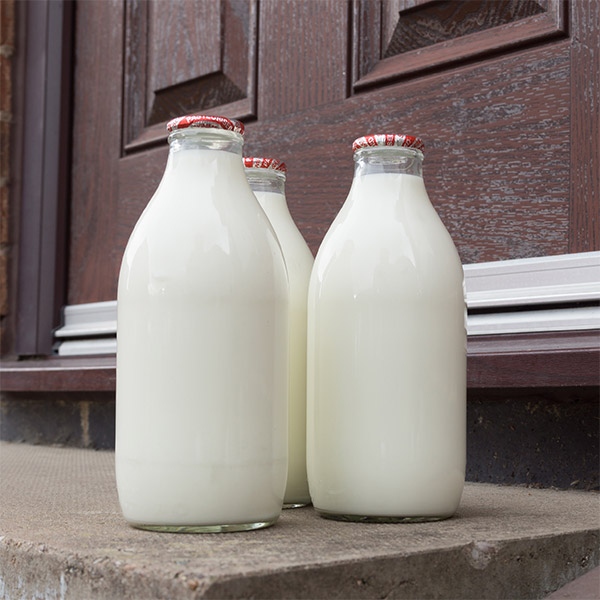 Dairy:
A few ideas to get started: register with your milkman and go back to glass bottles. Some local shops now also offering milk refills! Bulk buy yoghurt in bigger containers and decant into smaller pots (reuse the containers afterwards) or have a go at making your own in glass jars. Treat yourself to some paper wrapped cheese if you have a cheese shop locally. Make sure you recycle any plastic you do use.
Snacks:
This is where you can get creative. There are loads of fabulous and simple recipes out there for biscuits, granola bars, cakes, savoury bites, energy balls … endless opportunities! Wrap in paper or use a reusable tub to store and carry around. Also check out local refill shops for nuts, seeds, dried fruit and other treats, and store them in jars at home ready to decant/raid for elevenses.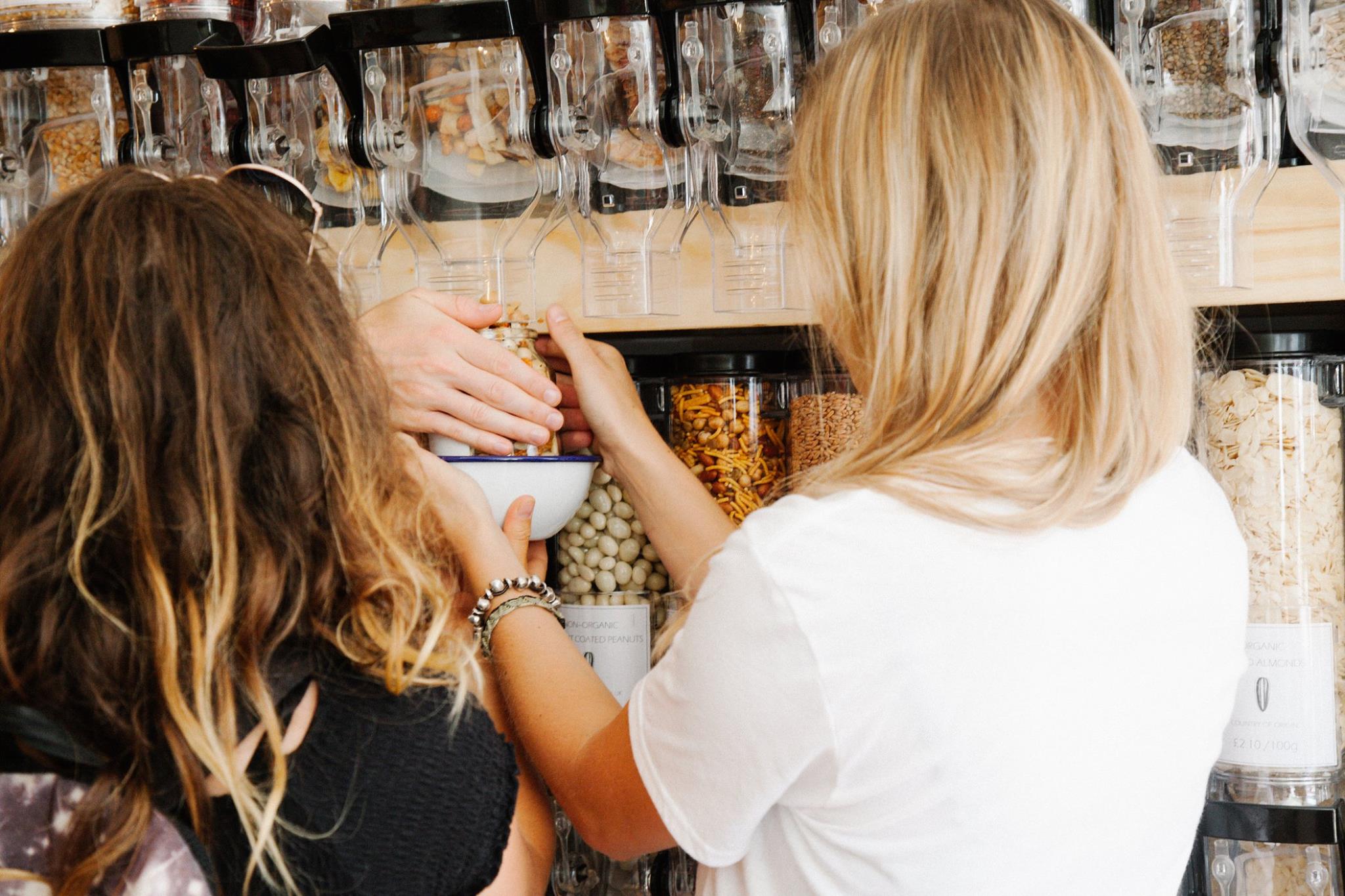 Dried goods:
Choose flours, cereals, pasta, rice, sugar and other dried goods in paper bags. Some supermarkets sell more than others … but to be sure head to your local refill shop and remember to take along your containers from home to refill. Think herbs, spices, pastas, dried fruit, flours, rices, cake mixes, nuts, seeds …


Meat:
So this can be tricky … and we are all about being realistic and making the changes we can before tackling the harder stuff. BUT, there is a way around this one. Shop at your local butcher and take your own containers!

Hot drinks:
If you're not lucky enough to have a local refill tea and coffee shop, opt for loose tea, cardboard packaging and avoid individually wrapped herbal teas. Get hot chocolate, cocoa and cacao from refill shops or opt for cardboard tubs instead of plastic jars/packets.
Bakery goods:
Head to the local bakery and get your loaf, rolls or treats in paper bags. Options will vary, but many local bakers have plastic-free options. In the supermarket opt for loose bread and take your own washable cotton bag. Even if we just reduce the amount we buy in plastic, it all helps. And it tastes SO much better!
Cleaning:
Refill, Refill, Refill! Check if you have a shop locally that refills washing up liquid and other cleaning fluids containers. The fab thing is that the products and the companies behind them are kinder to our world. Reduce the amount of products you buy too – a home made mix of washing up liquid and water in a refill spray bottle and a good scrub really does do most things. Go for polish in a tin and opt for good reusable cloths and dusters that can be washed time and time again. You can even cut up old clothes to use as cleaning cloths.
Bathroom:
You don't have to smell to be plastic free. Really. There are amazing personal hygiene products on the market now, which are plastic-free, eco kind … and work! Think deodorant bars in cardboard tubes, bamboo toothbrushes, refill tooth tabs and charcoal floss in a refill jar. Coconut oil in a glass jar is a brilliant all-rounder for moisturising, make-up removal and deep conditioning hair. Swap to soap bars and shampoo bars and if you really need conditioner, do it on a refill basis – check locally.
Our bodies and hair need time to adjust to not having all those chemicals and 'buy me' products on them … but you'll find it's worth it and you'll end up buying less products.
Kitchen:
Not all plastic is bad. It's the way we produce and use plastic that has got out of hand. So don't go chucking out all your Tupperware. It's the key to a 'plastic-free' lifestyle! Use it for leftovers, packed lunches, storing homemade snacks and treats etc. Start collecting big 'Kilner' jars for storing refill goods like cereal, flour, sugar, baking ingredients, pasta, rice etc. Reuse smaller glass jars to store refill seeds, nuts … even custard powder. Don't buy new plastic for the kitchen unless you have too and invest in great storage tins and boxes. As items need replacing opt for plastic free versions, wooden brushes, scrubbers and pegs all look amazing too.
Laundry:
Again you can swap to refill here, it's a fab way to cut plastic and also the eco-impact of what goes down the drains. Check locally if there's a refill shop for laundry liquid and conditioner, or look for cardboard boxes of eco whiteners and stain removers elsewhere.
Other ideas: swap to washing powder in cardboard boxes, ditch conditioner (do you really need it?) and defo scrap the laundry water. You could even have a go at making your own products, there is no end to the power of bicarb!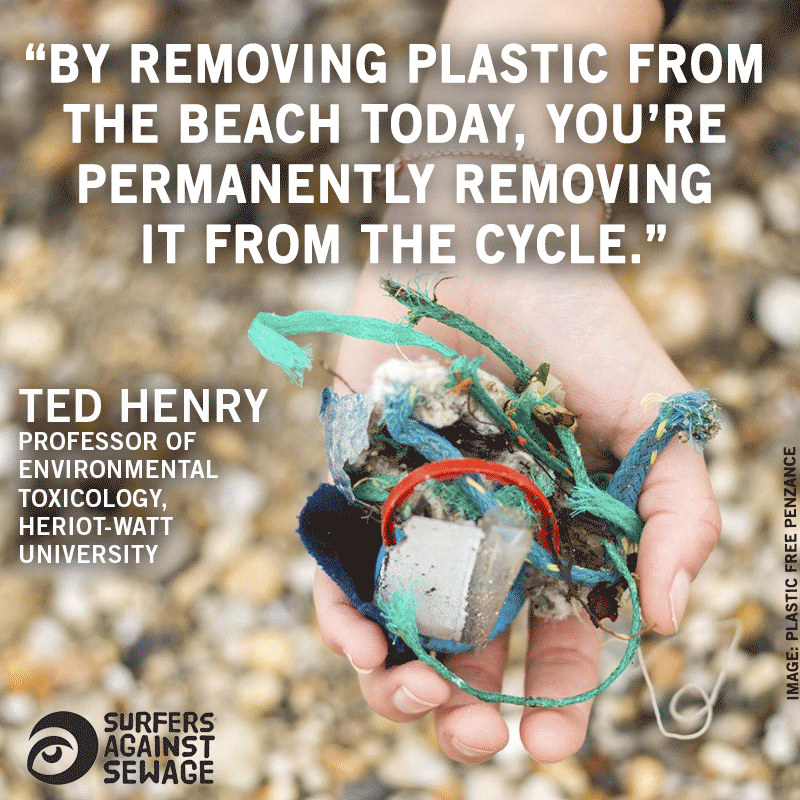 Want to do more? Do a Mini Clean:
Our oceans, rivers and urban spaces want to be plastic-free too. If you're looking for another action you can take in your community, when you're out and about do a #MiniBeachClean. For your mini clean you just need to take a bag and some reusable gloves, then pick up any plastic pollution you find. You can recycle containers with your local roadside collection.
Originally posted by SAS Plastic Free Community Plastic Free Penzance. Read the content here