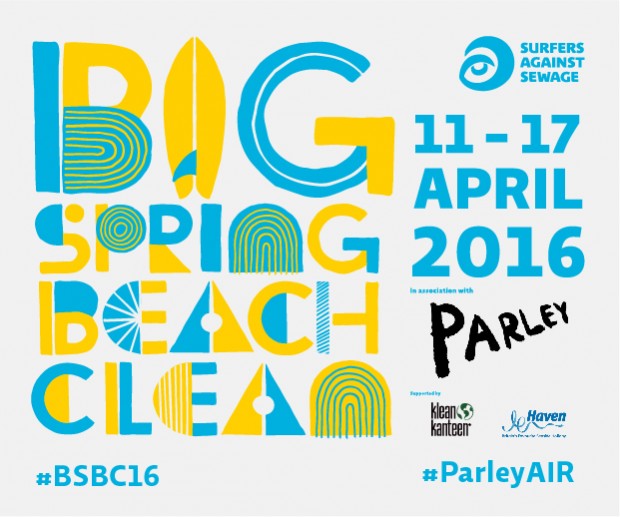 We are proud to launch the Big Spring Beach Clean 2016, in association with Parley for the Oceans and Klean Kanteen! – Register your favourite beach today!
Storm Imogen recently swept through the UK, battering the coastline with gale force winds and colossal waves; dumping tonnes of marine litter along the coastline. Marine litter is now one of the biggest threats to the health and sustainability of our marine ecosystem. A recent report predicts that there will be more plastic than fish in the sea by 2050(1). Every day approximately 8 million pieces of marine litter find their way into our oceans causing the death of 1 million sea birds and 100,000 marine mammals annually(2).
Community beach cleans play a vital part in tackling the marine litter crisis with recent research demonstrating that removing plastic waste along our coastline is the most effective clean-up method(3). Plastic waste collected or intercepted along the coastline is now also being viewed as a vital resource that society can't afford to waste.
The Big Spring Beach Clean is the biggest single community beach clean effort in the UK, uniting 7,000 grassroots volunteers to tackle the marine litter crisis in over 200 locations across England, Wales, Scotland and Northern Ireland.
Surfers Against Sewage is now calling for community volunteers to join the Big Spring Beach Clean team. Register your beach today by emailing [email protected] with the forms found here. For a list of registered cleans in your area, visit the Events Page of the website.
Parley x SAS
SAS are thrilled to be working closely with partners Parley for the Oceans and their global collaborator network to ensure that as much of the plastics collected as possible at the Big Spring Beach Clean are diverted away from landfill and upcycled into new products.
Parley for the Oceans is a space where creators, thinkers and leaders come together to raise awareness for the beauty and fragility of our oceans and collaborate on projects that can end their destruction. Parley addresses the threat of ocean plastic pollution through communication, education and direct action initiatives in a three-tiered strategy called AIR:
Avoid – Plastic is a design failure to be avoided as much as possible. When it's unavoidable, cut into the unnecessary fossil fuel-based production of virgin plastic by using recycling materials in a closed loop.
Intercept – Every piece of plastic ever produced is still out there. Through its Global Cleanup Network, Parley intercepts plastic from shoreline, waterways and the high seas, diverts waste from landfills and upcycles recovered materials to disrupt the cycle of pollution.
Redesign – The only way we'll solve this is through eco innovation. Parley is working to disrupt plastic-centric product categories, reinvent plastic and set new standards within the creative industries for developing, distributing and promoting products.
The Parley x SAS partnership reflects the wider work SAS is undertaking to pilot effective circular ocean economy pilot projects, which summer was commended by HRH the Prince of Wales through the Ocean Plastics Awareness Day at Fistral Beach in Cornwall.
————————————————————————————
1 – The Guardian, 2016; http://www.theguardian.com/business/2016/jan/19/more-plastic-than-fish-in-the-sea-by-2050-warns-ellen-macarthur
2 – Surfers Against Sewage Marine Litter Report (2014) – http://www.sas.org.uk/wp-content/uploads/SAS-Marine-Litter-Report-Med.pdf
3 – The Guardian, 2016; http://www.theguardian.com/environment/2016/jan/19/collecting-plastic-waste-near-coasts-is-most-effective-clean-up-method?CMP=share_btn_fb [online]
Hugo Tagholm, Chief Executive of Surfers Against Sewage

Surfers Against Sewage is delighted to be collaborating with Parley For The Oceans and engaging communities with projects to stop the flow of plastics into our seas. The single-use plastic vandalism of our coastlines has to stop and plastics valued as a resource we can't afford to let accumulate in the marine environment.
Cyrill Gutsch, Founder of Parley for the Oceans

Current plastic is a design failure. It needs to go. But this can't happen overnight. We need to avoid plastic wherever we can, stop producing more of it and retrieve and revive what has already ended up in nature. But to solve the problem for good, we have to invent a new material. Collaboration is the magic formula, because nobody can solve this complex problem alone. With Surfers Against Sewage, we found the impactful partner we need. Together we can turn this around.