Surfers Against Sewage is delighted to have made the shortlist in the Charity Awards, one of the charity world's most prestigious excellence recognition programmes. Surfers Against Sewage's Autumn Beach Clean Series has made the final three in the Environment & Conservation category, scoring highly against the ten Hallmarks of Excellence, as decided by the 10-strong judging panel of voluntary sector experts across a variety of fields.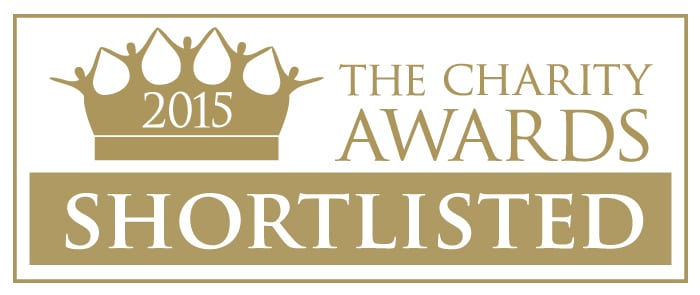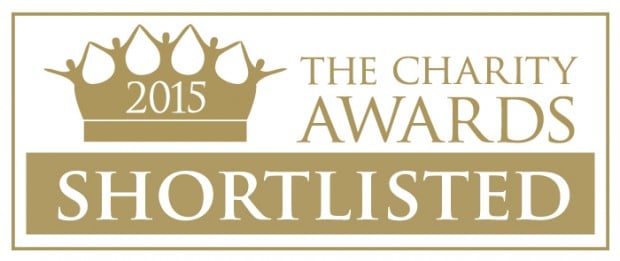 The ten category winners, plus the recipients of the Overall Award for Excellence and the Outstanding Achievement Award, will be announced at a dinner on 18 June at the Park Plaza Hotel, Westminster, London. The black-tie evening will be hosted by world cup winning rugby star Will Greenwood, who will be joined by representatives of the shortlisted charities, alongside a 'who's who' of charity leaders and celebrities from the worlds of theatre, television, music and sport.
The Autumn Beach Clean Series: Cleaning up the UK's beaches
Marine litter is a priority campaign for Surfers Against Sewage (SAS), the environmental charity that strives to protect the UK's ocean, marine life and beaches.  SAS's recent Marine Litter Report outlines the true scale of the marine litter crisis and suggests a roadmap of action to radically reduce marine litter by 2020. Studies have shown that over 640,000 tonnes of fishing gear, known as 'ghost gear', is left in oceans around the world each year, and contribute to building the five great garbage patches blighting these oceans.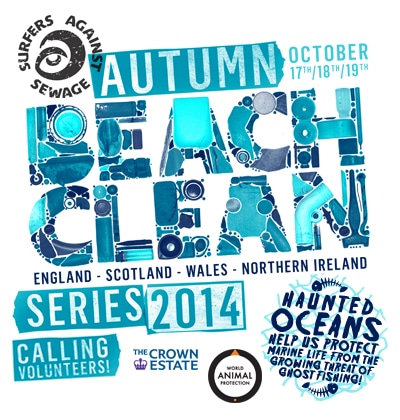 SAS has been running major beach-clean projects around UK shores since 2008, increasing the numbers of volunteers taking part and the volumes of litter collected, each year.  In 2014 the charity applied all its learning to its Cold Water Beach Clean series, renaming it the Autumn Beach Clean Series and encouraging supporters and the general public to stage their own beach clean weekends. It also expanded partnership with the Crown Estate and World Animal Protection to share expertise and networks and to enable better mapping of key results.
This approach yielded the best results to date.  Over 3,200 people collected ten tonnes of rubbish – 2,250 bin bags' worth and including more than 500 bags of ghost gear – from 130 beaches in 2014.  This was the greatest number of events, the most volunteers, the most litter collected and the greatest media coverage since SAS began beach-cleaning projects seven years ago.
The charity hopes to build on this success through increased community education and by 2020 it aims to mobilise and educate 25,000 volunteers every year at 1,000 beach cleans nationwide.
Awards judge Sam Macdonald said he appreciated the fact that the charity was open and honest about things that had gone wrong and how they had addressed these, and that he thought it was an "impressive use of civic engagement".
Tania Mason, group editor at Civil Society Media, which organises The Charity Awards, congratulated Surfers Against Sewage on making the highly-coveted shortlist.
"We had an almost record number of entries this year – just four fewer than our all-time high in 2011 – and the standard was excellent, so Surfers Against Sewage should be very proud to have made the shortlist," she said.
"For 16 years The Charity Awards have been identifying and celebrating the fantastic work that UK charities do, and the rigorous judging process ensures that only the very best-run charities make it through.
"We wish Surfers Against Sewage all the very best of luck on the night."
Hugo Tagholm, chief executive of Surfers Against Sewage says:
"I am delighted that Surfers Against Sewage has been shortlisted by the Charity Awards. This is recognition of the huge efforts our community volunteers make nationwide to protect the beaches they love. The success of this project is thanks to the amazing communities and individuals taking part – so thanks to them!"
John Low, chief executive of the Charities Aid Foundation, comments:
"I would like to congratulate all the charities shortlisted for this year's awards, as well as all those who took the time to send in an application. CAF exists to support the amazing wealth of charitable endeavour across this country and around the world, and it is always humbling to see the great work being done by people in so many ways.
"These awards show charities at their very best, working to support people in communities around the country in myriad different ways at a time of continuing economic uncertainty. Celebrating that success is a massively important part of maintaining and building the culture of generosity in Britain of which we should be so proud."
CATEGORIES & SHORTLISTS
Advice, support and campaigning
Bridge (East Midlands)
Howard League for Penal Reform
ShareAction
Arts, culture and heritage
Holocaust Memorial Day Trust
Lowry Centre Trust
Sadler's Wells Trust Limited
Children and youth
Federation of London Youth Clubs
Kidscape Campaign for Children's Safety
Safer London Foundation
Disability
Celtic FC Foundation
Disabilities Trust
Sky Badger
Education and training
IntoUniversity
Only Connect
Parkinson's UK
Environment and conservation
Campaign to Protect Rural England
Cool Earth
Surfers Against Sewage
Grantmaking and funding
Cumbria Community Foundation
Impetus – The Private Equity Foundation
iPartner India
Healthcare and medical research
Alzheimer's Society
Diabetes UK
Foundation for Women's Health Research and Development
International aid and development
Lumos Foundation
MapAction
Mercy Corps Scotland
Social care and welfare
Blue Sky Development and Regeneration
KARMA NIRVANA
Silver Line Helpline
Judges
The distinguished panel of judges for 2015 are:
Andrew Hind CB, editor of Charity Finance and former chief executive of the Charity Commission
Dr John Low CBE, chief executive of the Charities Aid Foundation
Danielle Walker Palmour, director of the Friends Provident Foundation
Sir Christopher Kelly KCB, chair of the King's Fund
Paul Farmer, chief executive of Mind
Sue Sayer CBE, chief executive of United Response
Sam Macdonald, partner at Farrer & Co
Dorothy Dalton, editor of Governance
Colin Nee, chief executive of the British Geriatrics Society
Richard Hawkes, chief executive of Scope
The Hallmarks of Excellence
Leadership: Inspiration in the pursuit of your objectives, galvanising action within your team and encouraging others by example.
People development: A commitment to developing and motivating staff and volunteers at all levels in your organisation.
Planning: Developing and following a robust project plan, which is sufficiently detailed but also flexible and responsive to events.
Innovation: Imaginative and creative use of original or adapted ideas and techniques. This could involve the application to your work of concepts first applied in other organisations or sectors.
Enterprise: New ways of raising new funds or building support, especially from non-traditional sources. New methods of controlling costs, especially administration costs.
Learning: A culture of sharing learning and responsiveness to changing needs and attitudes.
Impact measurement: The use of appropriate techniques to measure the impact of your activity or organisation.
Effectiveness: Being able to show with evidence that you are achieving or exceeding your intended results or 'outcomes' and that these results are being achieved cost-effectively.
Accountability: A commitment to communicating with volunteers, staff, funders, beneficiaries and the public so that they can understand and influence the progress of your project or initiative and how it meets its objectives.
Sustainability: Elements in the management of a project or initiative which will ensure that it takes on a life of its own after the initial input of resources and/or management effort.
About The Charity Awards
The Charity Awards 2015, now in its sixteenth year, is organised by Civil Society Media, publishers of Charity Finance, Fundraising and Governance magazines and www.civilsociety.co.uk.
The Charity Awards is sponsored by Charities Aid Foundation (CAF). CAF's mission is to motivate society to give ever more effectively, transforming lives and communities around the world. They help people and businesses support the causes they care about, and provide financial and funding solutions designed specifically for the charitable sector. www.cafonline.org
The Charity Awards is also supported by The Times and The Sunday Times.
I am delighted that Surfers Against Sewage has been shortlisted by the Charity Awards. This is recognition of the huge efforts our community volunteers make nationwide to protect the beaches they love. The success of this project is thanks to the amazing communities and individuals taking part – so thanks to them!
Hugo Tagholm, chief executive of Surfers Against Sewage