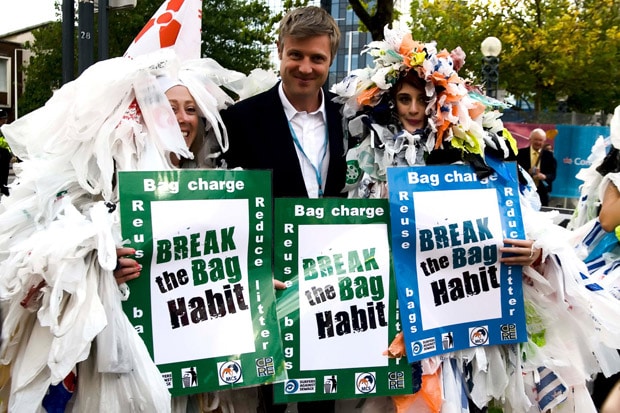 Zac Goldsmith MP shows support for protest against single use carrier bags
Surfers Against Sewage campaigners, Break the Bag Habit coalition members, Lush Cosmetics and over 20 Bag Monsters – created from over 10,000 single-use plastic bags – today ran riot outside the Conservative Party Conference (Tuesday 9th October).
The Bag Monsters were met by Conservative MP for Richmond, Zac Goldsmith, who collected the results of a nationwide survey conducted by Lush. The retailer asked their customers whether they would support a 5p charge for single use plastic bags. Over 70 per cent of those consulted supported the 5p charge.
The attack of the Bag Monsters followed Owen Paterson's – Secretary of the State for the Environment – keynote speech. Unlike Wales and Northern Ireland there is currently no plan for England to require retailers to implement a 5p charge. Scotland is currently consulting on introducing charging north of the border.
Last month a survey carried out for the 'Break the Bag Habit' campaign run by Surfers Against Sewage, CPRE, Keep Britain Tidy and MCS, by polling experts ICM found that 75 per cent of those asked would think twice about taking single-use carrier bags if a 5p charge was applied (more info).  This survey follows the successful implementation of a 5p bag charge in Wales which saw bag use fall by up to a 95 per cent (more info). Public support for the Welsh 5p charge rose from 59 per cent before its introduction, to 70 per cent following the first six months of bag charging (more info). Under the Welsh model retailers donate money raised from the 5p charge to charity.
All the evidence shows that a charge on single use bags works and is popular with consumers. We urge the Government to listen to retailers, the public and members of their own party and bring in a charge for England. This would be a simple and easy step to reduce litter, bring England in line with the rest of the UK and help the Government achieve its aim of being the greenest ever.
Zac Goldsmith, MP for Richmond

It is time Government policy on single use carrier bags reflected public opinion. British businesses are asking for a 5p charge; over 56 per cent of the English public say they support a bag charge. Despite huge advances is countries around the world, we still rely in this country on a weak voluntary arrangement with the big retailers; an arrangement that simply has not delivered. There is no good reason for delay, and the Government should introduce a 5p charge this year.
Andy Cummins, SAS Campaign Director

This new polling data clearly shows that public support a small bag charge to help reduce our unnecessary reliance on single use bags and safeguard the environment. The 'Big Society' can't make it any clearer and the Government now needs to support the 'Break the Bag Habit' campaign by implementing a small bag charge in England.
Tamsin Omond, environmental activist and Head of Campaigns at Lush

All single use carrier bags are rubbish. Plastic bags pollute our beaches, countryside and cities for thousands of years. The 'greenest government ever' has pulled back from every environmental commitment promised, making it more difficult than ever for business to be green. We beg George Osborne to recognise public opinion, retailers' needs and the success of bag charges in other countries and to announce a compulsory charge in his Autumn Statement.