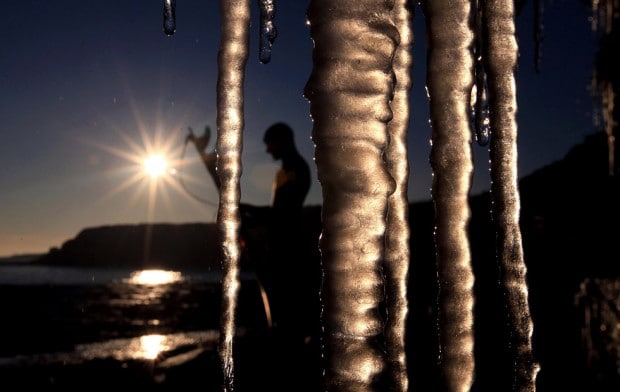 Image credit: Lewis Arnold
Surfers believe beach water quality should be protected for everyone for more of the year.
Surfers Against Sewage (SAS) is calling on the UK surfing and recreational water sports community to support their calls for a longer bathing season, during which beach water quality is monitored to protect the health of those using it and to safeguard the environment.
Thanks in large part to SAS campaigns, the Department for the Environment, Food and Rural Affairs (Defra) has recently opened a new online consultation on the length of the bathing season and associated implications for water quality, protecting human health and the environment.
The bathing season is the only time of the year when beaches designated as bathing waters have their water quality monitored and published. The bathing season in England currently runs from May 15th until September 30th, but SAS has consistently called for an extension to better protect surfers, bathers and the coastal environment. There's advice on how best to answer the consultation here: Advice on how best to complete the bathing season consultation…
Surfers Against Sewage is encouraging the public to support an extension of the bathing season, especially for important and well-used recreational waters, including important surf spots. A longer season would deliver significant advantages including:
Improved water quality thanks to restrictions of raw sewage and stormwater discharges from combined sewer overflows (CSOs) within the bathing season. Go to the consultation here…
Increased public information on water quality, allowing water users to make informed decisions about how, when and where they use the sea. Environment Agency water quality test results are posted throughout the bathing season. SAS's Sewage Alert Service also informs water users about CSO discharges at over 260 beaches within the bathing season. Some water companies withhold this information outside the bathing season.
Coastal communities will benefit from longer bathing seasons with potentially increasing visitor numbers and associated trade outside the traditional summer holiday season, including several half terms, bank holidays and all-importantly Easter.
With the affordability and advances in wetsuit technology people can today enjoyably use the sea for hours at a time, throughout the year. The best 'surfing seasons', when waves are at their very best in England, also fall outside the current bathing season window. Scores of surfers and other wave-riders flock to popular surf spots throughout the year, with the month of March, April, October and November offering some the highest quality surfing conditions.
Some local authorities are calling for a shorter bathing season to help them avoid having to monitor and maintain water quality standards for the already short current season. However, this is not a solution to tackle pollution and keep recreational water users safe, and will actually allow CSOs to discharge more frequently, posing more environmental and health risks. Surfers Against Sewage are concerned any reduction in the bathing season would be a backwards step for the coastal environment and those that use it for recreation. Go to the consultation here.
Andy Cummins, SAS Campaign Director

This is a fantastic opportunity for coastal communities to benefit from better environmental protection and a much needed boost to their economies through a longer bathing season. Make sure you take this opportunity to call for a bathing season extension. Please visit the SAS website and complete the survey today.
Barry Gardiner, Shadow Environment Minister

The fundamental question here is why are we pumping raw sewage into the sea in the first place? The idea that we might shorten the bathing season in order to pollute our coastal waters even more is quite absurd. But extending the season will only increase the monitoring, what we want is to stop polluting our environment in the first place.
Gabe Davies, British surfing champion

Surfing in the UK is most popular in the spring and autumn because the waves and weather often provide the best conditions. Beaches are often packed with waveriders and we deserve protecting from pollution.
Malcolm Bell, Visit Cornwall Director

Extending the bathing season at popular beaches would send a great sign out that we are open for business outside the traditional summer season. There are plenty of fantastic beaches with lots to offer and we'd encourage more people to visit them all year round.